How to Design a Beautiful Open Concept Living Room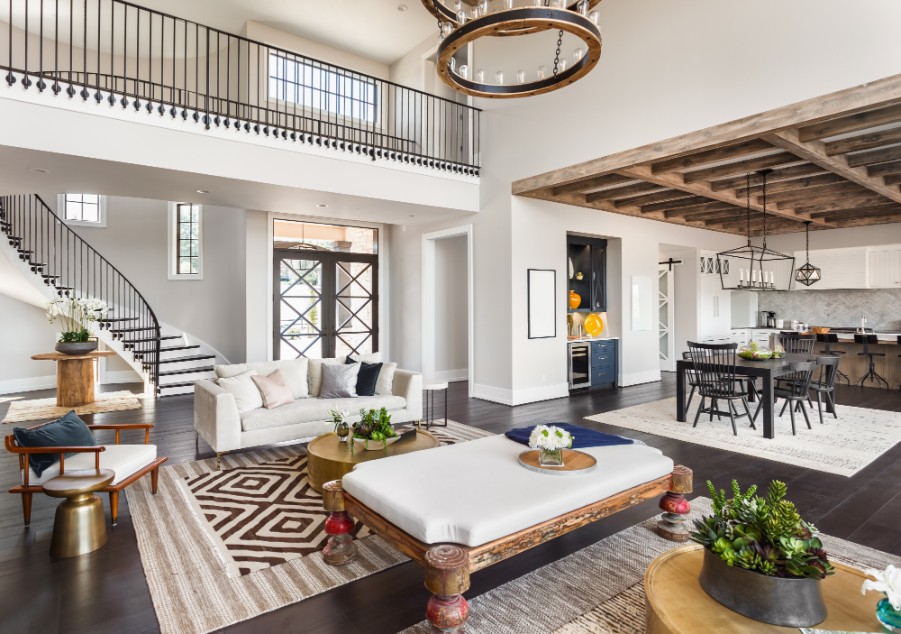 Not all of us are lucky enough to have an open concept home. Apartment dwellers and condo owners are in much smaller spaces, and even many who live in houses have more structured floor plans. Those in large households with open-concept living rooms have a unique opportunity to create a stunning design!
There are many advantages to having an open concept living room. These large, airy spaces typically include rooms beyond the living area, such as dining alcoves and open kitchens.
Open concept living rooms are perfect for large families – the layout makes it easier for parents to watch children while multi-tasking. It's an ideal set-up for those who enjoy entertaining. There is so much more space to work with, and you can arrange furniture and decor to accommodate group gatherings. An open concept living room can also make a smaller home feel larger and provide ways to display antiques or collections.
By carefully selecting paint colors, our professional interior painters can highlight architectural details to maximize natural light and create a beautiful open concept living room.
Choosing Paint Colors
You have limitless paint options for an open floor plan. One option is to choose a monochromatic paint scheme. Different tones of the same color can look inviting and elegant.
Another way to add dimension is by creating two-toned walls, with either monochromatic, complementary, or contrasting colors. These walls are typically defined with a chair rail molding, but can also include molding on the bottom section of the wall.
A third option is to create a focal wall that is a different, complementary, or contrasting color to the other walls. Accent walls direct the eye to one area.
One way to make your open space feel even larger is to paint all trim the same color as the walls. Using one color connects the different areas seamlessly.
Create Architectural Interest
Something you should consider as you look at your open floor plan is architectural design. Create architectural interest with crown molding, chair rail molding, or molding on the lower half of the room. You can add molding to the ceiling, to an entire focal wall, or as art. Then, use paint colors to enhance elements either by painting them entirely or by highlighting molding designs.
Transitional areas, like hallways and nooks, can highlight interesting family items. Beautiful paint will make these areas an exciting part of the space.
Enhance Natural Light
One of the features of an open floor plan is natural light, so you need to work with it. You can do this by adding large windows or a skylight. Another more affordable option is to switch to a clean white light bulb rather than warm yellow. A white light will shine more into darker corners and open up the space.
The above San Francisco townhouse, painted by Paintzen professionals, featured plenty of natural light – helping the space to feel even larger than it already was!
Creating an open living room isn't difficult and can be done on any budget. The result will be a space that is perfect for entertaining and family.
Paintzen can help get you started on the path towards the open, multi-functional space of your dreams.  We provide free online quotes. Our platform uses insured, experienced, and qualified paint contractors for your project. They'll apply your perfect paint color to the walls, trim, and all other living room surfaces; we make the process quick and easy.
Get started with a free and instant online quote.
---