WHY
Life happens - which means sometimes you'll end up with nail holes, scuff marks, and rough patches. For a coat of paint to look its best, having smooth walls is key. Paintzen offers up to a Level Five joint compound finish that is perfect for well lit and high impact areas. Paintzen will help make your walls look their best with a smooth finish. Paintzen painters are also able to match or add texture to your walls.
HOW
Skim coating is a complicated technique used to create smooth walls. It's done by adding a thin layer or coat of mud (joint compound) and then scraping off the excess with a putty knife. This gives your wall a nice new smooth finish. You simply need to tell Paintzen a little about your project and we will send a local expert to finish the job!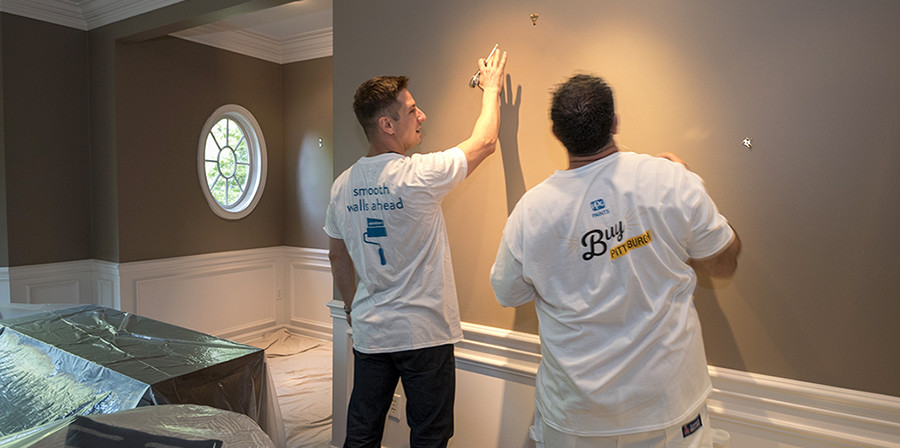 REVIEWS
"Very efficient service; great website that allows you to compare paint colors; and the painter was very professional and efficient."
— Steve H.
REVIEWS
"Professional, punctual and excellent workmanship. Great value and took out all the time consuming headaches involved when embarking on a project like this."
— Prath R.
For a paint job to look its absolute best, it's necessary to have even walls and a smooth finish. This makes painting easier and your walls will look better in the long run. Adding a skim coat will ensure that paint will go over smooth and look amazing. Even if it is just a small area on one wall, this quick repair can make a huge aesthetic difference, while also improving the value of your home. Simply get started by answering a few basic questions, and before you know it, you will have a quote and your personal Project Manager for your skim coating job.  

GET STARTED
HERE'S WHY MORE AND MORE CUSTOMERS HIRE US EVERY DAY.

QUALITY
We are a nationally recognized brand that works with painters who will meet our high standards of project execution and 100% Satisfaction Guarantee.

EXPERTISE
We are a reliable resource for all things painting and wall coverings. Paintzen has revolutionized quoting with new technology, perfected project management and execution, and continues to remain fluent in industry trends.

ACCESSIBILITY
Customers are provided a central point of contact in their Project Manager, making their projects run efficiently. We're regularly available to communicate with customers throughout their project journey.
NEED A LITTLE MORE INSPIRATION?