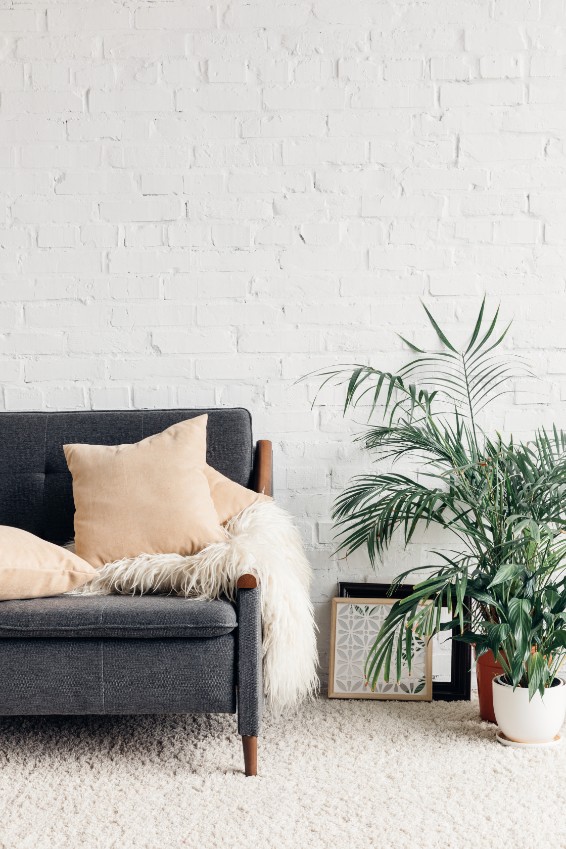 Small bedrooms can be tough, color-wise. You don't want to overwhelm your sleeping space, but white (while a great option) may not what you want to wake up to every day. So what do you do? Here are a few simple tips for choosing the best colors for small bedrooms.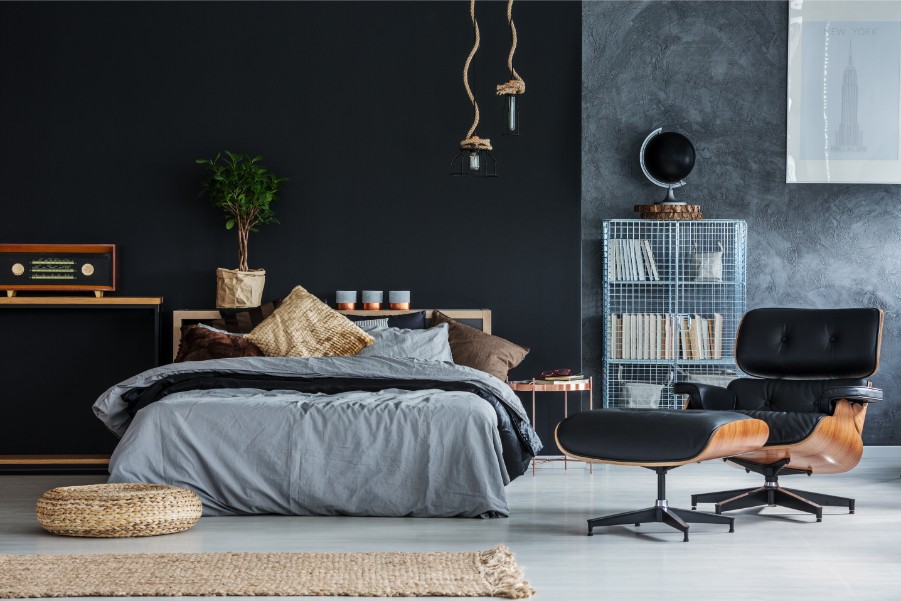 Let's start off with a rule-breaker. Going dark in a small room, especially with a black paint color like this, seems like a no-no. Wouldn't it close the bedroom in and make it feel claustrophobic? It could with too much dark color on the walls, but balancing it with light/white fabrics and accessories has the opposite effect. Now the black recedes, making the room feel bigger. Your beautiful bedding and accessories get to show off, too.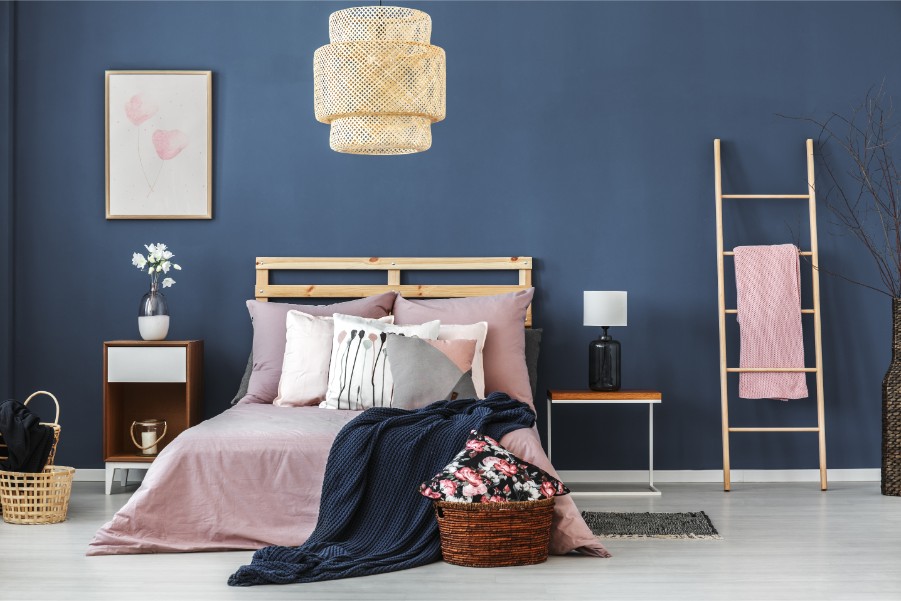 Blue and bedrooms go together like down and comforters. Plus, studies show that we sleep better, longer in blue spaces. Choosing a mid-tone blue, like PPG's Peace, brings a spa-like dose of calm to your day, making your evening wind-down easier and leaving you refreshed come morning.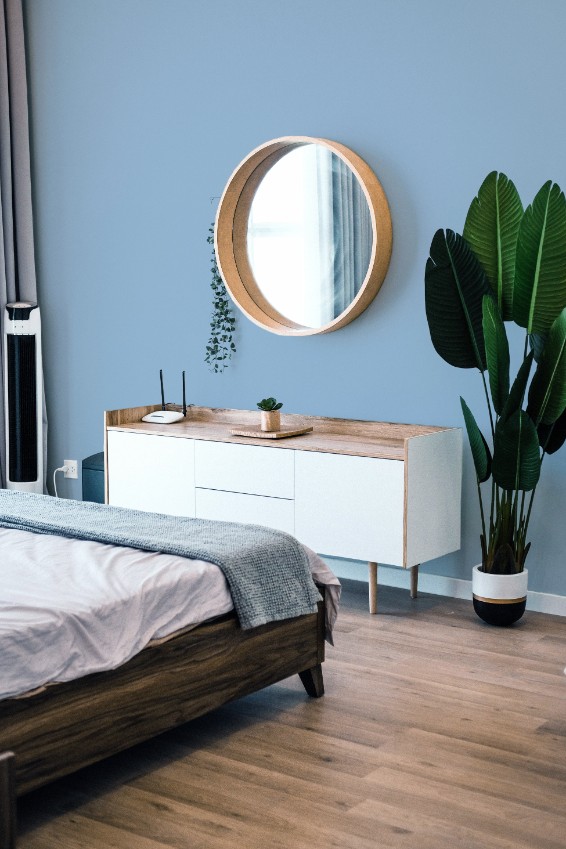 Speaking of blue, lighter tones, like sky blue, work, too. Lighter hues reflect light, brightening up dark corners and making the room feel open and welcoming.
If neutral colors are your jam, no space is better for them than the bedroom. Soothing and airy, they highlight architectural details, like beautiful molding or an interesting ceiling. Tip: Paint the baseboards the same color as the wall and the ceiling trim a shade of white. It'll draw the eye up, making the room seem taller.
White tops the list of small bedroom colors. It maximizes the light, even in rooms that don't have windows. And like lighter neutrals, it can be airy and soothing … except when it's not. The downside is that white can be cold, so to keep your bedroom from feeling arctic, choose a warmer shade (try Delicate White) and pair it with neutrals or brighter colors in the rug and curtains.
Here's another example of a small bedroom, painted white. Even though this white is on the cooler side, the pink, gray and natural colors in the fabrics and accessories cozy it up.
Accent walls are trending, but you usually think of them in large spaces, where you have room to spread your color wings. But check this out — a tiny bedroom with bicolor walls. Why does this work? The walls and bedding reflect each other. The shelf at ceiling height recedes into the wall, thanks to the same color treatment. And the airy light fixture, basket, and rug pattern leave the space feeling open, rather than hemmed in.
The previous photo shows how this color scheme works in a kid's room. (Cute, right?) But check it out in a grownup space. Similar concept here: airy rug, bedding/wall matchup, natural neutrals. But the whole effect is way more sophisticated, just by the choice of shapes and materials.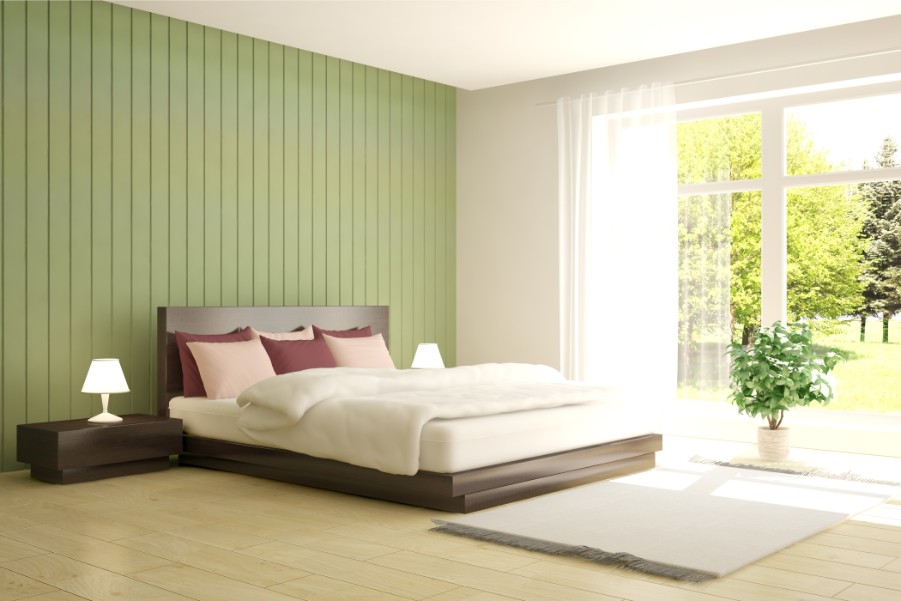 And here's a twist on the two-toned color scheme. Here, the colors are close together on the color wheel, and the darker one is on the window wall. What keeps it from making you feel like the room is closing in on you? That marbled mirror over the bed, which expands the room to twice its size.
And don't shy away from bright colors in small bedrooms. Like the darker hues, balance them with neutrals and white. And here's a clever trick: Look for ways to draw the wall color into the decor. You could paint a shelf, like the one in the teen boy's bedroom above. Or, as in this bedroom, you could paint a bedside table the same color as the walls. This design trick blends wall and furniture together, allowing your eye to skim the space, which makes even the tiniest room look bigger.
Bedrooms don't need a lot of square footage to be comfortable and colorful. And as these small bedroom colors prove, the right coat of paint can bring out the beauty in any room.
Order Free Paint Swatches For Your Bedroom