A Guide to Matching Paint Colors with Furniture
Are you looking to paint your home, but don't want to overhaul your whole decor. The paint color you chose can work with the furniture and decor you have. Subtle colors accentuate your furnishings, while bold colors make the walls pop. Here are some tips on matching paint colors with furniture.
With all of your furniture bought and in your home, it makes more sense to chose paint colors that complement your furniture colors and home decor. To do this, let's consider some color basics.
Complementary is Queen
When looking into what color to paint your space, spend some time to really take in the colors of your furniture. Then you'll want to go to think about your color wheel and see what goes with that color.
For example, if your furniture is earthy and muted, it might be your chance to spruce up your room with a pop of color. You can achieve this through a canary yellow or a darker royal blue. This will give a beautiful contrast to the setting.
If you have bright furniture, tame down your walls. To avoid conflicting colors, go with duller colors like mint, off-white, or grays.
Think About the Ambiance
A living room typically has a lot going on, from color and decor to accessories. Your wall paint color can help balance out the room. If you have pops of pink, yellow, and other bright colors, you're not going to want an orange wall, but something more neutral. It will even out the room and not be overwhelming.
It doesn't hurt to paint a couple of samples on the wall either. Get a feel for the color, how it looks in the light, and most importantly how it makes you feel.
Paintzen color consultants can help you find great complementary colors. Take a piece of furniture like a throw pillow and say you want a complementing wall color and they will help. If you want to color match, we have technology that can do that too!
Take Risks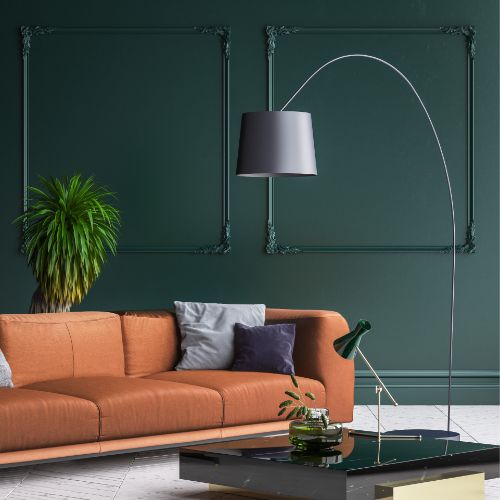 If you have neutral colors in your furniture, mustard, brown, off-white, or gold, a blue or green wall works wonders. These colors are often associated with relaxation, making it ideal for either the bedroom or living room.
Furniture with vibrant colors like turquoise and pink or softer colors like white or wood might call for a red and orange accent wall. These colors are more energetic and cold. Because of how big of a statement they add, it is best to use these to color your kitchen and dining rooms.
Painting your space is stressful enough, you shouldn't have to worry about matching paint colors with furniture. Order some free swatch samples and hold them up against your furniture to see if they match in varying light. When you're ready to start painting, hire Paintzen for your project by getting a quote today!
---