10 Beautiful Ideas for Den Colors
Dens and families go together like peanut butter and jelly. But every so often, even the family's favorite room needs a decorating update. Incorporate one of these beautiful paint colors into your den room ideas to bring the cozy back to the room where everyone gathers.
Go Dark
Dens are traditionally smaller living rooms, made for reading, watching TV, or doing a hobby. Since they are small spaces, they lend themselves to cozy decorating schemes, like wood paneling and curl-up-able upholstery that may not work for any other room's furniture. The den is a natural spot for piano or guitar practice, a great location to work a jigsaw puzzle, and a room where everyone can binge on Netflix.
Painting the walls and ceiling the same color, especially a dark color scheme like gray, makes the room feel intimate. But dark doesn't need to mean gloomy — go for bright furniture and a coordinating graphic print rug to bring in the sense of fun. The plum undertones of Napoleon would shine in a space like this.
In interior design, as it often happens in life, opposites attract. Dress up masculine gray walls (try Glazed Granite) with leggy furniture in feminine colors and patterns. The overall feel is balanced and comfortable.
Be Bold
If you have a home with an open floor plan, carve out a den in a corner. Use a sectional or two love seats in an el shape, then place a chair diagonally in front. Paint the walls behind the sofa a contrasting color from the rest of the room. You'll then create a space that feels like a family-friendly niche.
Enliven a neutral backdrop with festive pillows and ottomans — the less matchy-matchy, the better. If wallpaper isn't your thing, but you love neutrals, try Notorious for the paint color.
Storage in a den can be tricky, especially if this is where you read or listen to music or have your home office. Purpose-built shelves can house albums, books, or any collection.
Speaking of built-ins, they're a natural storage solution for a den, especially if you can flank them on either side of a fireplace. And we love this soothing wall color.
Stay Neutral
Since the den is where the family gathers, bring back happy memories by creating a gallery wall of unique artwork and photos. Rotate them seasonally to keep your home decor feeling fresh. For the barest hint of gray on the walls, try Icy Bay.
Give your den a touch of historical romance by using textured tiles or wallpaper on the ceiling that are made to look like antique pressed tin. When painted in the glossy version of your trim color, the ceiling will reflect light and draw the eye upward. Winter Wedding would be a good option for the walls.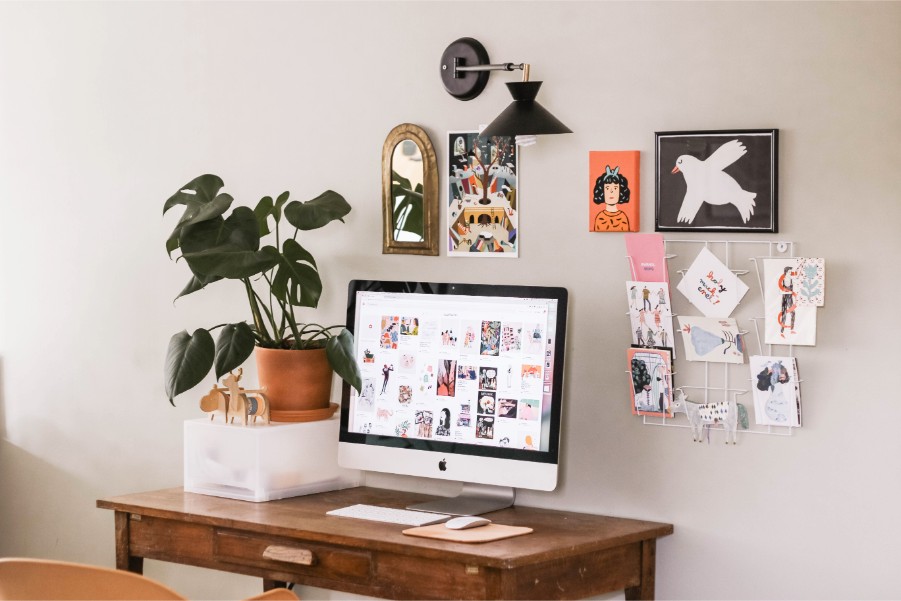 Crisp white walls get a boost of whimsy from delightfully colorful kids' artwork. Framing each piece in white puts the drawings front and center.
Create a den or family room that your whole family will love. Sometimes all it takes is a new coat of paint. Discover our color tool and learn more about how we can help you take the guesswork (well, all the work) out of painting your home.
---