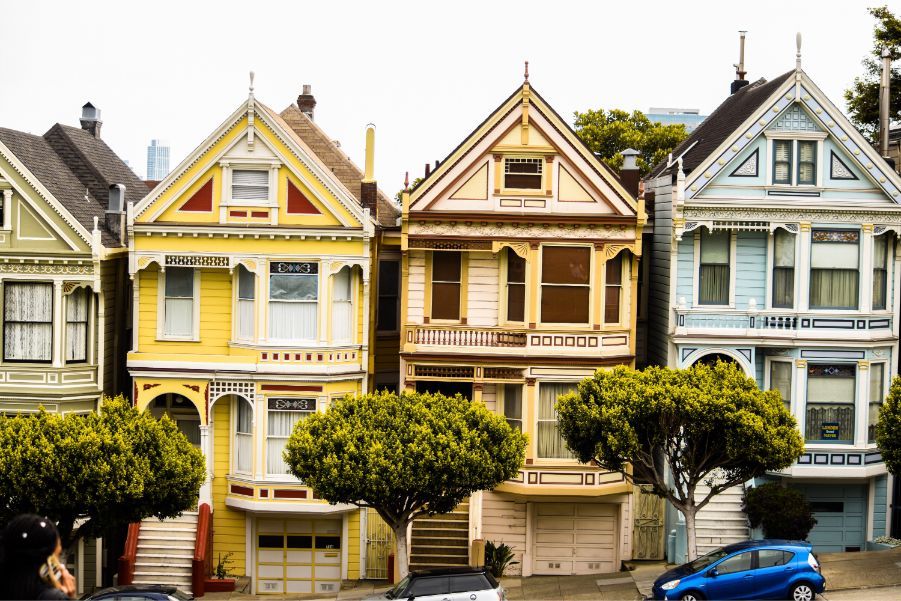 How to Paint the Exterior of a House
What is the Right Brush to Paint the Exterior
Hire A Professional House Painter
Q: I just bought a house and I want to give it a fresh coat of paint. What are the steps on how to paint the exterior of a house?
A: You likely have some basic knowledge of what is needed to paint the exterior of a house. Paint, brushes, ladders, and a roller or two is a good place to start.
Best Time of Year
Spring is a popular time of year to paint the exterior of a house. A fresh coat of paint can brighten up your home's exterior. Spring marks the new season for entertaining your family and friends.
What are the key steps to painting a house?
New paint on the exterior of your house not only improves its appearance, it also protects it from the elements. To ensure best results, you'll want to be sure to cover the essential steps of cleaning, stripping, repairing, priming and caulking before you paint. This will give you a smooth, long-lasting finish your neighbors will envy.
Cover anything surrounding the house that needs protection with drop cloths. Clean your home's exterior using a pressure washer or a scrub brush and cleaning solution, removing any dirt, dust or debris that has accumulated over time. Rinse and allow several days for drying.
Remove any old paint that is peeling or blistering. Have a sample of your old paint tested for lead to determine if you require specialized removal equipment. Even if your paint is lead-free, use a respirator while you remove it. Hand scraping is arduous but causes less damage than a power sander. Leave paint that is still smooth and adhering properly and sand at the edges to create smooth transitions to the areas that have been scraped clean.
Once you've finished sanding, examine the exterior of your house to see if any of the wood needs to be filled or replaced. Use a two-step epoxy for deep cracks or areas left after removal of rot.
When choosing the right primer for your home, you'll need to determine your home's wood type. Use an oil-based primer for cedar or redwood. An acrylic primer is suitable for other types of surfaces. Use metal primer to seal exposed nail heads so that they won't rust through your new paint.
Once the primer is dry, caulk any area where two different materials meet for optimal insulation. Choose a product designed for exterior paint to ensure that it sticks to the caulking material. Do not caulk the bottom of window trims so that moisture and condensation can escape.
Consult a Paintzen expert for a recommendation on the type of paint that is most suited to your project. You'll also want to consider the pros and cons of different application methods. Spraying is easier and faster than brush application, but is likely to result in paint landing where it shouldn't- especially if this is your first time using a sprayer. Watch the weather forecast to avoid rain as well as sudden drops in temperature, which can interfere with curing and adhesion. Plan for two coats of paint for a high quality, long-lasting finish.
New exterior paint has multiple benefits, including weather and termite protection, increased curb appeal, and mold and mildew defense. With the right equipment and materials as well as a little planning, your home's exterior painting will be the talk of the neighborhood.
Ready to get started on your exterior painting project?
What is the correct brush when painting the outside of a house?
This is a great question for anyone who wants to transform the outside of their home. You may be tempted to pick up a roller and go straight to painting, but these are actually best suited for bigger, flat surfaces, like drywall or expansive areas of brick. While they may save time at first, they'll cause paint to pool into edges and can't reach the corners for more detailed work. Others would tell you to coat your house with an airless spray gun, but this leaves a lot to be desired when it comes to a smooth coat of paint without visible overlapping.
So what should you use? Add a splash of color to your siding by starting with a traditional, 4-inch flat brush. Of course, this is just the beginning of the journey. Let's look at a few more items to think about before you get started.
You'll want to consider the type of paint you're going to use so you can choose the brush material accordingly. Water-based paints are most often used for exterior applications, so let's start there. These acrylic or latex paints call for blended nylon/polyester or straight polyester brushes, which are durable and will ensure an evenly distributed and smooth finish. However, if you'll be painting on metal or bleeding wood surfaces like cedar, you'll want to pick up some oil-based paints (such as alkyd) and an assortment of brushes made with natural animal hair bristles.
Finally, think about your exterior style. If your home features a lot of small details and corners, you'll also want to add a 1.5-inch angled sash brush to cut in or cover window trim. If you're painting over porous masonry or stucco instead of siding, then a roller is actually the way to go. Finally, if you're in a rush or have a lot of ground to cover, you can consider using a spray gun. Just make sure you use the proper technique to ensure a smooth, lasting finish.
Ready to transform the exterior of your home? Paintzen has everything you need, from DIY paint kits to painting crews that can take care of everything for you. With an easy online quote system and a 100 percent satisfaction guarantee, we'll have your home looking like new in no time.
DIY or DIWhy?
Hiring a professional house painter ensures that you will get the most value possible for your money. The savings in time alone is significant. Life is busy. Putting the job in the capable hands of professionals allows you to relax in the certainty that the work will be done properly and in a timely manner.
Paintzen uses professional painters who are experts in exterior painting. And they also have the proper insurances and licenses, ensuring they will get the job done properly.
Paintzen professional painters and color consultants will help you from the beginning, helping you choose the best color and finish for your home.
Our expert exterior painters are knowledgeable on which supplies in the correct amounts will be needed for prepping your home to be painted. Sandpaper grades, primers, types of caulking, and patching compounds are just a few materials that could be required. Paintzen house painters know which ones are right for your home.
Painting the exterior of your home is a big project and can be daunting as a DIY project. At Paintzen, we pride ourselves in delivering quality painting services at an affordable price. Get a free quote today and have Paintzen professional painters paint the exterior of your home. You and your family will have the pleasure and peace of mind that comes with knowing that your house is beautifully painted and professionally taken care of.
---