How To Use Olive Green Paint In Any Room of Your House
We love olive green paint – and if its popularity on Instagram and Pinterest are any indication, we're not alone. This medium green hue is surging in popularity for both its timeless style and easy livability. Here are some reasons to consider this shade for your own home.
What Is Olive Green?
Olive green paint is a dark yellow-green in color, like unripe green olives. (By the way, if you add a little gray, you get Army Green.)
Thanks to its association with the olive branch, it's the traditional color of peace. When you see it in a room, you understand why. This earthy color soothes, uplifts spirits, and brings to mind sunny summer afternoons.
Is It Neutral?
While many greens aren't neutral, the olive-green paint color is. That's because of that earthy undertone, which makes it warm. It's also a mid-tone hue, meaning that both lighter and darker colors complement it.
Because it goes with so many colors, you could try it in place of greige, gray, white, or off-white.
What Colors Pair Best With Olive Green Paint?
This color is just as comfortable in an elegant dining room as a casual den. We recommend an off-white trim. But it can be paired with so many other colors. Try it with:
Beige
Black
Chocolate
Gold
Gray
Maroon
Pewter
Plum
Purple
Red
Tan
White
Yellow
Pull these colors in through art, furnishings, and accents for a well-designed space.
Try It in a Bathroom
Try the lighter version of the color in a bathroom. Pair it with brass to elevate it and you'll create the look of your own spa at home.
What's It Like in an Open Plan Space?
In an open-plan space, it's important to use a color that translates into all areas, regardless of function. So you need a hue that works in the kitchen as well as the dining room and the living room.
Olive green blends into the background like any good neutral, but it also brings with it an ambient, relaxing feeling that the more traditional neutrals don't. This lets it translate into a variety of rooms and pulls together the whole space. This lets your sightlines – what you see from area to area – translate into one, unified design.
Does It Work on Home Exteriors?
Olive is a great choice for home exteriors, too. It works especially well on rustic homes, like cabins, farmhouses, or modern-rustic dwellings. The natural neutral looks like it's pulled straight from the landscape around it. And the color's quiet elegance makes a house feel sophisticated, no matter the style.
Create the Perfect Olive Green Living Room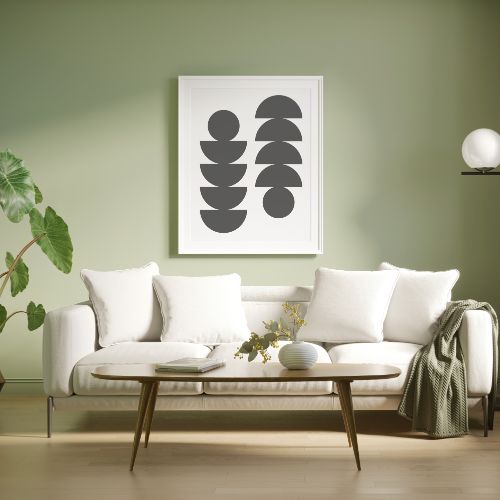 Put this color to work for you in your living room and give family and friends a warm welcome. This color brightens your room but also keeps it cozy. For a modern vibe, pair it with natural wood tones, gray, beige, and cream. Soften it with plants and a throw and you'll have a look everyone will love.
Olive as an Accent Wall
One of the easiest and most cost-effective ways to add a new color to your home? An accent wall. If you're not ready to repaint the whole house, but you'd like to freshen things up, use olive green on one wall. You can see how it livens up this dining room, creating a focal point of the window wall and giving a style boost to the cream-colored walls and ceiling.
Ready for more olive-green color ideas? Browse trending colors like Bahia Grass at our color tool, upload your own photo to spark a color scheme, or create your own ambiance with colors. When you're ready to paint, our interior paint pros can help!
---