Open up the latest issue of Vogue and you're sure to see these 10 gorgeous colors on the world's top models. Now they're here, straight from the runway to your home. 
Lavender
Lavender is one of the fashion industry's favorite hues. As a paint color, like PPGs Puturple, it's every bit as fresh and unforgettable. Photo: House Beautiful
Violet
Violet, a shade bolder than lavender, pairs beautifully with mauve and white. Try it with bronze accents — reminiscent of topping a violet blouse with a glimmering necklace. Check out PPGs Violet Eclipse for this look.  Photo: Elle Décor
Rose
Once a color reserved for little girls, rose is now all grown up. A color like Lauren's Lace is elegant and refined, it makes any space the ultimate in femininity. Photo: Style Your Senses
Sky Blue
If your look is totally Zen, why shouldn't your bathroom be, too? Bring a calm vibe to your loo with relaxing sky-blue walls using PPG's Zen color. Photo: Kathy Kuo Home
Spring Green
Spring green brings out the joy of this colorful season in both clothes and in interior design. We love a green like Harmonious pops in this vintage kitchen, making the most of the warm, wooden floors and architectural details. Photo: The Kitchn
Army Green
Like spring green's older sister, army green also spotlights architectural details. But it also adds a grown-up sophistication we love. Check out Globe Artichoke for this look. Photo: Apartment Therapy
White
Nothing is cleaner than a white t-shirt — or a white wall. Here, the minimalist window, outlined in this purest of colors, draws the eye. Photo: Studio McGee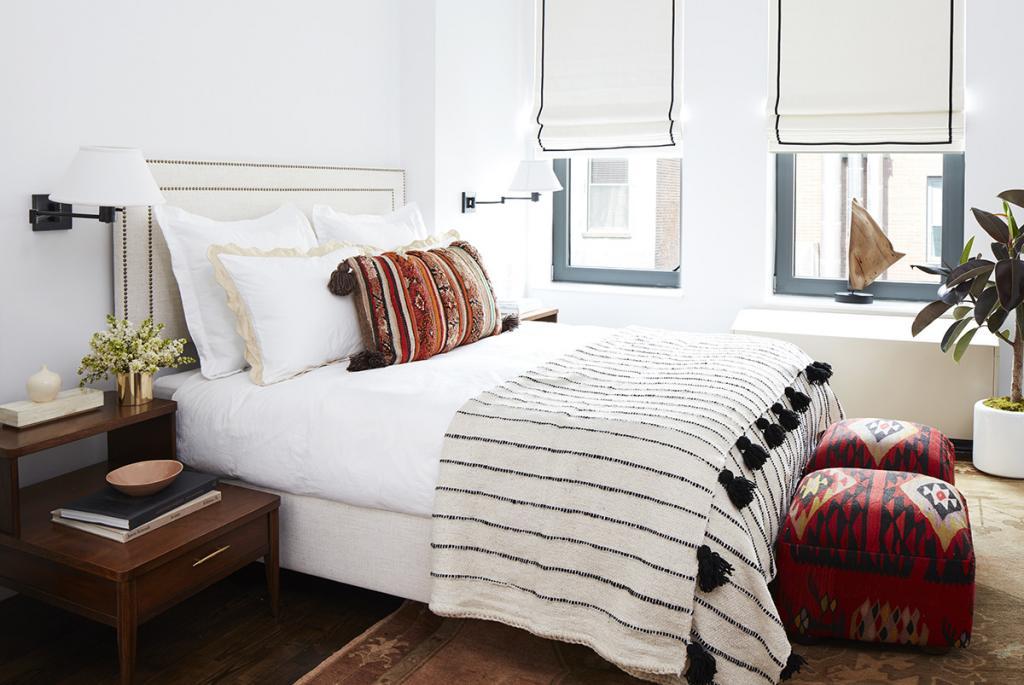 Actress Mindy Kaling embraced bright white for her bedroom when local NYC Paintzen painters recently painted her apartment. White walls allow for more freedom with colors and textures in furniture and decor. Photo: Paintzen
Chocolate
Chocolate — such a rich, layered hue. In this room, it's used on an eye-catching accent wall, and picked up smartly in the accessories. Photo: Traditional Home
Yellow
Sunny-side up! A yellow paint like Lazy Daizy doesn't just make a spring dress feel cheery. It also makes the most of this adorable tete-a-tete breakfast nook. Photo: Country Living
Love these springy, nature-inspired hues as much as we do? Find more great color ideas in our Inspiration Gallery. You can also contact one of Paintzen's Color Consultants and get 5 free paint swatches to help decide which color is best for your space.
Browse the services that Paintzen professional painters offer to see how Paintzen can make your painting project easier. You can get a free and instant online quote today and top-rated professional painters can be ready in as few as 48 hours for your project.