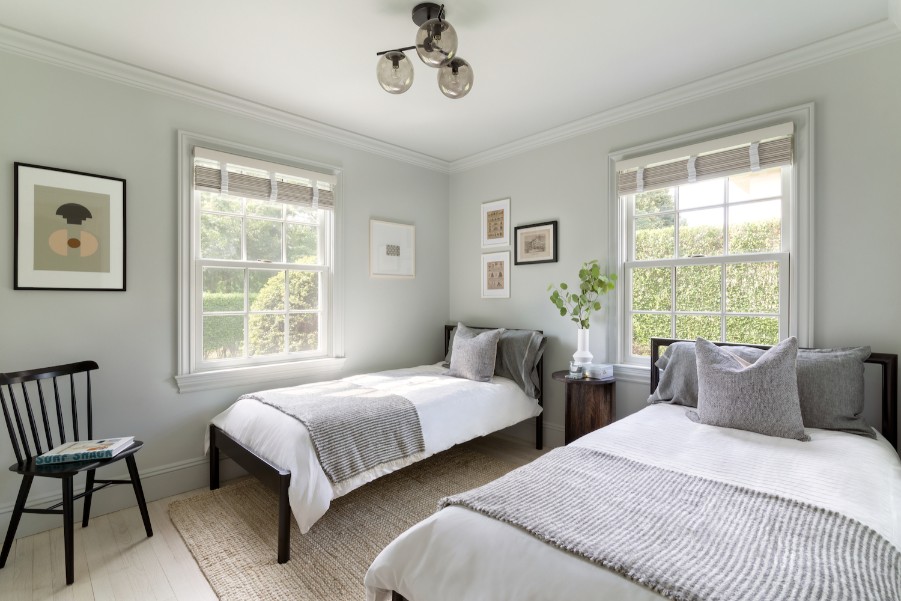 Guest bedrooms get lost in the shuffle of daily life. They can wind up being the junk room, or the dusty room that gets aired out only once a year. Instead of waiting till the phone rings saying, "Here we come," start now to create a retreat that your friends and family will love to visit.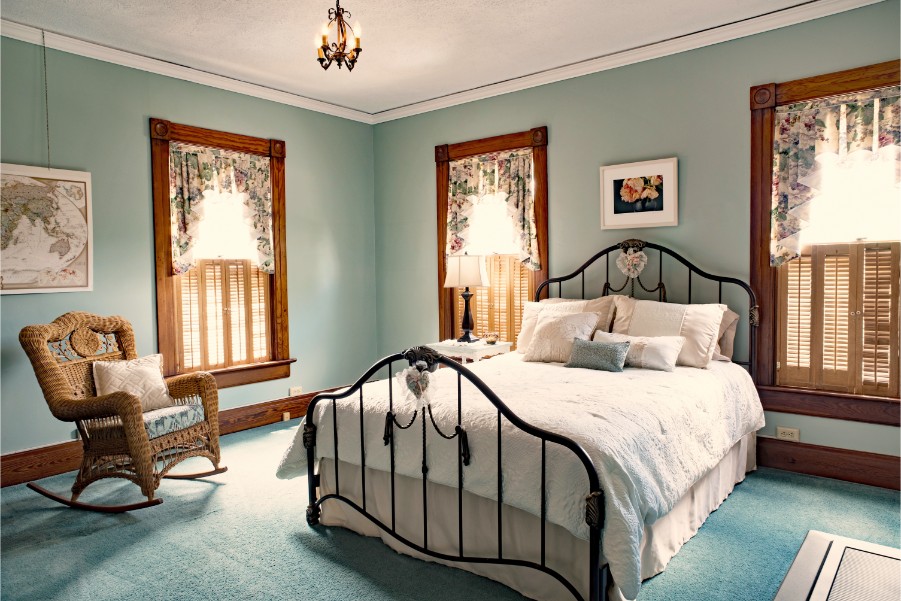 Choose fresh, soothing colors like yellow and green for a spa-like space. Miles Redd shows his mastery of color in this Texas home's guest room.
For example, light blue walls will give a kids' sleepover space a nautical feel when combined with seafaring furnishings.
Biscuit-colored paint makes a beautiful backdrop. In small homes or apartments, kids will often sleep on the couch to give guests a bed. If this is true at your house, design a room that's comfortable for folks of all ages.
Twin beds may be the most useful guest-room configuration ever because you can sleep couples or singles there. Add a trundle bed, and you can sleep a whole family. Twin beds, like powder rooms, are small so that you can take design risks with them you might not take on a bigger bed — like these blue and coral ones.
Most of us offer hanging space in a closet for our guests' clothes, but an empty chest of drawers lets guest entirely unpack. While this bedroom has one large chest, you could also use two small ones as bedside tables.
A cozy, oversized blanket adds color and function to a neutral, minimalist space — and it might even encourage afternoon naps.
A desk makes a smart bedside table, especially for guests who travel with laptops and need space to work while traveling. Pick a chair in a color from the room's palette to tie it all in.
Blanket storage can be a puzzle, so look for smart ways to incorporate blankets into the room's design. Put a bench at the foot of the bed, bring in an antique trunk or add a blanket ladder whose color blends right into the walls, showing off the pretty blankets.
If your home to be prepared for many guests, consider using multiple smaller beds and even bunk beds! You can create a chic space that fits a large amount of people with just a bit of creative design.
Love these guest bedroom ideas? Are you getting the itch to repaint your guest bedroom? Find more ideas in our samples portal, where you can upload photos of your own home to try on paint colors, or browse our gallery of offered paint colors.
---