9 Guest Room Paint Ideas for a Welcoming Stay
Guest bedrooms get lost in the shuffle of daily life. They can wind up being the junk room, a workout space, an office, or the dusty room that gets aired out only once a year. Instead of waiting till the phone rings saying, "Here we come," start now to create a retreat that your friends and family will love to visit with these guest room paint ideas.
Soft Earth Tones
Aqua-Green Paint Color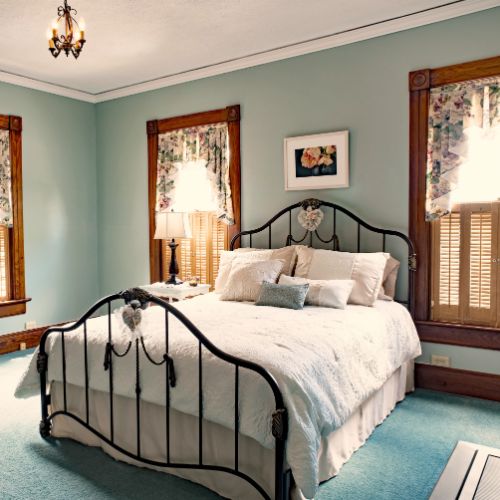 Fresh and soothing colors like this aqua green create a spa-like space that is sure to relax your guests. This farmhouse bedroom uses it expertly. It balances out the decor and complements the existing style.
Blue Hues
This chalky blue paint will ensure a good night's sleep. Decorate the room with some greenery and an empty set of drawers; your guests will feel welcome and at home.
If you have many families that visit with their children, choosing a softer blue with purple undertones will make your guest room feel playful yet elegant. This room is a perfect example.
Neutral Beige
If you're looking for a space that can serve multiple purposes, there is nothing better than a warm and cozy beige. While it may seem boring, this color is familiar, putting your guests at ease. And beige also allows experimenting more with the space's function because it is a more neutral color.
Classic White Paint
This bedroom, with its creamy white paint, is a lovely example of a guest room. It's simple and understated yet is completely welcoming to your guests.
The twin beds may be the most useful guest-room configuration ever because you can sleep couples or singles there.  Twin beds, like powder rooms, are small so that you can take design risks with them you might not take on a bigger bed.
We like this white because it complements the wood paneling and allows for more vibrant prints and accessories, like the cowhide rug and the cityscape comforter.
A desk makes a smart bedside table, especially for guests who travel with laptops and need space to work while traveling.
This similar soft white bedroom is another example of simplicity and comfort.
Blanket storage can be a puzzle, so look for smart ways to incorporate blankets into the room's design. Put a bench at the foot of the bed, bring in an antique trunk or add a blanket ladder whose color blends right into the walls, showing off the pretty blankets.
We love how this white paint goes with the natural wood furniture. Everything is crisp and clean.
If your home to be prepared for many guests, consider using multiple smaller beds and even bunk beds! You can create a chic space that fits many people with just a bit of creative design.
Wallpaper Installation
If painting isn't your style, and you want to add a little something extra, wallpaper installation is the way to go. This soft creamy wallpaper creates an almost regal atmosphere.
Love these guest room paint ideas? Are you getting the itch to repaint your guest bedroom? Find more ideas in our samples portal, where you can upload photos of your own home to try on paint colors, or browse our gallery of offered paint colors. When you feel ready to paint, our interior paint pros can help!
---