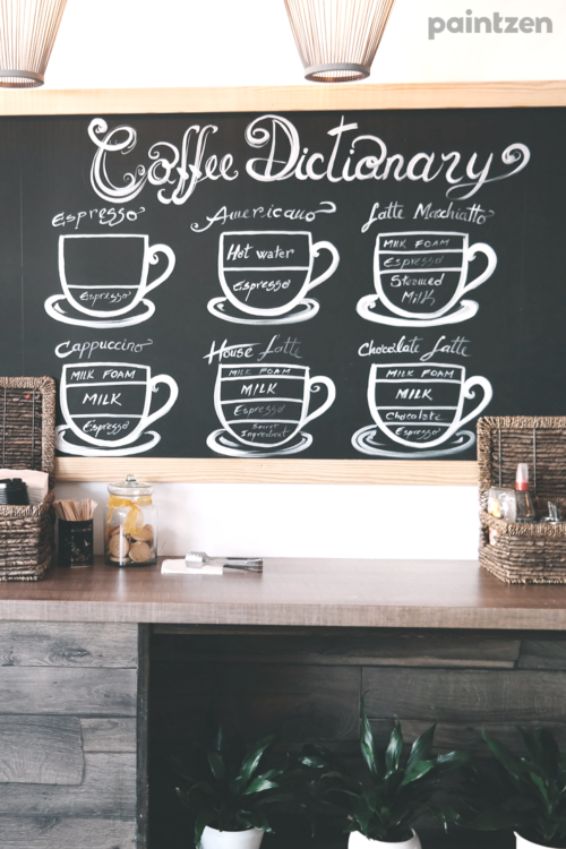 There are many different ways to paint a wall, but one of the most creative and useful ways involves chalkboard paint. This unique type of paint allows you to transform an area of your home into a fun and functional space. It's the latest trend for both home offices and kids' playrooms.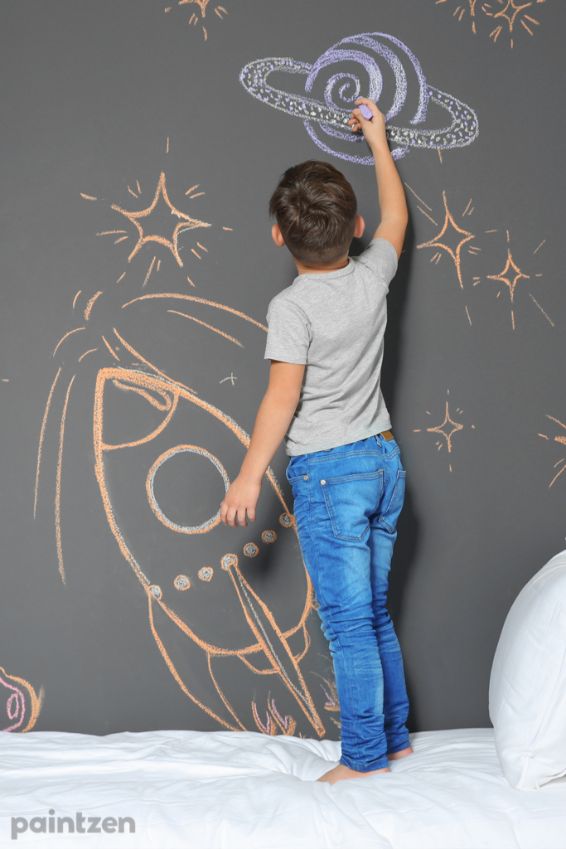 Here's what you should know about chalkboard spray paint, including key considerations and how to paint with chalkboard paint in your home.
What Is Chalkboard Paint?
Chalkboard paint is a type of paint that is used to create surfaces that you can write on. It differs from chalk paint, which is a paint type that gives a matte, antique look to furniture. Chalkboard paint offers a fun accent for your home décor with hard-pigment paint that has a finish that looks like a chalkboard when it dries. 
What's the Purpose of Chalkboard Paint?
Chalkboard paint can be used for various purposes, such as to turn a tabletop or a wall into a writable surface. This is a fun idea for home office rooms, children's playrooms, children's bedrooms, and hobby rooms in a home. With a chalkboard spray paint surface, you can take notes for a craft project, jot down to-do lists, keep track of key points on a conference call. It can help encourage your children's imaginations to run wild too.
How to Paint with Chalkboard Paint
You can choose to paint with chalkboard paint yourself as a DIY project or hire a professional who is experienced with this type of specialty paint. To begin your project, prepare the wood or metal surface with primer. It needs to dry for at least two hours. Then mix your chalkboard paint, only thinning it if you live in a region that is very hot and dry. After applying chalkboard paint, allow it to dry for about four hours and then apply a second coat. 
How to Make Chalkboard Paint Magnetic
It's also a popular idea to make chalkboard pain magnetic so that you can post pieces of paper on it or simply decorate it with fun magnets. To do this, you can buy a magnetic primer at a hardware store and paint it underneath your chalkboard paint. Apply two or three coats of this magnetic primer to make the magnetic effect stronger, and then choose lightweight magnets for the best result. 
Drawbacks of Using Chalkboard Paint
As you consider how to paint with chalkboard paint, it's important to know the potential drawbacks. For example, chalkboard paint tends to be more expensive than regular paint. This is good to know if you're on a tight budget. Cleanup is another issue. But cleanup is very easy with simple soap and water. Also, keep in mind that you'll need to condition your chalkboard. This ensures it erases well.
Where to Get Chalkboard Paint
But if these concerns aren't an issue for you, then chalkboard paint may be exactly what your home needs! At Paintzen, our team of local house painters can expertly apply chalkboard or whiteboard paint to a surface in your home or office in as few as 72 hours. You'll have a modern and innovative space within days, and booking Paintzen is easier than wiping away extra chalk dust. We know where to source the best-quality chalkboard paint. And all our paint contractors have at least five years of painting experience and are background-checked and insured.
Tell us a bit about your project and when you want to start to get a free paint quote from the painting experts at Paintzen.