Get Ready for Fall With These 12 Front Porch Decorating Ideas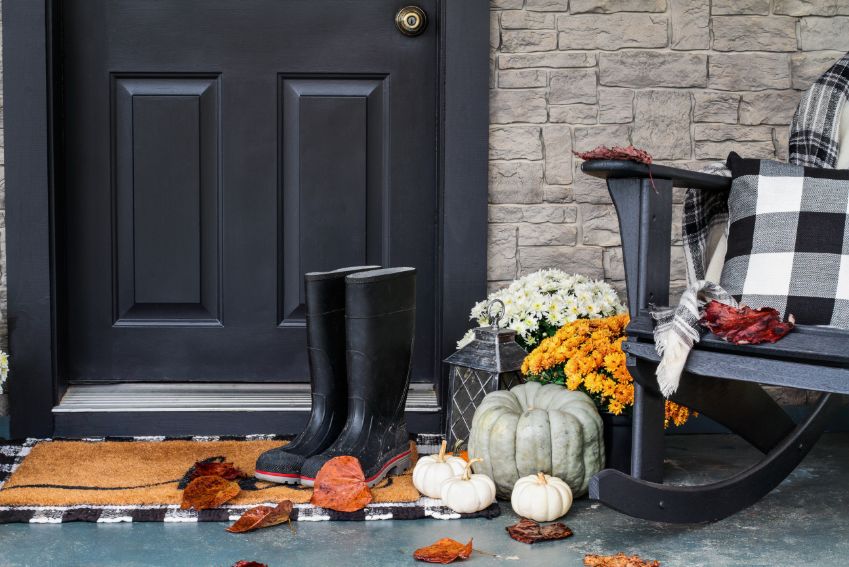 This fall may be a little different than usual – no trick-or-treaters or Halloween block parties, limited (if any) football tailgating, and no crowds at the pick-your-own orchard. But you can still embrace the season's colorful spirit with these 12 front porch decorating ideas for fall.
Chalk It Up to the Season
Pull out your chalkboard paint and make a front-porch chalkboard that you can use year-round. Take a white picture frame, paint a cut-to-fit piece of plywood with chalkboard paint, and voila – you have charming, custom-designed slate. If you want to go all out, paint your pumpkins white and garnish your chairs with some black-and-white pillows. Now you've got a theme.
Paint the Front Door
Some years, decorating is beyond us, and if there were ever a year, this would be it. And, hey, it's okay to put some pumpkins on the porch and call it a day. We're sure not judging. But take advantage of the cold fall weather one weekend and paint your front door a spiffy new color. You'll get a mood boost, your house will up its curb appeal, and your door will be ready to face whatever winter throws at it.
Coordinate Your Color Scheme
When planning your fall door décor, a leaf wreath is a classic option. As you're browsing for a wreath this year, think about your color scheme. One reason this combo is so eye-catching is that blue and orange are opposite each other on the color wheel. Google "color wheel" if you don't have one, and get some ideas for how to breathe new life into your fall porch décor. Or, if that's too much for an already overloaded year, we'll share a secret: An orange wreath will also rock doors that are black, white, gray, and green.
Go for Shutters That Pop
Like front doors, shutters occasionally need a new coat of paint. Fall is the perfect season to paint – the days are still warm, but they're less humid, so the paint dries quickly. Pro tip: Follow the 60-30-10 color scheme when you're painting a house. Use 60 percent for your field color, 30 percent for trim, and 10 percent for accents. In this case, the goldfield color is beautifully balanced by the white trim and the marine-blue shutters.
Match Your Chairs to Your Front Door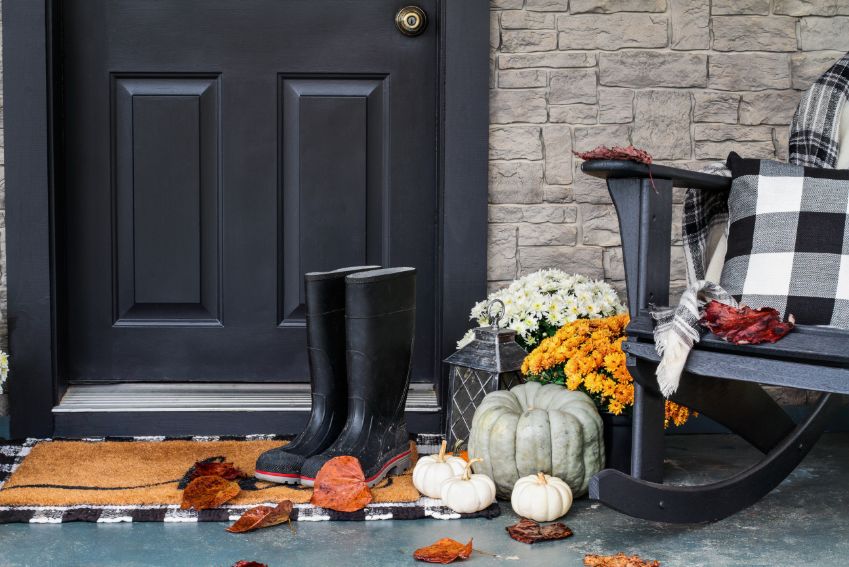 One gift 2020 has brought us is the time at home (LOTS of time at home). That's let us take on a lot of tasks that we didn't have time for before. If it's been a while since you looked at your porch chairs, now's a great time to glance at them. Are they looking a little worn? A new coat of paint will fix that. And like the porch above shows, matching them to the front door gives your home a crisp, pulled-together look.
Create a Spooky-Fun Casket
Are you looking for a little whimsy in your Halloween décor? Even amateur woodworkers can manage this project. Cut a piece of plywood in the shape of a spooky cartoon casket. Then paint it with chalkboard paint and write a message on it for All Hallow's Eve.
Spiff Up Your Apartment Balcony
Apartment porches should get some love, too. While your complex probably has rules against painting, you can still switch out your rug for a bright, happy color, thread some leaves through your porch rails and pull the fall decorations from the hall closet.
Repurpose an Old Shelf
Do you know that old shelf that's catching dust in the garage? It's just perfect for holding flowers and fall décor. Dress it up with some chalk paint for the vintage look you love.
Stencil a Wooden Crate
Celebrate the fall harvest with a stenciled wooden crate. It's easy to paint on letters, either freehand or with a simple letter stencil. Give the crate a quick coat of clear varnish to seal and protect it from the weather.
Make the Front Door Smile
This front door's smile may look cutely spooky, but it wasn't at all scary to make. Cut a face from black construction paper and tape it to the door. It's easy, fun, and full of personality.
Turn a Pallet Into Pumpkins
If you're handy with a jigsaw, try your hand at painted plank pumpkins. (Say that three times fast.) These pumpkins, cut from fence panels or wooden pallets and painted Day-Glo orange, have built-in shelves to hold potted plants and other fun fall décor. And, even better, they can be stored and used again next year.
Upcycle a Garden Tool Into a Statement Piece
If you have a large front porch, fill an old garden implement – a vintage wheelbarrow, an antique wagon, or even a bicycle's basket – with fall decor, from mini-pumpkins to pots of flowers. The trick is to mix your materials (plants, doormat, and garden implement) and coordinate your colors, so they complement each other beautifully.
If you've loved these colorful, fun fall decorating ideas for your porch, you'll also love browsing our Color Tool. Find free 8″ x 8″ paint swatches, drool over trending colors, or peruse our favorite finished projects.
---