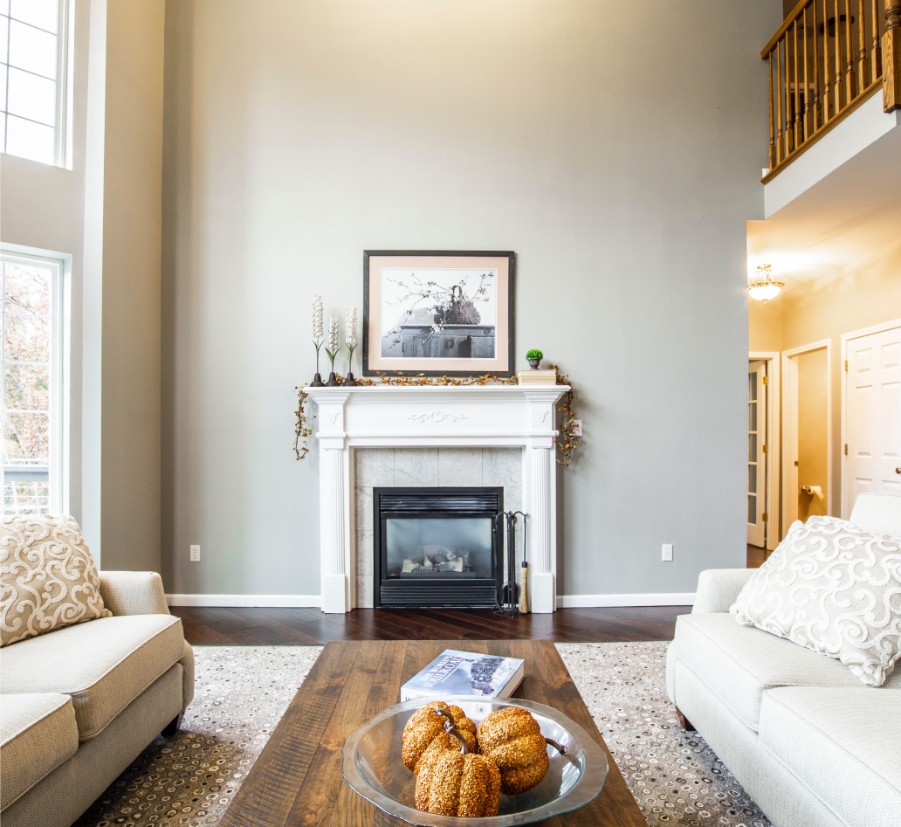 Striking a balance between cozy comfort and decluttered clarity with your home decor is a tricky business. How much stuff do you move out of a space before it becomes a stark and barren warehouse of a living room? How many faux sheepskin rugs can you throw over every surface before it feels like you're moonlighting as a shepherd?  Does everything have to be white? Enter minimalist interior design. 
Cozy minimalism has roots in the concept of hygge, the Scandinavian notion of incorporating coziness and little pleasures into everyday life.
It's not supposed to be complicated. It doesn't have to be all white, either. Move out your unnecessary items while still maintaining the comfort of the space by using soothing and inviting colors. Doing so will add drama to your interiors and evoke a sense of calm.  
1 – Clear the clutter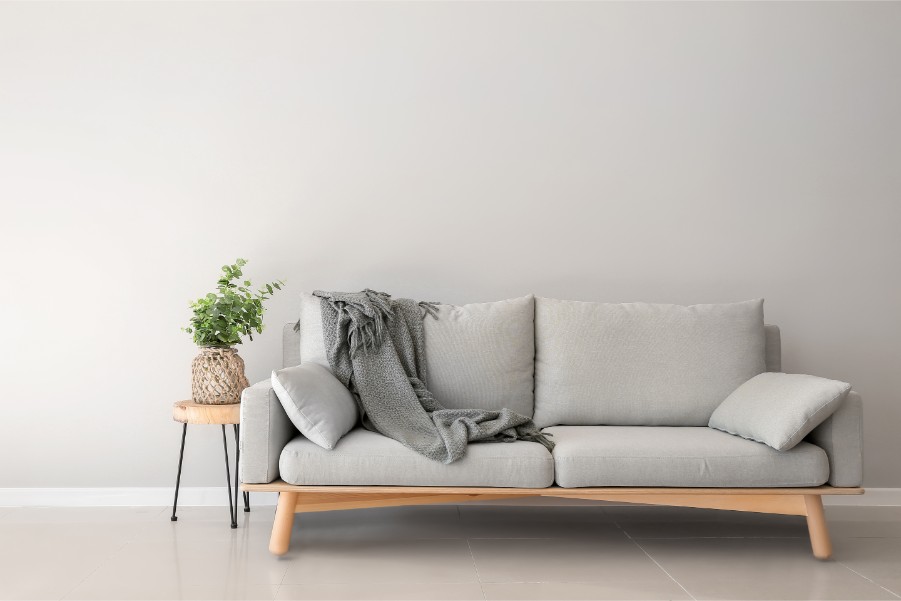 Comfort only comes from peace of mind, and that's hard to achieve when your space harbors too much stuff.
Turn a critical eye to the objects in your home that don't serve a physical or emotional purpose, and purge them immediately. There's no reason to be harsh with your choices (this process is about creating the best overall feel for your home, after all), but try to remove the unnecessary things.

For items you'd like to hold onto, but don't fit into your "minimalist" aesthetic, use MakeSpace, a full-service storage company that serves NYC, LA, DC, and Chicago. They'll pick up the items that didn't make the decluttering cut (like your large kitchen appliances), store them, and deliver them to you whenever you think your home could use a little more comfortable character.  
2 – Find your balance
Some cozy minimalists will err on the side of cuddliness, incorporating warm, relaxing colors with luxurious fabrics. Others will lean more toward the conservative side, keeping surfaces clear and accouterments to a minimum.
You don't have to choose.

Balancing two contrasting styles is fun and infuses every inch of your home with character. Assign layers, patterns, and groupings in those warm, relaxing colors (light brown, cream, navy) to some areas of a room, and keep some spaces clear. You can have your throw-pillow-laden couch and your bare coffee table, and gain comforting clarity from both.
3 – Paint it black

Black is synonymous with drama. What else would the stage fade to at the end of a stellar theater performance?
Black walls don't have to elicit gloom. Pair them with clean-lined, light-colored furniture and well-organized accessories. A soft linen couch and well-worn rug make the space feel lived-in. Natural accents, like a driftwood table, bring the outdoors in. Huge glass doors also help.

Adding a small skull sculpture in the corner is totally up to you. You never know when the curtain might open for your Hamlet monologue.
4 – Observe the peace in bright colors
Serenity takes over people in a variety of ways. One person's tranquil oasis might be a meditation room featuring various shades of beige. Another might feel most centered in floor-to-ceiling emerald green.
Find solace in bright colors?
Incorporate them into every room of your home with gusto. You'll effortlessly achieve the drama you're after while wrapping yourself in a big, vibrant hug upon entering every room.
5 – Mix textures
Less is more in minimalist decor, but sterility is rarely cozy. Combine textures like faux fur and wood to create visual interest without the overuse of distracting knick-knacks. When choosing pieces to incorporate into your home, please give as much consideration to how they'll feel as you do their appearance.
Your favorite fuzzy blanket stored in a vintage wooden crate is asking to cover you. A thin white throw folded into a rigid steel box wants to be left alone.
6 – Light it up
If lighting can be the difference between a mediocre selfie and a viral Instagram post, you better believe applying those same tactics to your decor will result in likes galore.

A  large floor or wall mirror can double the natural light of a space when strategically placed opposite a window. Lamps with low-watt bulbs can add intrigue to a terracotta-hued room. And there's nothing like soft candlelight reflecting off of a gold-flecked ceiling to provide instant romance, even if you're scrolling through your feed alone on a Saturday night.
7 – Go big
Paring your accessories down to the best of the best ensures that you find joy in every room in your home. If one of those accessories happens to be a giant clock that takes up the majority of a wall? Even better.
Oversized pieces fit perfectly into this aesthetic by establishing their presence without the need for additional odds and ends. Their impact on a room brings the pizzazz you crave, but won't detract from other design elements like a bold blue wall or fantastic chandelier.   
Comfort and drama are not mutually exclusive. Combining pared-down additions with statement-making decor allows you to display multiple facets of your personality without putting it all out on the [completely cleared off] table.
"Cozy minimalism" is like taking a big sip of iced tea: It may seem like an oxymoron, but it just feels right.
Get a free quote for your next paint job and incorporate these trends into your home.
---