People everywhere instantly recognize San Francisco's Painted Ladies, the colorful Victorian homes that grace the city from North Beach to the Sunset District. Their gingerbread architecture, vibrant paint colors, and distinct personalities help make the City by the Bay so magical. So take a color tip (or two) from these fun houses, and bring a little San Francisco to your neighborhood.
Choose a Happy Hue
This candy-colored home captures the essence of San Francisco's hippy spirit. Iconoclastic, whimsical, and colorful, this exterior color scheme combines hues that shouldn't go together but do. Just because your HOA would cry if you painted your house pink and purple doesn't mean you can't pick a bold accent color. Sometimes all you need is a happy-hued front door to make your home stand out from the crowd.
The Importance of Sight Lines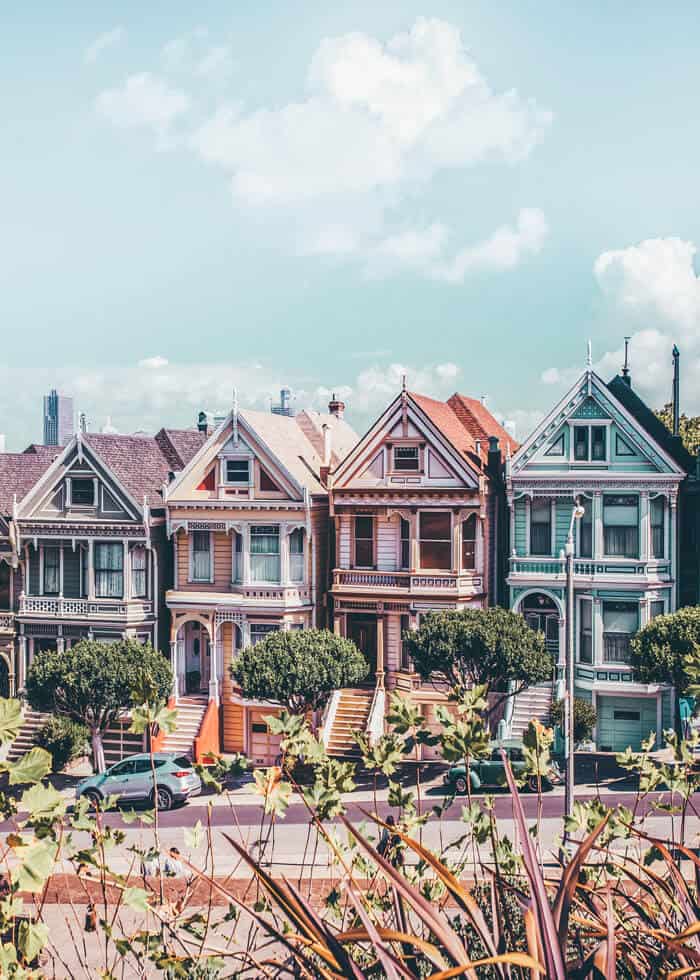 Ah, Alamo Square, one of the most photographed neighborhoods in the world. The row of perfectly painted, tidy Victorians against the urban backdrop of the city skyline makes locals and tourists alike sigh with joy. One thing that makes this row of homes work visually? The juxtaposition of colors. When planning your home's paint color scheme, consider what's next to it, whether it's a neighbor's house or an adjacent room. Sightlines are everything when it comes to showcasing a beautiful paint job.
The Color Wheel Is Your Friend
When choosing paint colors for your house, turn to the color wheel. This cosmic-law-of-colors is your cheat sheet for which shades play well together. Secondary colors purple, orange, and green naturally combine harmoniously. For a toned-down version of this gorgeous home, choose a neutral field color and trim, then add punch with secondary-color accents — green shutters and a purple door, for example.
Three Harmonious Tones
Picking paint colors is overwhelming. Make it easier by choosing three hues: a field color, a trim color, and an accent color. In the house on the left, the field color is mauve, the trim is beige, and the accent is purple. But you could do a gray field color, white trim, and a yellow front door. The concept is the same; only the colors change.
Attention to Detail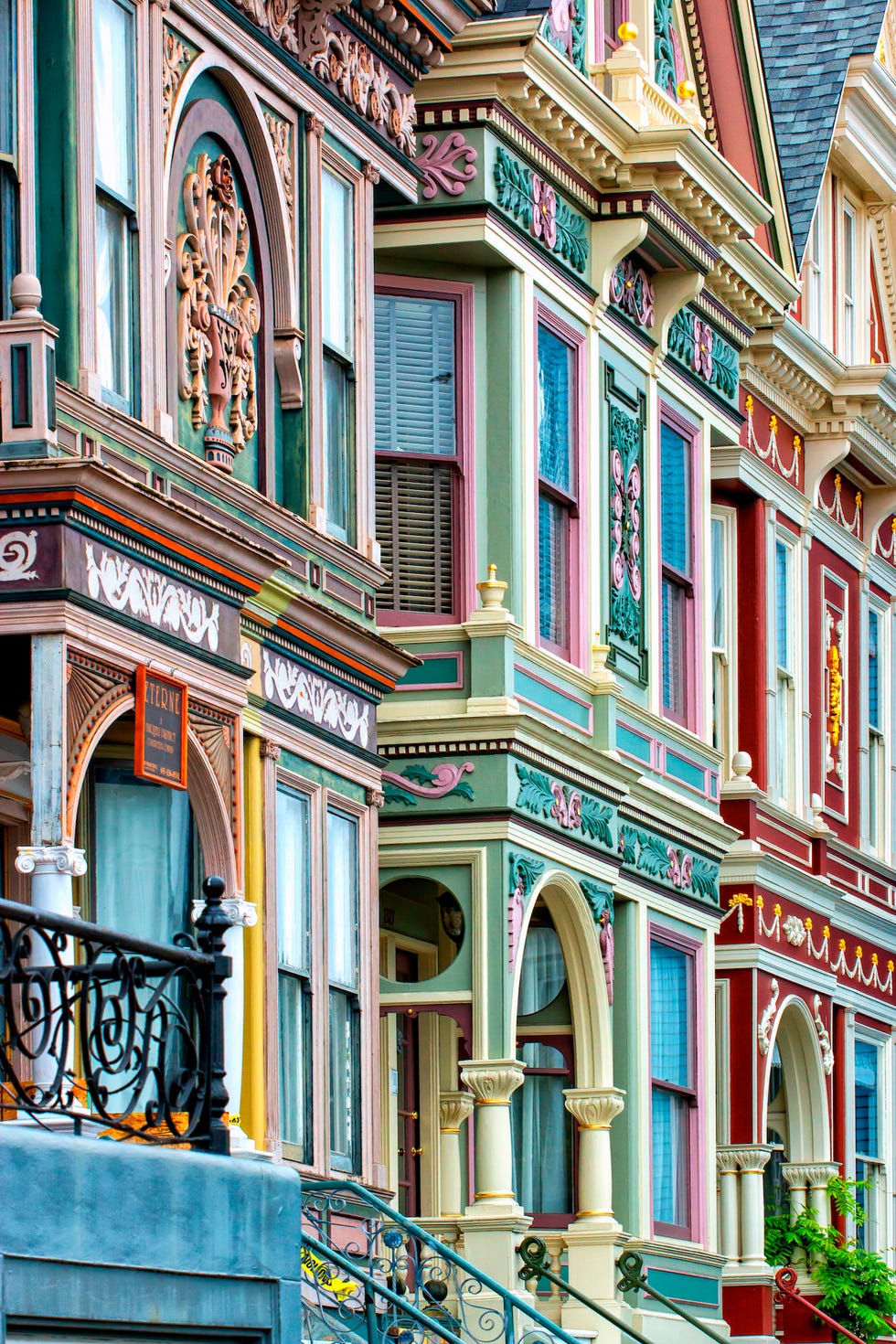 It's the little things that make a home uniquely yours. And in these San Francisco Painted Ladies, the attention to detail is almost mind-boggling. What details can you add to give your home personality? A  cupola with a wind vane in the shape of your dog? Front porch planters made to resemble the heads of classical statues? Choose a unique paint color for the shutters? Just one well-placed focal point can change a home's entire look.
Neutral, Not Bland
Neutral paint color schemes don't have to equal bland. Sometimes a tone-on-tone scheme is what's needed to emphasize a home's architectural features. Try layering several neutrals to enhance your home's bones and provide visual interest in a quieter color palette.
The Power of Two
Back to that whole "picking colors is haaaard" thing. Sometimes a simple two-color scheme is all you need. Using white for trim makes your field color stand out, beautifully.
If you want to bring a little San Francisco home with you, discover your color with our color tool. There, you can browse trending colors, order free swatches, and even get your house painted in three, easy steps.