Your porch is your summer outdoor-living HQ — here are some porch ideas to make it so beautiful you'll never want to go back in the house.
Move the Sofa Outside
Forget the deck. The porch is where it all happens. And cushy porch furniture pretty much guarantees you're not moving from this spot till September. When choosing your furniture and accessories, coordinate your color palette so that your exterior paint color complements everything — almost like you would if you were designing this room indoors.
Paint the Ceiling
In the south, it's traditional to paint ceilings haint blue, a light color that's said to emulate the sky. When spirits see it, they think it's daytime and run away. Besides the cool history, a light blue porch ceiling is pretty, brightening the space and adding interest and depth. Of course, you don't have to choose blue — any color you love will work. But if you want to try haint blue, go with Magic Wand, a pale green-tinted blue similar to the original sky-based hue.
Hang Curtains
If you're tired of the harsh sunlight and the neighbors' prying eyes, there's an easy solution: curtains. Suspend anything — sheets, shower curtains, fabric — from tension rods for an affordable alternative to a wall or fence. Light-colored curtains let light filter through while cooling off hot porches.
Warm It Up
The only thing better than using your porch in the summer is using it in colder weather, too. And a fireplace makes porches habitable — sometimes even year-round in warmer climates. If your porch doesn't have a built-in fireplace, don't use a chiminea or fire pit (even if your husband insists he won't blow up anything). Instead, try a porch heater that's made to work in covered spaces. These sculptural heaters keep the porch warm and look great doing it.
Throw Down a Rug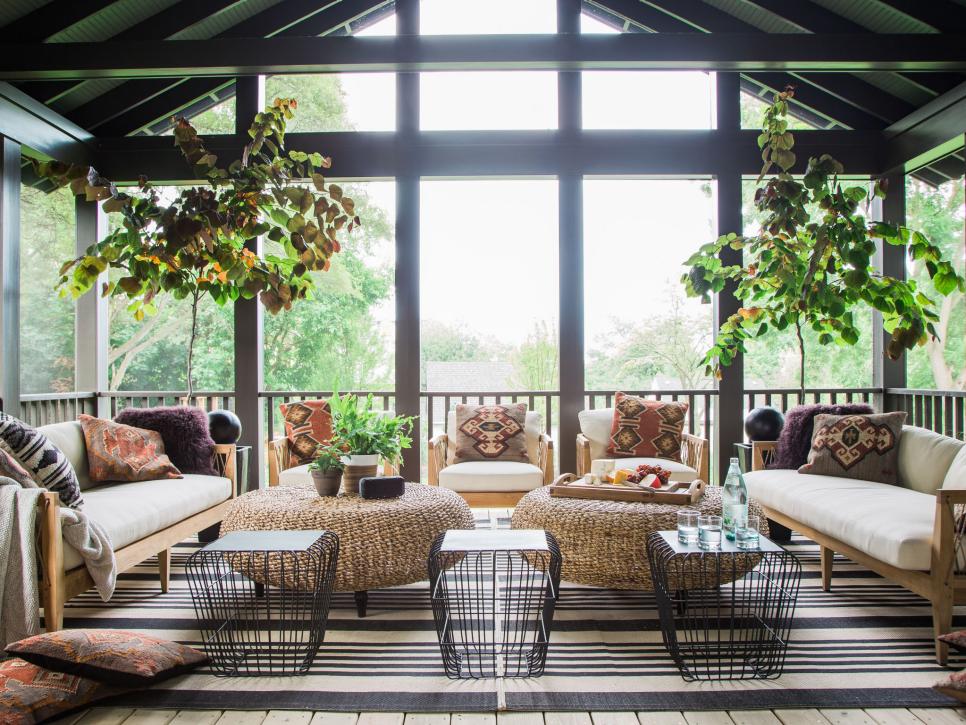 In line with boho decor, putting a rug on the porch instantly turns it into an outdoor room. It also provides an island for furniture, separating seating areas from eating and cooking spaces. A non-fade rug made for outdoor use can be hosed off when it gets dirty, making quick work of the kids' Cheezits crumbs (or your late-night bowl of popcorn).
Swing On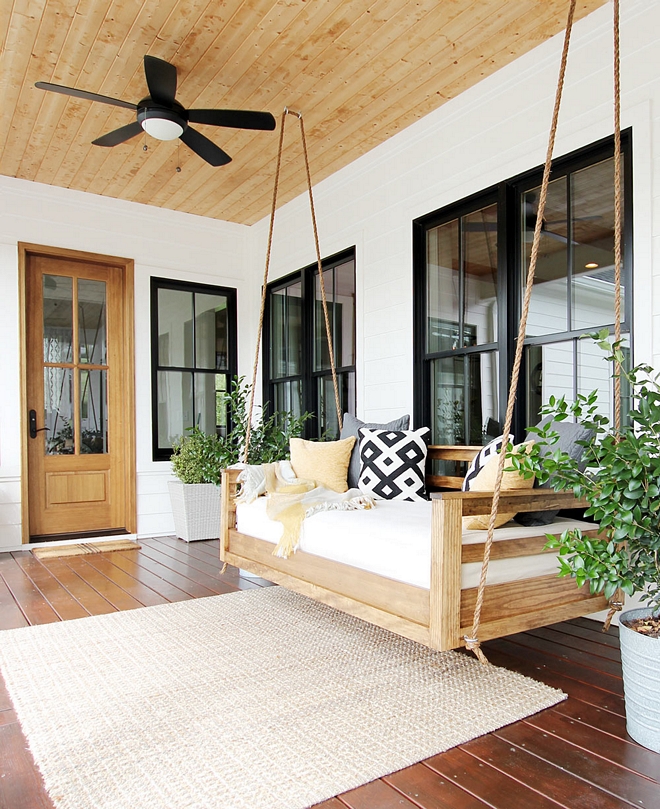 Before air conditioning, it was common for homes to have a sleeping porch, where families slept in warm weather. The porch's cross ventilation captured breezes, making slumber easier on sweltering nights. Create your own sleep space by hanging a bed from the ceiling. Then rock yourself to sleep, day or night. (Did you just yawn? Us too.)
Paint the Floor White
Give your porch a polished look by painting the floorboards white. It protects the porch from traffic and sunlight and makes it look like an extension of your home's interior.
Paint the Floor a Pattern
If you don't want to paint the whole floor a solid color, try a pattern. Stripes, geometrics, even a stenciled rug make beautiful design elements. Use paint made for decks to get the longest wear. Then sit back and enjoy your handiwork.
Add Life With Plants
Bring nature out of the yard an onto the porch with potted plants. Mix and match pots for an eclectic look, or use the same color to create a minimalist appearance. Pick plants that are easy to grow and hard to kill, like succulents, then bring them into winter over.
Hang a Hammock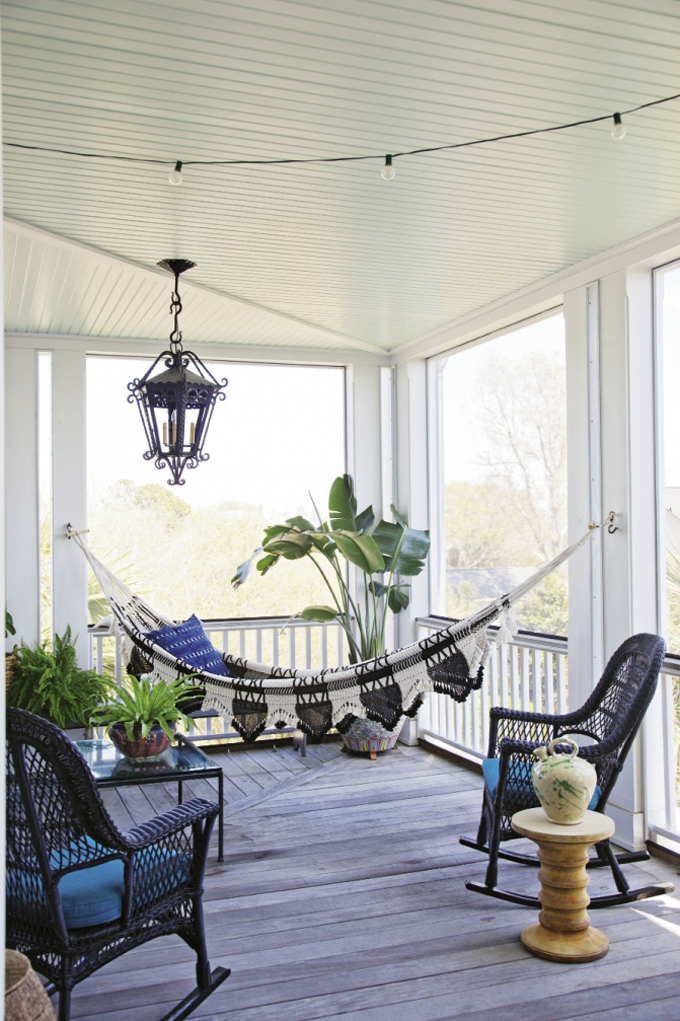 Hammocks and porches go together like summer and flip-flops. Bonus points if your hammock, like this one, pulls together the porch's entire color scheme.
Pick colors for your porch, from floor to ceiling, with our color tool. Order free paint swatches, browse the hottest colors or schedule time to get your home painted (that's as easy as 1-2-3).