Best Blue Paint Colors for Your Exterior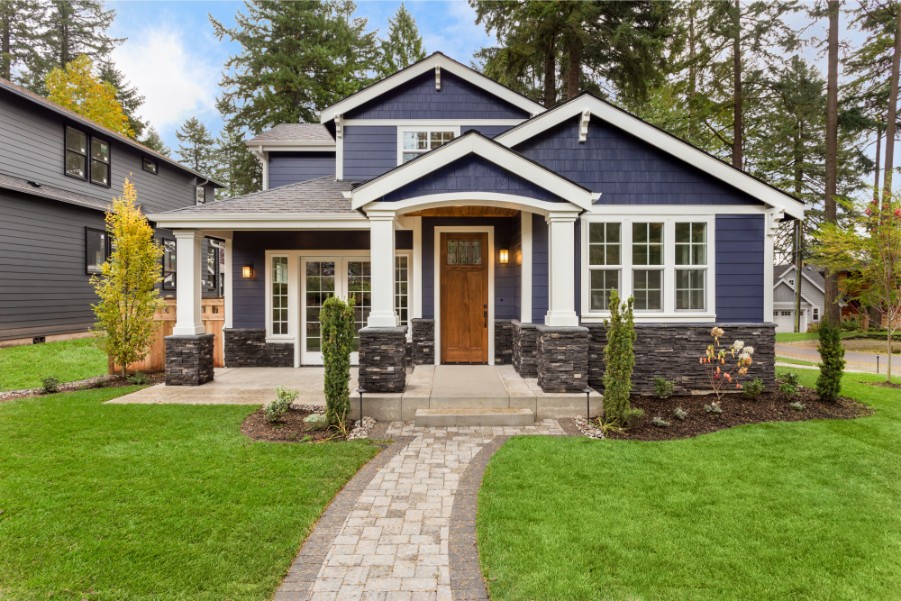 Blue is one of the premier paint colors for home exteriors. But as with interior colors, you might think, "I want to paint my house blue," and then wonder … what blue should I choose? To help you narrow your choices, here are the best five blue paint colors for your home's exterior.
Blue Black
Dark colors, like black and navy, sit atop the hottest exterior paint color lists this year. Make your home the trendiest on the block by choosing a dark blue with a gray undertone, like Goblin. Pair it with a paper-white hue like Coronation to show this deep color at its best.
Slate Blue
As navy's popularity indicates, dark shades are in right now – and the moodier the hue, the better. If you love the concept of moody paint, and super-dark isn't your style, try a dark slate blue like Blue Cloud. This vibrant, neutral twilight color is perfect for Craftsman, coastal, or New England-style homes.
Gray Blue
Blue ranks as one of the most popular colors because it is calming and serene. It also complements a variety of tones, like black, white, yellow, red, and other blues. And mid-toned colors, like Chalky Blue, never go out of style. Shaded and stormy, pair this with a creamy hue like Oatmeal to keep the effect fresh.
Sky
If you're only painting every eight to 10 years, it's crucial to get the color right. So, choose a color that truly stands the test of time, like a light blue.
Somewhere between sky blue and periwinkle, Stratosphere has a timeless elegance. It's beautiful with natural wood and stone accents and works extrordanarily well with brick and wrought iron. Try it with Delicate White.
Aqua
Aqua's bright blue-green hue is perfect for homes adjacent to the beach. Aqua's optimistic tones reflect the summer attitude and the sundrenched weather. Paint your walls Seascape Green and add a sweet color punch to the front door with lime green Goody Gumdrop. And if your home is inland, you can still bring a taste of the coast to you: Try Seascape Green on your door, shutters, or porch ceiling.
If you know blue is the color for you, but you're not sure which hue to choose, why not order some free 8″ x 8″ PPG Paint color swatches? Or, if you'd prefer to get expert, 1:1 assistance, our professional exterior house painters can guide you toward the perfect paint color for your home.
[maxbutton id="1″ url="https://www.paintzen.com/services/residential-exteriors" text="Get Started Today" ]
---