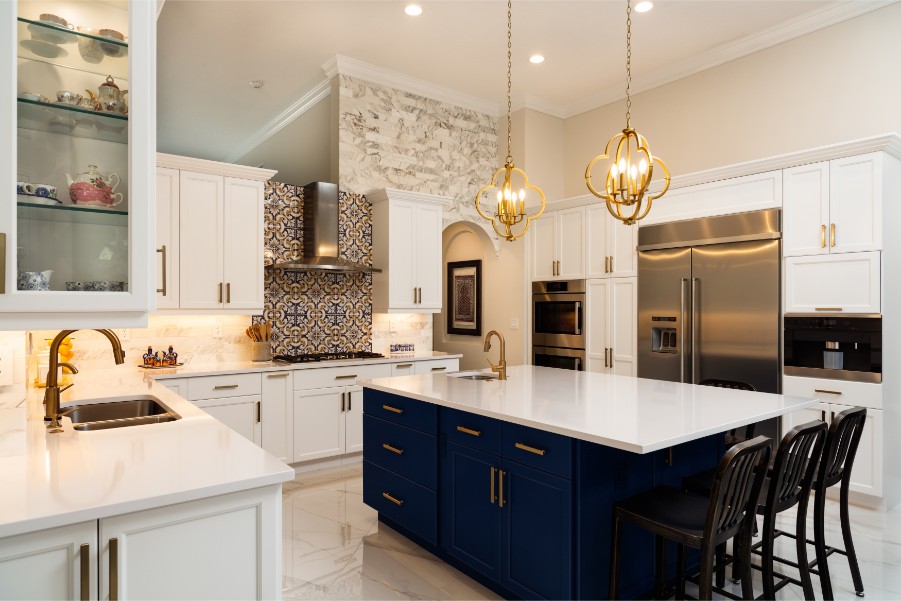 Put today's hottest kitchen and bath trends to work for you. With the help of Paintzen, one or two small tweaks can give your hardest-working spaces a whole new look.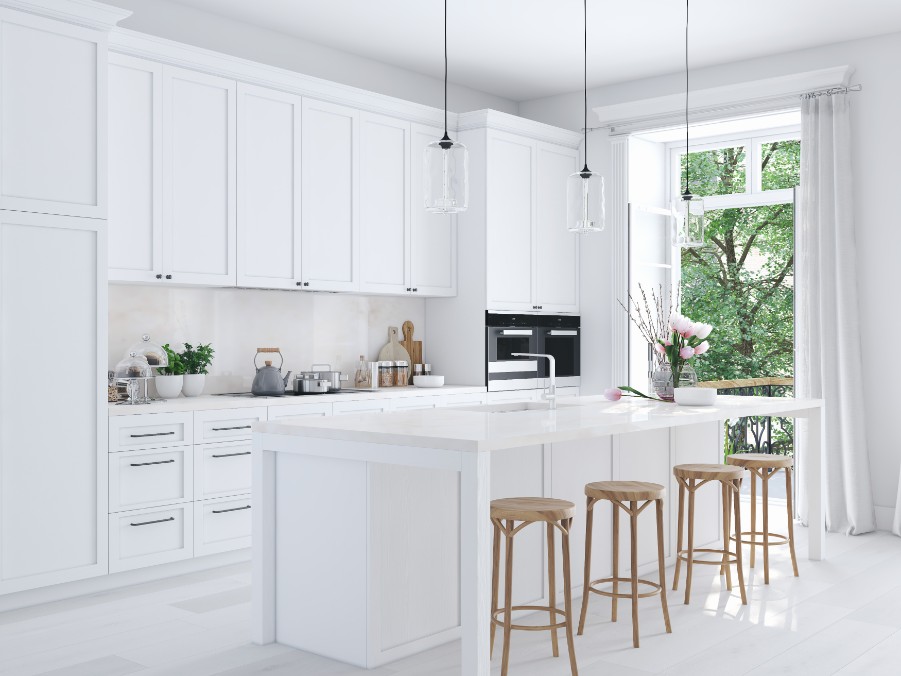 Even if you don't have a professional designer around to create this amazing look for you, you can totally copy it. Paintzen can paint your cabinets this year's hottest color: gray-blue. Or repaint your floor tile with a stenciled flower pattern. These inexpensive fixes will easily give your kitchen a designer look.
If you want your kitchen to look Insta-ready, replace (some or all) of your upper cabinets with open shelves. Then paint the walls a super-trendy color like this bold green. Arrange like items together on your shelves; they don't have to be monochromatic (all-white dishes, for example), but putting similar colors and styles together creates a cohesive look.
If you have a breakfast nook that's seen one too many Pop Tarts, replace it with a banquette. What's old is new again as built-in seating makes a strong comeback.
We mentioned painting cabinets as a smart, fast, affordable upgrade earlier. So what could be trendier than blue cabinets? Two-toned cabinets. This eye-catching look gives any kitchen a designed feel and doesn't take any longer than painting cabinets a single color. Pro tip: Cabinetry stays around a long time, so pick a color combo you can live with for years to come.
Bathrooms get a lot of foot traffic. Give your bathroom a gift: modern sconces. Sconces are a natural for bathrooms: They offer face-height lighting on either side of the mirror, rather than the lights-everything-and-nothing overhead lighting in most bathrooms. With this much light, you can opt for a darker paint color in your bathrooms.
Small bathrooms always need more storage, but what do you do if you're running short on wall space? Try a rolling cart and some lighter colors to really open up the space.
Brass fixtures are one of the hallmarks of Scandinavian design. As this trend swept across the country a few years ago, brass and copper light fixtures began popping up in design magazines and blogs. Now, the trend has extended to include kitchen and bathroom fixtures. If you want a fast fresher-upper for your loo, just change out the fixtures to brass.
Want to totally update your look without totally updating your whole bathroom? One word: wallpaper. No, really — we know how much time you spent stripping those mauve cabbage-rose borders from the ceilings of your fixer-upper. But that was then. Now, wallpaper adds just the right pop of color, texture and design. Go for a welcoming pattern like pineapples, masculine stripes or even Deco-inspired black-and-white.
One of the easiest ways to update any room in your house is paint. Upload photos of your home and try on paint colors, or have one of our design experts pick exactly the right color for you. We'll send a top-quality, local team to your home to paint — you never even have to open a can.
---