Is Beige Paint Making a Comeback?
We've been watching industry trends, and we're noticing the question, "Is beige paint making a comeback?". And the answer is yes. Beige paint colors seem to be making a comeback. While jewel tones have had their day, is the sun going down on them?
Well, maybe not entirely. There's a reason these vibrant hues have gathered accolades (and gallons of paint) over the last few years. And they continue to be popular, as PPG's 2020 Color of the Year Chinese Porcelain attests. We need those bright colors to balance the neutrals.
But it's been a while since any shade of beige took first place in the popularity contest. For about a decade, now, gray has reigned supreme. You see gray or greige just about everything, walls, kitchen cabinets, wood floors, etc.
But there's a soothing quality to pure beige color, with its yellow, green, or pink undertones.
REX Homes agent, Beth Ressel, finds it particularly appealing in new homes. "I love a property that's painted beige because it just says home. Buyers can see themselves in it, imagine their families in the living room, imagine their heirlooms around the room. It's warm and inviting and approachable!"
Beige does go with everything, making it a solid color for almost any home.
Here it is, on the gray side, with grayed-down pastels for a fresh and modern look.
Here, the interior design's Scandinavian roots are showing, with rustic-yet-streamlined furniture, complete with black and white accents, for a perfect warm neutral feel.
Beige brings out wood tones in furniture and floors.
And it warms up gray, bringing a delicate, feminine quality to a nursery.
It pairs well with accents in saturated blue and inky black, and some crisp white trim.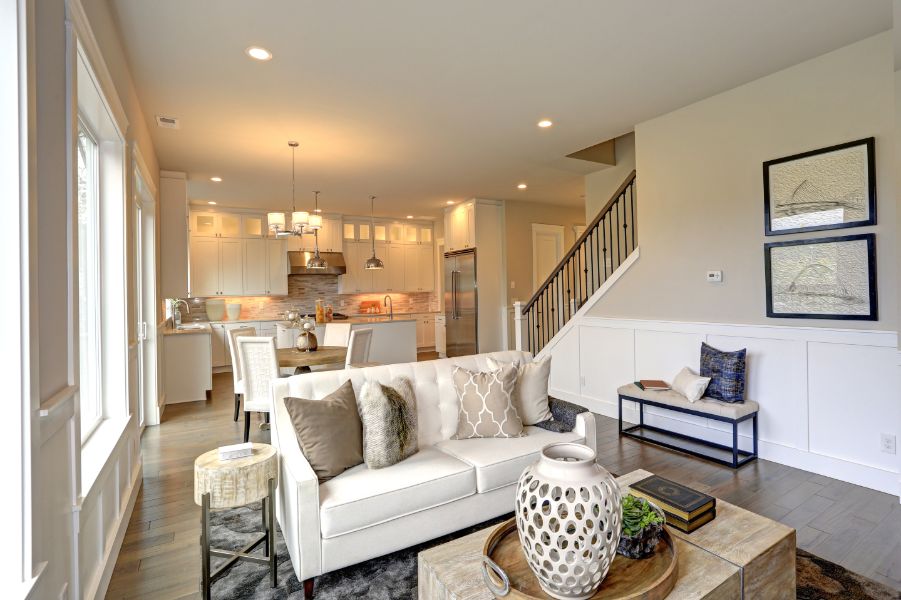 It's a great neutral color for an open family room, adding depth and interest while leaving the room airy and light.
It's got a soft quality that makes you want to nest, maximizing your downtime.
It works with almost any style, from warm traditional to modern rustic.
In a dining room with a high ceiling, it makes space soar.
Use it in a tone-on-tone design, especially in a room with large windows, so the windows become the focal point.
And if your apartment came painted in beige, it's easy to make the most of it. Choose a few of those jewel-toned accents, and suddenly, your space is new.
Do we have you convinced that beige may be swinging back on the popularity pendulum? Check out our Color Tool for more paint colors, where you can even create your color palette. We'll also send you free PPG paint samples in your favorite shade of – you guessed it – beige.
---