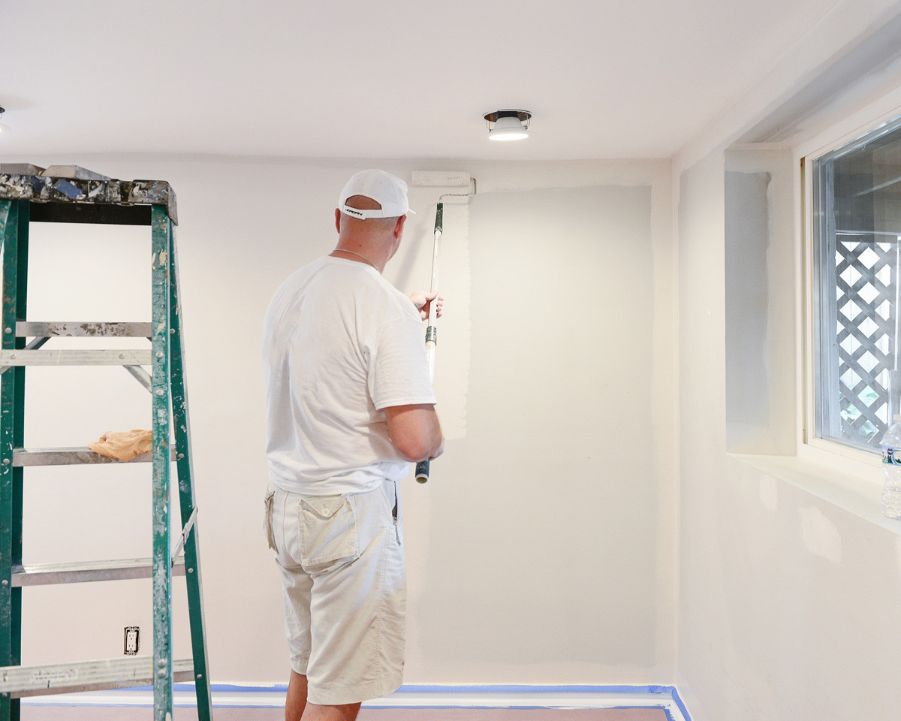 Q: How much does it cost to hire a painter?
A: It generally costs around $400 for a professional to paint one room. 
The Process
How much does it cost to hire a painter is a loaded question because there is a lot involved in the process. First and foremost, the final cost of the job will depend on many factors: square feet of the project, type of paint, how many gallons of paint, the labor cost or hourly rate of your professional painter, and other interior painting costs will determine the total cost of your project.
But, beyond the supplies, there is a lot of manual labor and skill required for a good quality paint job. A house painter does a lot more than apply color to your walls; they also prepare the surfaces for paint! Cleaning, patching, sanding, and possibly stripping old paint from the walls may be necessary.
The cost to hire a professional painting service is worth it when you see the prep work required. Taping the wall's edges, protecting the floor and covering the furniture are the next steps. Although necessary, the time needed for this job can be for several hours.
Most people don't want to put in that amount of time to do the work themselves. However, without it, the results can be disastrous. Preparation is just as necessary as the skill and technique offered by the house painter.
Don't forget that many painters will arrive with every supply necessary for the project. Homeowners taking on a DIY project need to purchase the paint, as well as rollers, tape rolls, brushes, trays, and various other tools required for their project. How much does it cost to hire a painter? When you consider time and effort, most of the time, the price is fair, especially when compared to taking on a DIY home painting project.
Increased Value
Take a look at the cost to hire a painting service compared to the increased value on the home. Your property's value ebbs and flows with the current, real-estate market. However, enhancing it with low-cost investments like a new paint job will certainly up the value. Add a fresh coat of paint to the exterior or interior, try a new color on walls or ceiling, or refresh the look of doors and trim.
There's no need for massive renovations that cost thousands of dollars. You'll see more return on the home by simply giving it a new appearance with a fresh coat of paint. Potential buyers see the paint job, and they equate the investment with the rest of the home's features. Your bathroom and kitchen fixtures may be a decade old, but they look spectacular against a freshly painted backdrop.
The cost to paint a room is also worth it if you want to rent the property.
These days, renters are pickier than ever. They want an attractive home that's worth their monthly payment. It's easy to differentiate between a professional paint job and an amateur's effort.
Renters will see the expert paint job as a reflection on the landlord's attention to detail. (Every renter wants a thoughtful landlord!) Renting out that room or entire property will happen much faster with a fresh coat of paint.
Choosing a Painter
When you think about all of the factors that go into a regular paint job, it makes sense to hire a professional, insured, and licensed painter for around $400 per room. Take some time to explore all of the PPG paint colors that we have available to you. Get a free quote today for your home painting services by clicking the button below. A fresh paint job brightens up any home!
---