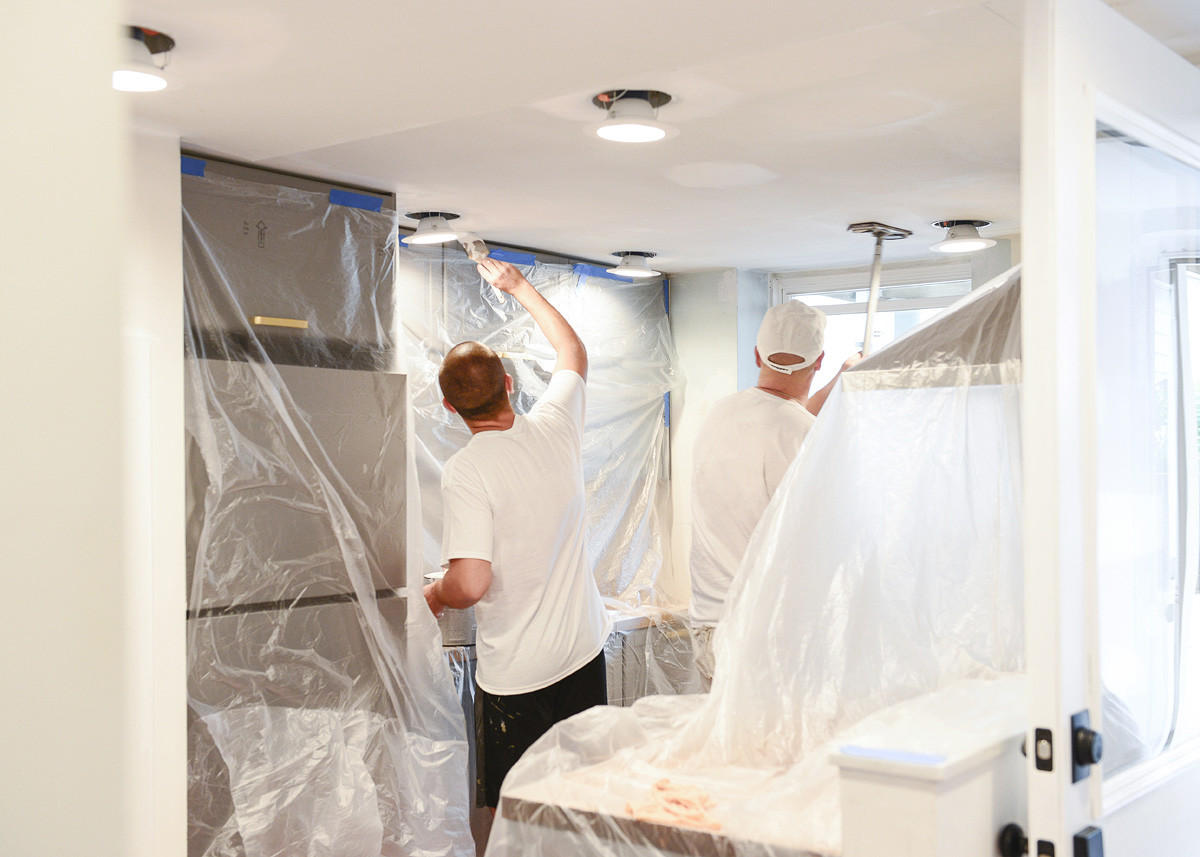 Choosing a painter for your paint project can be an extremely daunting task – trust us, we know. There are so many factors to consider when vetting potential painting contractors; your schedule, safety, and budget are only three of the many details you'll want to keep in mind.
To help with your selection process, we've pulled together a guide to choosing the perfect painter for your project.
Do Your Research
Before you start looking, know what you are looking for. Check if your state requires a license for painting, and if you live in an apartment building, see what additional insurance documentation is needed. At the very least, you'll want to ensure your painter or painting company has:
General Liability Insurance
Worker's Comp Insurance
Without proper insurance, you could be held liable for accidents or injuries that may occur on your job.

Other things you should be looking for include: the painters' experience and how trust-worthy they are (Paintzen requires a minimum of 5 years professional painting experience, a  background check, and proof of a strong portfolio of work).
Reference Check
Spend some time finding reviews of your potential paint contractor's work. Sites like Yelp and Angie's List allow users to leave feedback on companies they have worked with. Many businesses, Paintzen included, also use third-party platforms to obtain customer feedback from past customers, so that they are completely non-biased.
If you can't find these, you can also ask your painter for a few references to call and ask about the service. It's important you hire someone that is knowledgable about the painting industry and the best products to use, performs good quality work that will last, and is personable and trustworthy enough to have in your home. Don't be nervous to ask about this, or to look for proof of it, you deserve the best in your home!
Understand Your Quote
Budget is one of the biggest concerns when it comes to hiring contractors. That's why it is so important that you distinguish estimates from quotes. Many painters will give vague estimates that are "subject to change;" these numbers are too flexible to be relied on. Ask instead for a hard quote: a priced based solely on the details of your specific project, not influenced by outside factors like the season, your timeline, or 'the car in your driveway'.
Also be sure to check what is included in your quote. Does the cost include the paint? Have tax and tip been added? Do you need to pay extra for prep work or clean up? To help you with these, we've created a checklist that you can use to compare paint quotes from each of the painting contractors your are considering for your project. Click here to download!
(P.S. Paintzen always provides quotes, never estimates. And we also offer a Price Match Guarantee. We will match any price you find as long as it's an identical work order from an equally insured company. Contact us to learn more!)
Planning and Scheduling
After your budget, your timeline is likely the next crucial detail of your paint project. Unfortunately, locking down painters during your exact preferred timeframe is not always possible. Be sure to be upfront about your preferred start date and any scheduling requirements. Especially during busy seasons, like the spring and summer months, paint crews can book up early, and it can be difficult to turn around projects quickly. Ask just how on-demand painters can be. At Paintzen, we guarantee a job turnaround within 48 hours, no matter what time of the year.
An additional tip – talk to the contractor about how your schedule impacts the price (at Paintzen, it never does. But we can't speak for other businesses!). Confirm that your price will stay as-quoted even if it requires extra days on-site. Be clear about your deadline for completion, especially if you are moving or having other vendors come in after painters as well. A good contractor will want to abide by your timeline requests, and won't change your price based on your schedule.
Is There Any Guarantee on the Work?
Paint crews that are confident in their skill set and expertise should – and often do – offer money-back guarantees on their work. Here at Paintzen, we offer customers a 100% Satisfaction Guarantee. If you're not satisfied, we'll return for free and fix any areas of concern. Although the hope is that everything is painted to perfection the first time, we know it feels good knowing that there is built-in protection.
If you need more information about how to ensure you're making the right choice for your project, feel free to speak with someone on our Customer Service team. We'll help walk you through the specific details of your quote, and will happily answer any additional questions you have about Paintzen or your project in general.
Want to learn more about why Paintzen is the best option for your project? Check out the video below!
Why Choose Paintzen? from Paintzen on Vimeo.
Get started now with a free quote for Paintzen's house painting services!