The Best Paint Colors for Rooms With Lots of Natural Light (Complete Guide)
There are many factors to consider while choosing a paint color: design scheme, furniture, and lighting. The direction that your room faces should also be taken into consideration, especially if you have lots of windows that let in beautiful natural light. There are unique colors that work well no matter where your windows are, but it is a smart idea to learn a bit about how and why geography and positioning make a difference.
Whether your room is north facing, eastern facing, southern facing, or western facing, here is Paintzen's complete guide to choosing a paint color based upon the direction your room faces.
Northern Facing
Eastern Facing
Southern Facing
Western Facing
The Best Paint Colors for North-Facing Rooms
North-facing rooms are cool. Not in that hipster sort of way, but the form of light. The indirect sunlight keeps them feeling chilly, even on bright days. When choosing colors for these spaces, avoid those with gray, blue, green, or lavender undertones, including stark white. In these tones, even a well-decorated room will look dingy and uninviting. So how do you make north-facing rooms appealing? Use warm colors to balance them out. Here are a few of the best paint colors for north-facing rooms that you might consider using.
Northern Rooms with Plenty of Exposure
Just because your room faces north doesn't mean it can't get a lot of natural light. North facing rooms with lots of windows can still get plenty of sun exposure that stays relatively consistent throughout the day. For well-lighted northern rooms, choose more neutral shades, like Malted Milk or Sourdough.
PPG's Malted Milk is an off-white with a buttery undertone. It makes an excellent neutral for north-facing rooms, giving the appearance of cream without the potential for dingy gray notes.
The quintessential neutral, Sourdough, is a warm tan, almost the color of dried wheat. It glows in the sun and warms a shadowed room.
Northern Rooms with Fewer Windows
However, many northern-facing rooms seem dimly lit in the house, especially if your room only has one window. For these rooms, feel free to choose bolder shades of paint, such as Brick Dust.
For accent walls or rooms that need an intense burst of color, try Brick Dust. This vibrant tone is a real, deep red. But like red lipstick, remember: a little goes a long way.
Final Tips for Northern Rooms
Picking colors for north-facing rooms doesn't have to be tough. Just remember: go warm. Avoid gray, green, or lavender undertones, and your place will be welcoming and warm, no matter the weather.
If you like what you see here and you'd like help brightening a north-facing room in your own home, call our experienced residential painters today.
How light moves through a house during the day has a significant impact on how your paint color looks and the moods it invokes. This is especially true for bright and sunny rooms first thing in the morning and then gradually become dimmer as the hours pass by. With the right color choices, you can continue to feel motivated, energized, and positive, no matter what time it is.
Best Paint Colors for East Facing Rooms
As daylight passes through a room over time, it changes in color. For east-facing rooms, which get bright, cool morning light, consider clear and sunny colors made to work in both morning bright and evening dim. We've listed what we think are the best paint colors for east-facing rooms.
Eastern Rooms with Plenty of Exposure
If your eastern-facing room has lots of windows and gets a fair amount of sunlight, certain paint colors work better than others. Light and neutral colors often do well in sunny eastern rooms.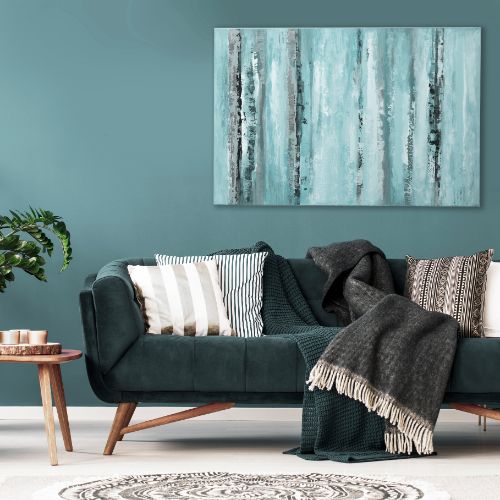 For example, duck-egg blue will come alive in the morning sunlight. Pair with bright white trim for a beautiful, classic look.
East-facing rooms can have blue or green undertones, so keep this in mind when choosing colors, mainly neutrals. This transitional kitchen, painted in a light shade of gray, stays crisp no matter the light.
Eastern Rooms with Fewer Windows
If your eastern room only has one window or just a couple of small windows, you will want to provide the right type of balance between bright colors and coordinating accessories. Balanced rooms will be calming and pleasant to spend time no matter how much sunlight comes in the windows.
We recommend starting with violet, green or blue paints because they're bright and fresh in the morning while still looking pretty in the darker afternoon light. Like these colorful pink pillows, choosing warm accessories will help the room stay balanced, color-wise, all day long.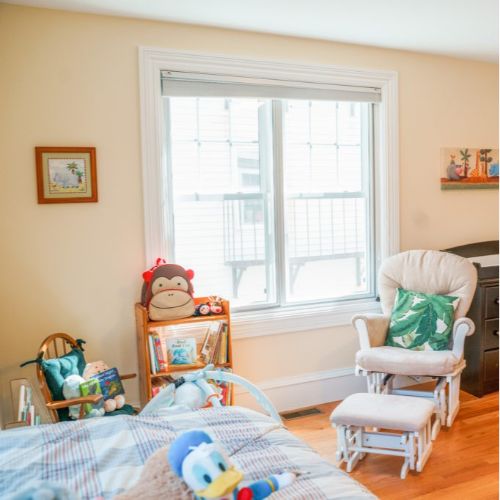 Also consider yellow or orange, which are cheery in the morning and balanced in the evening.
Final Tips for Eastern Rooms
Remember, when testing to see how color works in a room, paint a couple of large test patches. Put one near a window and another away from it to visualize how the hue will change over time.
Let these color tips steer you in the right direction, and you can paint confidently, knowing your east-facing room will be beautiful from sunrise to sunset. If you like what you see here, use our top-rated residential painting services to get the same look in your home.
Let your room style guide you as you choose paint colors, especially if you have a specific design scheme or are embracing a particular era with your furnishings. With paint, you can either enhance your space's existing features or completely transform the room into something entirely different. The sky's the limit with our expert painters by your side!
Sunny Shades for Southern Facing Rooms
Everyone loves a south-facing room. The sunlight washes through the windows, bathing the room in warmth and Vitamin D. But choosing the right paint colors for sunny rooms can be challenging.
Paint colors for a south-facing room can be fun. Sunlight reveals the warm undertones of many paint colors, but it can also present a unique challenge. A south-facing room will experience more changes in natural light than other spaces. A paint color that looked just perfect in the middle of the day may look different in the morning or evening.
It's essential to look at your colors during different parts of the day. This exposes the color to the full spectrum of the day's natural light.
Our project managers and color consultants are here to help you choose the best paint for your south-facing room.
Paintzen interior painters want to get the job done quickly and with no hassle!
Southern Rooms with Plenty of Exposure
If your southern facing room has many windows, you may want to avoid bright paint colors; they can seem a bit tacky when the sun hits them. For the same reason, overly warm colors like yellow, orange, and gold-tinted creams can make the room feel too warm.
Paintzen professional painters have had success using light grays with blue undertones. Our color consults believe this color helps balance out that excess warmth without seeming too cold. Tornado by PPG is a lovely example, as it has a subtle blue-green undertone.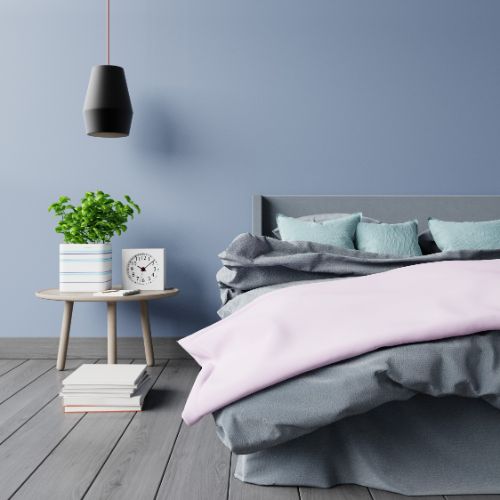 Pale blues are also quite lovely for cooling down a room, such as with this blue bedroom.
Southern Rooms with Fewer Windows
It's easier to use bold paint colors in south-facing rooms that don't have as many windows. The light will automatically be a bit cooler, but Paintzen house painters say there is still enough sunshine that using a truly bold color won't make the space seem even darker.
The rich, reddish-purple of this beautiful sitting room doesn't overwhelm the space because there's enough light to balance it.
Even a moody, purple-gray like the one found in this dining room doesn't look too dark in a southern facing room.
Final Tips for Southern Rooms
Southern facing rooms are great places for plants. If you're a lover of leafy green foliage, keep in mind when choosing a paint color that all those greens will add an additional layer to your color palette.
Paintzen professional painters and color consultants are ready to assist you in your project. Our painters have years of experience and know-how, and our color consultants are knowledgeable about popular trends and the intricacies of paint colors.
If you are ready to start transforming your southern facing space, Paintzen is prepared to help. You can contact us or get a free and near-instant quote today. Professional painters can be ready to paint your space in as little as a week.
As you move throughout the house from one room to the next, you can either strive for continuity or give each room its unique character and personality. A fresh coat of paint is a great way to do this without breaking your budget. We can help you with color consultations and sampling to make all your rooms feel more like home.
The Best Paint Colors for West Facing Rooms
In rooms exposed to natural light, the position of the sun will change how colors appear. For example, north-facing rooms can seem gray due to the cool, indirect light, while those with a western exposure can be drab in the morning but have strong yellow overtones in the afternoon. Because these warmer afternoon tones can overwhelm warm paint colors, consider cooler hues like green, pale yellow, and cream. Check out the examples of rooms that use the best paint colors for west-facing rooms!
Western Rooms with Plenty of Exposure
Western rooms are great for letting in lots of natural light during the warmest part of the day, especially if you have several windows in your space. Our painting experts often recommend light colors in western rooms with plenty of exposure to add character to the room without overwhelming the space.
A light, clear green is a natural solution because it brightens the space in the morning while keeping it cool all afternoon.
Light yellows are also the right choice. They pick up the best of the sun's rays without setting the room on fire.
Western Rooms with Fewer Windows
Not all western rooms have ample windows, though, and you can make this work to your advantage with the right paint color choice.
For rooms in search of drama and intimacy, like dining rooms, consider a beige or red-orange. While this color could be garish in another space, the western sun will make it creamier.
Finally, choosing a soft luxurious white opens up living rooms and adds space where you need it.
Final Tips for Western Rooms
Suppose you're faced with western exposure and looking for just the right color to play with the sun's hot rays, consider one of these four options. Whether you choose a neutral like white or a bold like red-orange, you'll love how these tones give new life to your west-facing rooms.
Ready to get started? Utilize our experienced residential painters today!
However, it's important to remember that rooms facing a particular direction are unique and that directionality isn't the only thing to consider. Rooms facing any direction can get lots of sunshine or hardly any natural light at all. Rather than spending the time and money to install more windows, you can use paint to instantly and easily transform your rooms.
Choosing The Best Paint For Low-Light Areas
Lack of natural light can be a problem in many homes, whether it's because of your garden or some trees or the lack of windows in your city apartment. Maximizing the light in your space often concerns an understanding of LRV paint. Paintzen interior painters and color consultants can help you choose the right paint color.
Choose Bright, Light-reflective Paints (LRV)
Most paint has a Light Reflective Value. A Light Reflectance Value (LRV) measures the total quantity of light reflected or absorbed by a surface or the percent of light the paint color reflects. White will have a high LRV of 100, and black will have a low LRV of 0.
Paintzen's professional house painters and color consultants will help you decide which color and its LRV is right for your space and for the amount of light you want.
If you are looking to bring sunshine into your life, have Paintzen's interior painting service, use a yellow to mimic the feeling of warm rays on your face. To brighten a dark space, our color consultants usually recommend a paler yellow.
Bold colors can also brighten a room if you're going for an energetic, dramatic look. Rich, warm colors can absorb shadows in dark places and help them seem cozier. If you like how this deep teal kitchen looks, our Paintzen house painters can paint your kitchen and cabinets.
Pay Attention to Finish
Our professional interior painters can also make recommendations on what kind of finish should be used in your space, as some finishes absorb more light, and others will reflect too much light and can draw attention to dings in the wall.
Want the perfect paint for your home's low-light areas? Order some free samples from samples.paintzen.com to find the right color for you or get a quote from Paintzen.
No matter what direction your room faces or how much natural light it gets, Paintzen is your go-to source for professional painting made easy. Our knowledgeable and talented local painters are experts in the types and colors of paint that work best in every space, and we can't wait to show you what a fresh coat of paint can do.
We hope you've found this paint color guide helpful and are here to offer even more suggestions and tips for your next painting project. With Paintzen, you can get a remote quote today and then schedule your project later, whenever it works best around your busy lifestyle. Visit our website for your free quote, or call us today at 866-343-9981!
---