Best Alternatives to White Kitchen Cabinets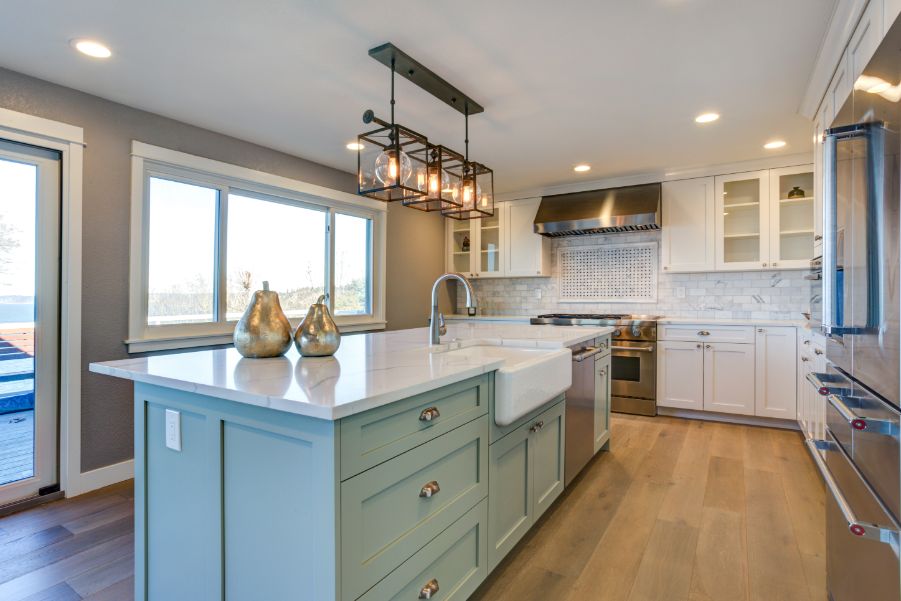 As a kitchen cabinet color, white can do no wrong. It suits any style of home, and it never goes out of style. But what if you don't like white kitchen cabinets and you are looking for something a bit more personal? Or you've loved your white cabinets for years, but you're ready for a change? The good news is, there are tons of other options out there. Here are our favorite alternatives to white kitchen cabinets.
Wood Tones
Traditional Stain
Since you probably grew up with your mom's wood stained cabinets, you may not put this one at the top of your list. But when brown wood looks this delicious, maybe you could reconsider? Wooden countertops, apothecary drawers, and built-in, glass-front shelves make these brown kitchen cabinets unique. With a kitchen like this, you can put those brown wood cabinets from the '80s and '90s in your rearview.
Wood Grain
If you're in love with the greige paint color on your walls, why not give it a shot in your kitchen, too? This contemporary greige cabinet gets a compelling look from its wood-grained drawers. And the gray countertop perfectly sets off that gorgeous, stone backsplash.
This big, modern kitchen isn't only functional; it's fun and stylish, too. The blend of cabinet colors and textures gives it an understated and unmistakable personality.
Zebrawood
If you're looking for wooden kitchen cabinets for a modern kitchen, consider an exotic wood, like zebra wood. This striped hardwood adds pattern and edge but is still soft enough to live with.
A Subtle Mix
This big, modern kitchen isn't only functional; it's fun and stylish, too. The blend of cabinet colors and textures gives it an understated and unmistakable personality.
Blue Hues
This neutral blue ranks with white as one of the classic, no-fail colors. It's as easy to have as it is to look at. Just paint your white cabinets with the navy paint color of your choice, add some new handles, and you've given your kitchen a new life.
Here's another twist on a colorful kitchen island. Robin's Egg Blue looks beautiful against the white cabinets and gray wall. Feminine, elegant, and perfect with the farmhouse sink.
Shades of Gray
Turn to gray for another classic, can't-go-wrong cabinet color. This medium dove tone sets off the pattern in a marble or granite countertop, makes the most wood floors, and partners well with stone fireplaces. Gray paint is so versatile that it can work in nearly every room.
With gray cabinets, it gives you an opportunity to play with style and hardware. Just check out the gold features and funky lights this kitchen uses.
What if you mostly like your white cabinets but want something a little different? Paint the island with a new color. You can see how the gray — slightly darker than the shade in the photo above — brings out the island countertop pattern. It's also just dark enough to work with the black countertops and black-and-white backsplash without being overwhelming.
Bold Colors
Pink
Open a home magazine, and you're sure to see a sleek, modern kitchen with pink cabinets. You can get the same look for your home, either by installing pink cabinets or painting what you have with high-gloss pink paint.
Purple
If you're feeling particularly adventurous, why not try purple? You can see these cabinets in a cottage kitchen, looking daring and somehow cozy. Plus, they're super cute with a black-and-white floral backsplash. This is the kitchen your inner 20-something has always wanted.
Green
The Big Mama of traditional kitchens needs European-style green cabinets. Marble countertops and gold accents let everyone know you're serious about your cooking — and your style.
Creamy Beige
Love this biscuit-colored paint! It's warm but not drab and plays so beautifully off the vases on the high shelf. (It's the little things.)
If white kitchen cabinets are on the way out at your house, we'll help you get ideas for a new color you'll love.
And keep the excellent color vibe going in our Color Tool. There you'll find trending colors, plus free color swatches. Who knows? You may find the kitchen cabinet color of your dreams.
You can also learn more about Paintzen's cabinet painting services, and we can paint your cabinets in your choice of color.
---