11 Ideas for Dark Kitchen Cabinets
While white cabinets are the most popular color, dark kitchen cabinets offer their own style. Known for their drama and elegance, they work with a range of designs, from modern to traditional. If you're interested in getting dark kitchen cabinet ideas, look no further.
11 Gorgeous Pics of Dark Kitchen Cabinets
When you're designing a kitchen, cabinet color should rank at the top of your decision tree. Not only are cabinets your largest expense (about 30 percent), they also make up the bulk of your layout.
Dark cabinets offer sophistication and elegance. But they also hide dirt better. That's good news if you have pets and kids because you won't spend as much time chasing grime.
White kitchen cabinets alone can feel cold or too bright. If you like white cabinets but want to warm up your space, introduce an island in a bold color. Then coordinate the island color with the floor tile to make the kitchen design look pulled together.
Dark cabinets add intimacy, especially in open-plan spaces, which can often feel echoey. When you're planning the design, match the home's accents (like lights, stairwells, and window frames) to the kitchen cabinets. This will unify a large room because it lets the eye travel from point to point.
Are Dark Kitchen Cabinets Outdated?
You might be asking, "Are dark kitchen cabinets outdated?" If you keep your colors and styles timeless, you never have to worry about your cabinets going out of style. Choose a traditional cabinet, then pick a color like navy or a muted grass green.
You can also use white as your main cabinet color, then choose furniture-style cabinets in dark colors. This adds a custom, built-in look. Choose from a blend of colors that play well together, like dark gray and black, and your room will make sense visually.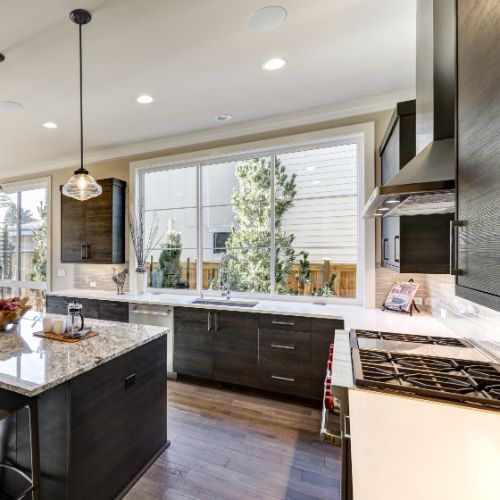 If you go with dark kitchen cabinets, balance them with lots of light, either natural or artificial. This will keep the room feeling open and airy. Also, blending textures, like rustic floors and furniture, with sleek metal chairs and granite countertops, create a nuanced, pleasing design.
What's the Best Paint Color for Dark Cabinets?
One of the best paint colors for a kitchen with dark cabinets is white. You can also choose a light neutral, like greige or gray, using the light walls to create balance in your design.
Dark kitchen cabinets don't just go with white. Customize your kitchen by adding bright, modern colors in unexpected places. Try orange, green, blue, or bright yellow.
Even though a kitchen is small, you can still blend kitchen cabinet colors. Putting the dark colors on the top makes the top cabinets recede.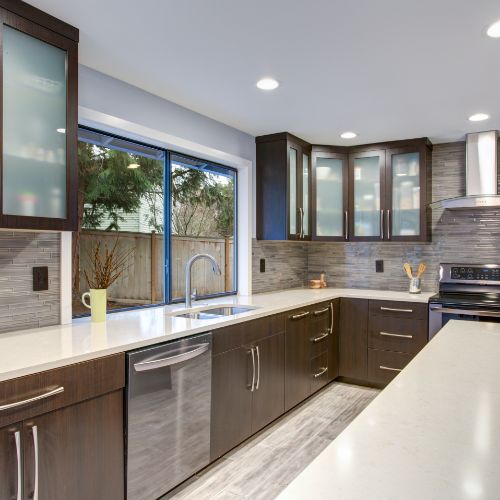 If you're going with all dark cabinets, but you're worried about the room being too dark, look for ways to bring in light. You can try lighter floors and backsplashes. White countertops and frosted cabinet doors reflect the light and make the room feel more expansive.
Interested in exploring more color ideas for your home or kitchen? Try our color exploration tools, where you can browse trending colors or pick a color scheme inspired by your own photos. When you're ready to paint, our team of professional interior painters is here to help!
---