How to Make Any Room Look Bigger With Paint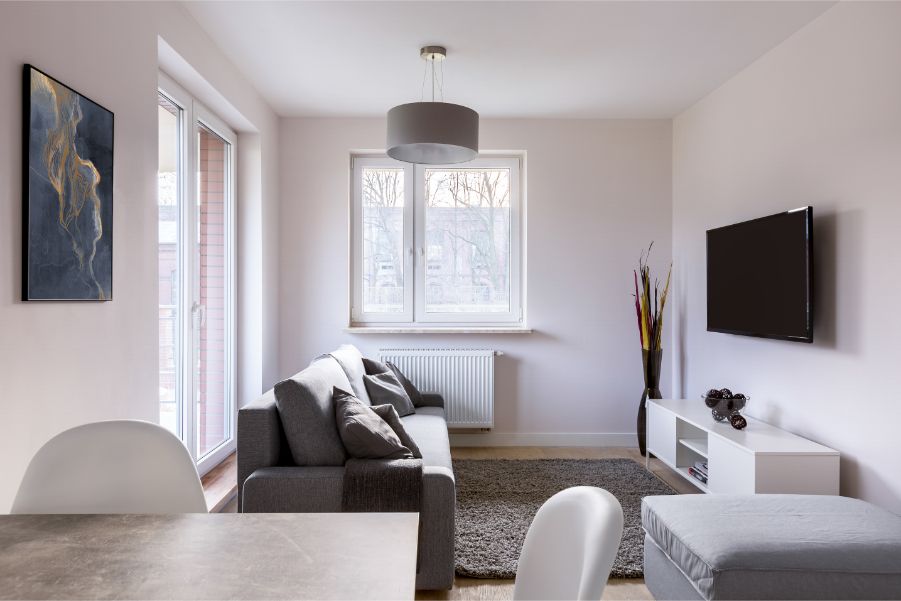 If you have a small living space, it can often be hard to decorate without the area feeling too crowded. The scale and number of pieces of furniture play a significant role in making the space visually larger. To create the illusion of even more space, the paint colors and applications you choose can also visually add square footage.
What Colors Make a Room Look Bigger?
Light, airy colors typically make a room appear larger. In a small space, painting the entire area the same color can also make it appear more expansive. If you prefer to incorporate additional colors, using a range of closely related hues gives your space a seamless look and encourages your eye to flow smoothly as you move from room to room. If your room doesn't receive much natural light, you can also lean into the dark space and select a rich, dark color. Using this color from floor to ceiling can create the illusion of height, as there isn't a color break.
If you're looking for living room paint ideas, below are several paint colors to consider when you're choosing small house living room paint:
Delicate White (PPG1001-1)
Delicate White is a pale, true, winter white with a non-existent undertone. It is a perfect paint color for a main wall, trim, or accent for your project.

Thin Ice (PPG1001-3)
Thin Ice is a soft, cool, icy gray with a gray-blue undertone. It is a perfect paint color for a living room space.
Aria (PPG1001-2)
Aria is a light, true, icy white with a gray-blue undertone and pairs well with grays and tans.
Chalky Blue (PPG1153-5)
Chalky Blue is a saturated, shaded, stormy blue with a navy undertone. It is a perfect paint color for a monochromatic look.
What Types of Paint Create the Appearance of More Space?
Light paint colors are a tried and true way to make a room feel larger. This is because lighter paint colors reflect light. But don't assume that light colors are your only option. A light neutral paint with the appropriate undertone will brighten and warm the room to avoid feeling like a colorless space devoid of personality.
Dark colors can work in small spaces, too. While they create a dramatic, intimate feel, they also blur the edges of the walls. This helps create the illusion of a more expansive room.

How to Create Depth with Paint
After selecting the paint color, you'll need to choose a finish. Thankfully, there aren't as many finish options as paint color options. Below are the standard paint finishes:
Flat paint is matte, meaning it has no shine. It works best on ceilings or other areas where you don't want imperfections to show.
Eggshell has more shine and are best for the walls. These types of paint hide imperfections and are also easy to wipe down.
Painting the ceiling the same color as the walls, two-toned walls, such as painting the trim a contrasting color from the walls, and using the same color from the baseboards to the ceiling are all ways to create additional depth in a small space.
How to Add Height through Paint
Paint colors aren't one size fits all. So, choosing a paint color from a list of the best hues for small spaces may backfire. Instead, choose a paint color with the right undertone for your particular area. The undertone is the color under the color – the blend of pigments used to create the final color you see. For example, gray paint can have blue and green undertones or beige and tan undertones.
Matching the undertones to the other elements in your home, such as the flooring and cabinets, will help ensure a seamless look and can help a room feel larger. Assessing paint samples in your home in different lighting is best to determine what undertones will work best in your space.
In addition to ensuring the undertones are all cohesive in your space, there are some tricks you can employ to create additional space. Painting horizontal stripes are one way to make height. Light floors, walls and ceilings can also help a room feel more open and airy.
I have my answer. Now what?
If you need help selecting paint colors for your space, speak to a color consultant so you can be confident you're choosing the perfect shade for your space. Paintzen offers free, remote color consultations with our trained team of project advisors. A brief phone call can help you get some incredible ideas to create the illusion of additional space for specific rooms in your home.
Before you hire your painters, working with a color consultant can help you create an entirely seamless experience, building your work order and your color palette all at once.
You can browse colors at Paintzen's color sampler, including the selections that will help create a lighter, brighter space. Once you've chosen a color, our professional painter can help you with your project!
---