Get the Look: Farmhouse Color Palette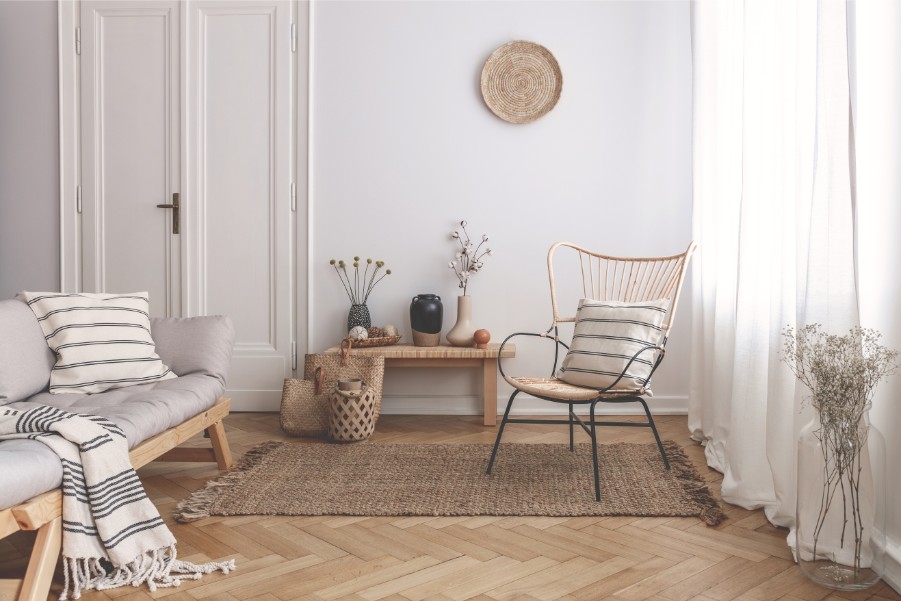 The farmhouse color palette and decor may seem reserved for country homes and townhouses. Yet it's appealing aesthetic seems to be everywhere you turn! The signature quality of this style is a soft, rustic look that blends country sensibility with soft, muted wall colors. On the interior design spectrum, it falls somewhere between "Shabby Chic" and "Industrial." 
This home improvement trend offers cozy and rustic colors that add warmth and a lived-in feeling to minimalistic interiors. One of the best qualities of a farmhouse color palette is that you almost always see a harmonious range of hues, blending and complementing one another to achieve a unique but cohesive look.
Before you say goodbye to your white walls and hire a painter, take in this fabulous color palette inspired by this Pinterest-worthy interior design trend. Here are five excellent farmhouse paint colors by PPG that are perfect for helping you achieve the look!
Polaris PPG 10-04
Polaris is a muted green-blue color that works great as an exciting and unique take on a neutral palette.
Because of Polaris' grayish undertones, it works in nearly any room in your home. It makes a fresh yet inviting entryway color choice since that space often features decorative mirrors, wall sconces, and hardware like coat hooks. Silver and iron-hued metals contrast beautifully with this earthy tone. Paired with soft white glossy trim, Polaris makes quite an impact.
Bonfire PPG1187-6
Bonfire is a rustic blush hue that serves as a bright, vibrant pick-me-up to an otherwise soft and subtle palette. It's aesthetic may remind you of a classic red barn against an open field and a blue sky.
Reds are full of energy, so this is an excellent choice for painting accent pieces like cabinets, doors, or antique wooden furniture that add some personality to a room. If you're feeling incredibly bold, you can use this shade of paint for an accent wall – providing a focal point for artwork or picture frames, or as a saturated backdrop behind white-washed furniture.
Whiskers PPG1025-3
Whiskers is a soft, gray taupe that is a warmed up alternative to white. If you are curious about creating a rustic farmhouse palette but aren't feeling as confident playing with some of the more saturated options, this is a great place to start.
Whiskers is the perfect base color for walls in the living room or dining room and contrasts beautifully with white window frames and moldings. Its neutrality gives you the freedom to pair it with warm shades like Bonfire or with blues and greens like Farm Fresh for a more dramatic effect.
Farm Fresh PPG1129-5
Speaking of greens, Farm Fresh is a gentle, worn shade of green that is evocative of the moss hanging lazily from an old, southern Oaktree. Green is known to be a tranquil color, making this an excellent choice for adding some "zen" to a busy kitchen or bringing a peaceful calm to your bedroom. We also love to use greens in bathrooms – it can create a quiet, cleansing space perfect for starting your morning or ending your day.
Onyx PPG1011-7
Onyx is a charcoal gray that brings modernity and elegance to farmhouse style. If you need one deep color to center your palette, Onyx should be it. It is a beautiful choice for painting wainscoting in contrast with a light neutral like Whiskers on the walls above. It also makes a great accent color – it makes decorative fixtures, and white trim and farmhouse kitchen cabinets pop.
Onyx is also a stunning exterior paint color to consider if your modern farmhouse transformation extends to the outer walls of your home.
Once you've chosen your modern farmhouse color palette, you'll be ready to hire a painter and get to decorating! Accent with distressed wood, harsh lines, silver and iron metals, and organic fabrics to fully complete the aesthetic. These chic but straightforward colors in the Modern Farmhouse style will transform your home in the coziest, most beautiful way.
Ready to give your home the Modern Farmhouse look using some of these paint colors? Consider hiring Paintzen to make the job quick and easy! We have a full platform of licensed, insured, and heavily vetted painters available for interior and exterior paint jobs and provide PPG paints on every project. Get started with a free and instant online quote by clicking here.
---