The Best Interior Trim Color Ideas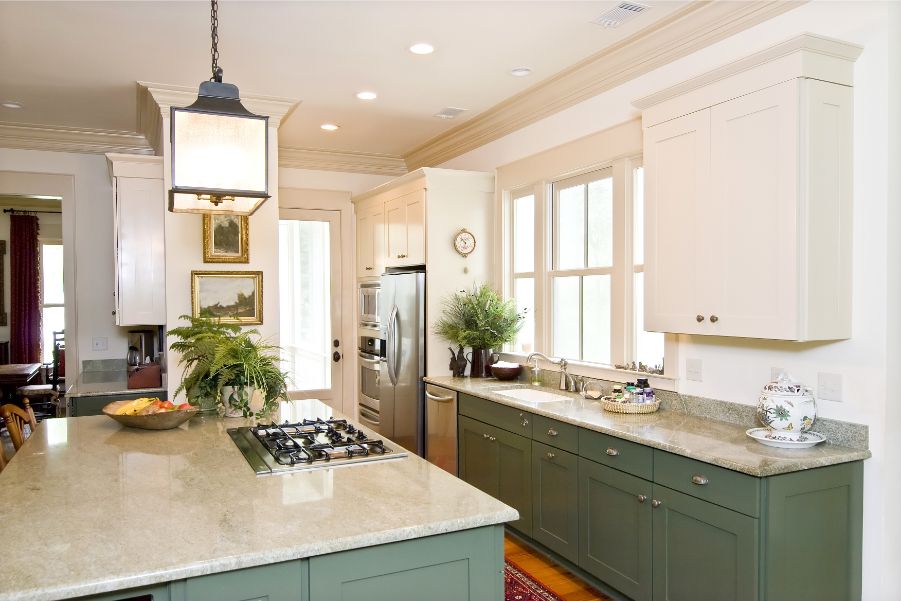 Ask anyone what paint color they recommend for interior trim or doors. The majority of people will probably say "choose a white."
Popular since the 1940s, when post-war houses were being built quickly and affordably (and it was efficient to paint entire neighborhoods the same color of contractor-grade paint), white trim is a no-fail choice.
Your home's wooden accents go by different names, like molding, millwork or trim. They help give a room its style, adding depth and character to the walls. Baseboards and door molding also serve a useful purpose: They hide the gaps that exist in most houses.
Some Rules of Thumb for Painting Trim
Here are some basics to remember as you start choosing your color scheme.
Think about painting all the trim throughout the home the same color. This unifies the color scheme from the dining room to the living room.
You can't go wrong by choosing a lighter paint color for your trim to contrast your wall colors.
Within a room, you can break the "paint all the trim the same color" rule if there are certain things you want to emphasize. For example, you might paint your door frames, doors, baseboards, crown molding and window frames the same warm white, then paint your fireplace mantel a different color.
Use semigloss or gloss on doors, door frames and window frames. Glossy paint is more durable and easier to clean than flat paint.
Now let's talk about color gradations. Should you go with white trim, a monochromatic, same-color trim, or dark trim?
Light Trim
White is a universally acceptable choice for trim in every style home. But you don't have to go with white. You could choose a wall color from the darker tones on a paint chip, and use a shade or two lighter for trim.
Again, this works best if you use the same color trim throughout the house, so you'd have to make sure the trim color works with every wall paint you choose.
Light, neutral trim colors highlight and bring elegance to a home's architectural features, like wainscoting, beautiful windows, and decorative molding.
If you love the drama of dark walls, but don't want the gloom, light trim can make the room feel lighter. If you choose a lighter paint color, white trim adds a pop of brightness to doors and windows.
Same-Colored Trim
While light and white trims work really well for traditional homes, same-colored trim fits a more contemporary style.
This is because it gives your rooms an open and airy feel. It lets the eye travel around the room without stopping, giving the space a smooth flow that's almost seamless.
Darker Trim
In the last couple of years, a gutsy movement has emerged in interior design: dark trim. We're not talking dark wood tones (though those are gorgeous in their own right).
We mean trim painted deep-toned accent colors, taken from an element in the room like fabric or an accessory. This strong frame outlines the room's most important elements.
Before you paint your trim a bold color, make sure the trim is in good shape and ready for its closeup. Dark – even black trim – can provide a contrast that adds depth and power. If black or bold trim is too much of a commitment, use the same color as your walls but a few shades darker.
Dark trim works well in modern-style homes, giving this more streamlined style an intimate feel.
For more ideas for trim colors, search our curated selection of PPG Paint colors and order free swatches. If you are ready to get your trim professionally painted by our interior paint pros as part of your paint project, get your painting quote today with Paintzen!
---