20 Most Popular San Francisco House Colors
Known as the city by the bay, San Francisco is a city with unique style and architecture. It is recognized for a bridge (with a color like PPG's Tiger Tail), the trolleys running through the streets, and that one prison. It's an unforgettable city with a memorable skyline.
San Francisco is rich with beautiful colors. Its beauty extends into the homes of its residents. To help you understand the design trends and popular paint colors in San Francisco, Paintzen has compiled the most used paint colors in the Bay Area.
Here are the top 20 PPG paint colors that San Franciscans are using in their apartments and homes.
White:
Like wine and cheese, white paint only gets better with age.
White is timeless and versatile. It can be paired with all kinds of interior decorating styles and is an easy paint to maintain, especially for apartment dwellers. A soft white like Commercial White and a crisp white like Delicate White are favorites in San Francisco.
White paint serves as a simple backdrop for your space. This way the colors of your furniture, your accessories, and your art can really pop and steal the show.
Picking the best white, however, can be difficult if you aren't careful. Be considerate of the undertones. Our Paintzen color consultants are fluent in paint undertones and are here to help you choose the best color for your space.
3) Flagstone
5) Hot Stone
Beige:
City by the Beige? Almost!
These shades of beige, from light beige to brown, are great paint colors for San Francisco. They pull in the natural colors and earth tones that surround the city. Beige also serves as a nice base color to tie in the brighter colors of the city.
Beige has a great mix of colors. With undertones of red and orange, beige can pull in the natural earth tones that make San Francisco beautiful.
As an aesthetic tool, beige can really make the trim and accents of a wall pop. Moving from beige to yellow and brown, you get warmer and more relaxing colors that suit a certain decorative sense.
6) Moth Gray
7) Dusty Trail
8) Best Beige
9) Sharkskin
10) Rock Cliffs
11) Weathered Wood
12) Sauteed Mushroom
13) Safari
Green:
Green is the color of the year from the Redwood Forest to the bank accounts of Silicon Valley!
San Francisco's favorite shade of green paint is an olive color. It's an elegant color with a rich aesthetic and appeal. Although it may not be your first choice for a paint color, this green will bring the natural world indoors. It looks especially good in studies, bedrooms, and kitchens.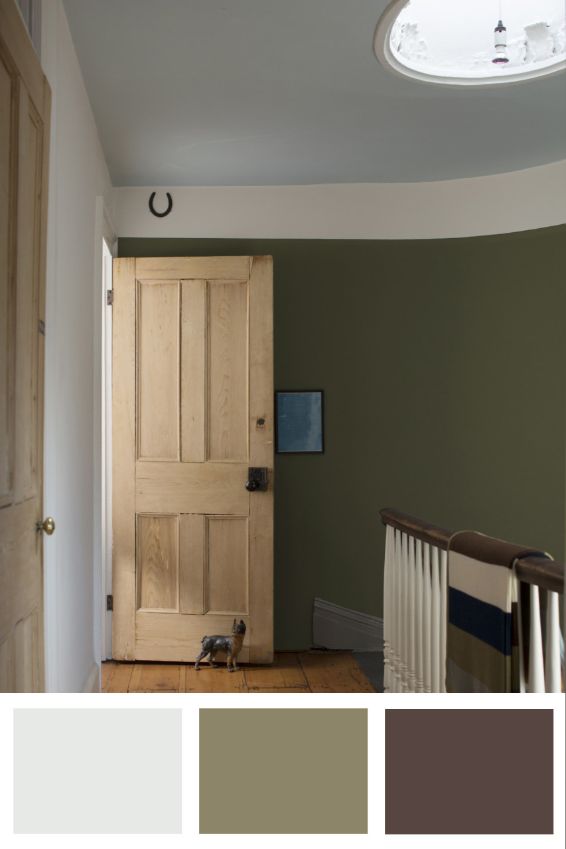 14) Only Oregano
PPG recently announced their choice for 2019 Color of the Year; they anticipate that this color of paint will be everywhere. The paint is Night Watch, a dark and substantial green that is both soothing and luxurious.
Red:
What else can make you feel at home than a nice Burgundy Wine, the paint color that is?
A rich red paint color, Burgundy Wine looks great in dining rooms, wine-tasting rooms, or even on a front door. This red exudes rich and warm vibes that are nothing but welcoming and intoxicating.
Red is said to increase a space's energy level, by creating a strong impression and bringing people together. If you want to bring some excitement into the room, red is the shade for you.
15) Burgundy Wine
Black:
Black coffee used to be reserved for artists and isolated hipsters. The same can be said about black paint. But black is not just for the solitary anymore!
Black paint has in recent years become a paint color that designers frequently recommend. Dark walls painted in black and other dark shades can make a place feel friendly, cozy, and alive.
PPG's 2018 of the Year was Black Flame. Dee Schlotter of PPG said at the time, "Consumers often feel uneasy, restless, or like their privacy is being invaded, so they crave deep, comforting colors that offer a welcomed escape from the chaos of daily life."
16) Knight's Armor
17) Onyx
18) Zombie
19) Obsidian
20) French Toast
San Francisco is a culturally rich city with lots of exciting colors and styles. With Paintzen's color swatch program allows you to get five free color swatches of any of these colors featured. All you need to do is just fill out a quick form and we will send you your paint color swatches right away.
If you are a resident in the San Francisco area and are looking to have your space painted, consider Paintzen as your painting choice. With a free and instant online quote and top-rated local painters ready to start in as little as a week after booking, you can't go wrong.
Order Free Color Swatches
Get A Quote For Your Paint Project
---