PAINTZEN IS MORE THAN JUST PAINTING!
OUR COMPREHENSIVE SUITE OF SERVICES INCLUDES:
HERE'S WHAT YOU GET
1
The resources that come with a national company: quality assurance, satisfaction guarantee, and quality PPG Paint.
2
A dedicated Project Manager who handles the logistics of your job and is available to support you throughout your house painting project.
3
A professional, local house painter with at least 5+ years of experience, and proper licensing and insurance.
House Painters in Pittsburgh
Learning about architectural styles in Pittsburgh is like taking a history lesson. Pittsburgh is a historic American city in Pennsylvania where you can learn a lot about the past, present, and future by taking notice of the houses here.
In the 1700s, many homes in this region were simple log houses for early settlers, and then stylish farmhouses were built as family homes when immigrants found prosperity in the early 1800s. Later that century, Pittsburgh began seeing more brick townhouses, steelworker housing structures, and even some fabulous mansions by wealthy early industrialists. The 1900s brought foursquare-style homes to Pittsburgh, as well as single-family ranch homes and split-level houses that continued to get bigger as the decades went by.
At Paintzen, we are fascinated by the evolution of architecture in Pittsburgh as the city has transitioned from one phase the next. With each house painting project we take on, we make sure to pay special attention to the history and charm of your specific house to make it look its best and be a place you love to call home.
Interior House Painting in Pittsburgh
Interior house painting projects can be a challenge in Pittsburgh because many homeowners and renters want their historic homes to retain their authenticity after renovations. Since Pittsburgh is also a major urban area, you might also want your home to take on a more modern vibe that suits your personality and makes you feel at home when you walk in the door.
This is why it is a smart idea to work with an expert painting team that provides color consulting and sampling services to help you pick the perfect color and type of paint. Choosing a color might sound simple enough, but it can be very overwhelming with so many different options at your fingertips. With all our projects, we use only the highest quality products and get our paints locally at the PPG Paints store at 3131 Penn Avenue in Pittsburgh.
Exterior Residential Painting in Pittsburgh
Here in Pittsburgh, we are fortunate enough to experience the beauty of all four seasons and have a little bit of everything in terms of weather. However, this means that the exterior paint of your home needs to be ready for anything and handle rain, snow, hail, humidity, heat, and freezing temperatures.
Our Pittsburgh Paintzen house painters know what paints work best in our local climate and are prepared to take on any exterior job you need to beautify your home and give it maximum curb appeal. We'll assign a dedicated project manager to handle the logistics of your job and who will be available to support you throughout the project.
Cabinet Painting in Pittsburgh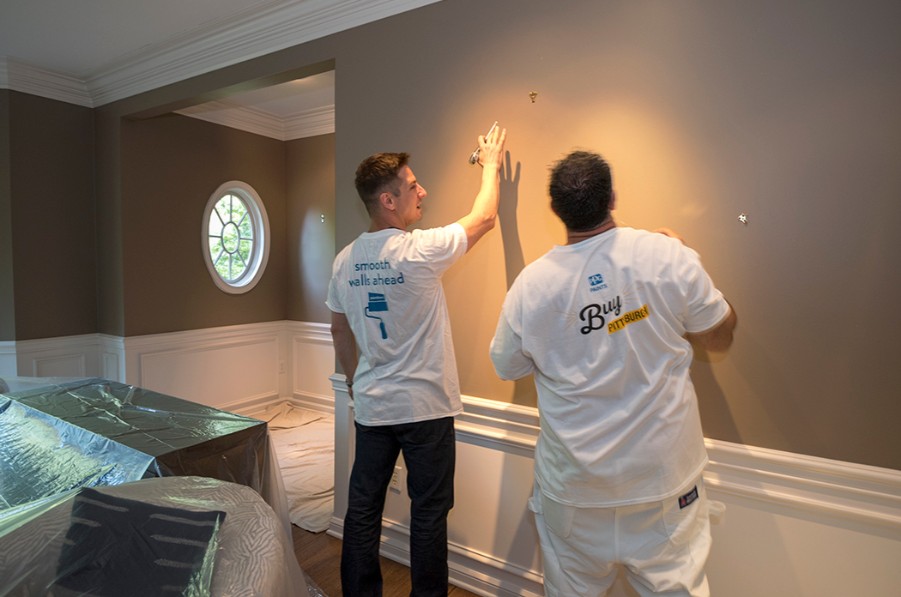 Not only can we paint the interior and exterior of your Pittsburgh house or apartment, but we can also help you renovate your kitchen on a budget. One of the best ways to breathe new life into a kitchen you don't absolutely love is to give your cabinets a fresh coat of paint. Hire a Pittsburgh Paintzen house painter near you to update your cabinets with a new color and smooth finish, and you'll feel like you have a brand-new kitchen without spending a fortune. Beyond just the kitchen, Pittsburgh homes can also benefit from having newly painted cabinets in the bathroom and garage as well.
Regardless of whether you have a ranch home, split-level house, modern loft apartment, or stylish townhome in Pittsburgh, we can help you make it look its best and be available within just 72 hours. Our value is that we make quality painting easy with fast and free digital quotes and expert crews with at least five years of experience. Contact us for a quote, to learn more about why Paintzen is your best option for house painting in Pittsburgh, and to get started on your next home renovation project!
Pittsburgh, PA
We Get Paint from PPG Paints at
3131 PENN AVENUE
PITTSBURGH, PA 15201
To contact us by phone:
866-343-9981
M-F: 9:00 AM – 7:00 PM EST
Saturday: 9:00 AM – 6:00 PM EST
Sunday: Closed
Find us on Google and Facebook!
HERE'S WHAT A FEW OF OUR HAPPY CLIENTS HAD TO SAY:
"Process was easy, work was flawless - terrific experience."
"In and out with no hang ups, no questions, no problems-- AMAZINGLY efficient-- matched paint colors exactly-- very impressive!"
"I recently used Paintzen and it went very smoothly. The price quoted was fair and reasonable and it was a very easy system to use. The painter was prompt, hardworking, polite and did a nice job"
I had the best experience with Paintzen. They were easy to communicate with during the quote process. I had two small projects to hang wallpaper on accent walls in two separate rooms and they gave us a fair quote. They were timely and did a stellar job! I was worried about the installation because the wallpaper prints I chose had complicated patterns, but their attention to detail and making sure the patterns lined up was excellent, it looks seamless!
WE'RE PROUD OF OUR INDUSTRY LEADING RATINGS
READY TO GET STARTED?
With a transparent and quick quote, get started on your paint project today. Paintzen stands behind all of our work with our 100% Satisfaction Guarantee!
NEED MORE HELP?