10 Simple Exterior House Decor Updates to Boost Your Home's Curb Appeal
Whether you're looking to sell your house or feel better about the way your home looks, there are lots of accessible and affordable techniques to transform the outside of your house. Without going through the hassle or cost of a full exterior house painting or hiring a costly landscaper, simple updates to exterior house decor can make a huge difference in how you and other people see your home.
Here are ten simple curb appeal ideas to give your house an updated and complete home exterior makeover on a budget.
1. Wash the Exterior and Windows
Sometimes, all a home needs is a good wash to give it a fresh look. You can hire a professional service to handle the job for you or rent out some equipment for a DIY project. Pressure washing works well for tough stains, although you may need to use gentler methods, like a simple garden hose, brick, stucco, or other delicate exterior home materials.
2. Repaint the Front Door
Another front porch makeover strategy is to repaint the front door to give your home a new look. Consider painting your door in a bolder color that complements the other colors around your house for DIY curb appeal.
3. Repaint the Mailbox
Another of our recommended house exterior ideas is to repaint your mailbox. This is a simple project that won't take very long and can add character to your home, regardless of whether your mailbox is attached to your home or along the street.
4. Update the House Number Sign
You can also buy a new house number sign or paint or repair your current one for more curb appeal. Look for decorative numbers that reflect your personality or your home's style when shopping for new numbers.
5. Re-mulch the Flower Beds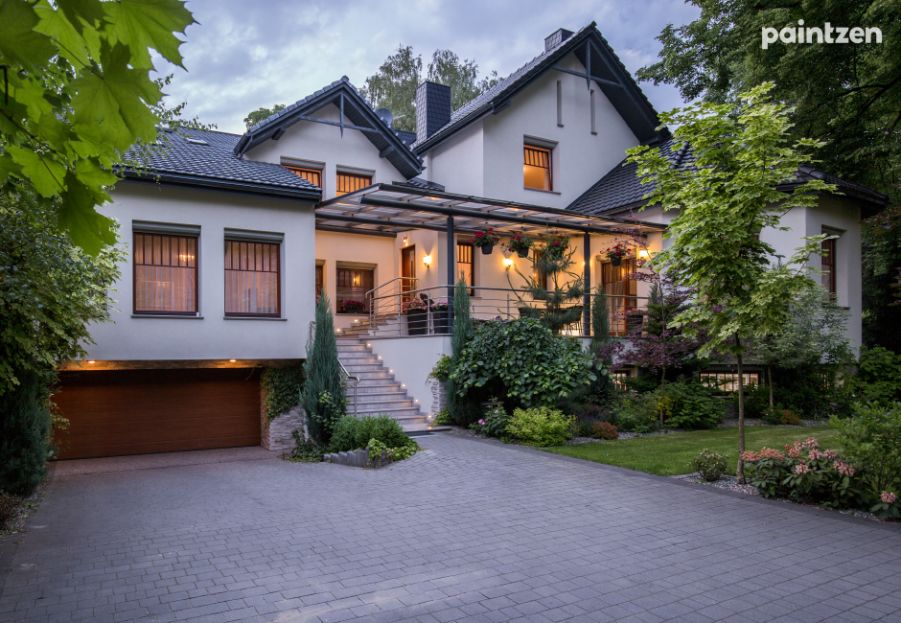 Flowers instantly give a home more curb appeal, so think about planting some fresh flowers or merely re-mulching the flower beds. This is a fun and active home exterior makeover project that will be good for your plants' health too.
6. Add Potted Flowers on the Porch
An even more straightforward way to make your home more lively and colorful is to add a few pots of flowers on the porch. If you're trying to sell your home, you even have the option of taking your new potted plants with you when you move!
7. Repaint the Shutters or Trim
There are also many exterior house shutter ideas that you can work with to give your home a makeover. Since shutters get faded and weathered over time, they can look brand-new with a fresh coat of paint. Shutters can be tricky to paint and coordinate with the rest of the house, so we recommend contacting Paintzen for a consultation and service.
8. Repaint the Garage Doors
Garage doors also become weathered throughout the seasons with rain, hail, wind, and ice. Paintzen can also help you apply new paint to your garage doors so that they can withstand future storms and look fantastic from the curb.
9. Update Lighting Fixtures
Lighting fixtures make a big difference in how your home looks from the front, so another makeover idea is to add some different lights around the front door, by walkways, and along with the garage doors. Popular exterior house decor options include hanging lights, post lights, LED lights, motion sensor lights, and decorative string lights.
10. Add Some Fun Decor
To make your house exterior makeover complete, finish things off with fun and festive touches, such as a new welcome mat or a wreath on the door. Other excellent decorative additions include a cozy rocking chair, garden statues, and seasonal holiday decorations.
---