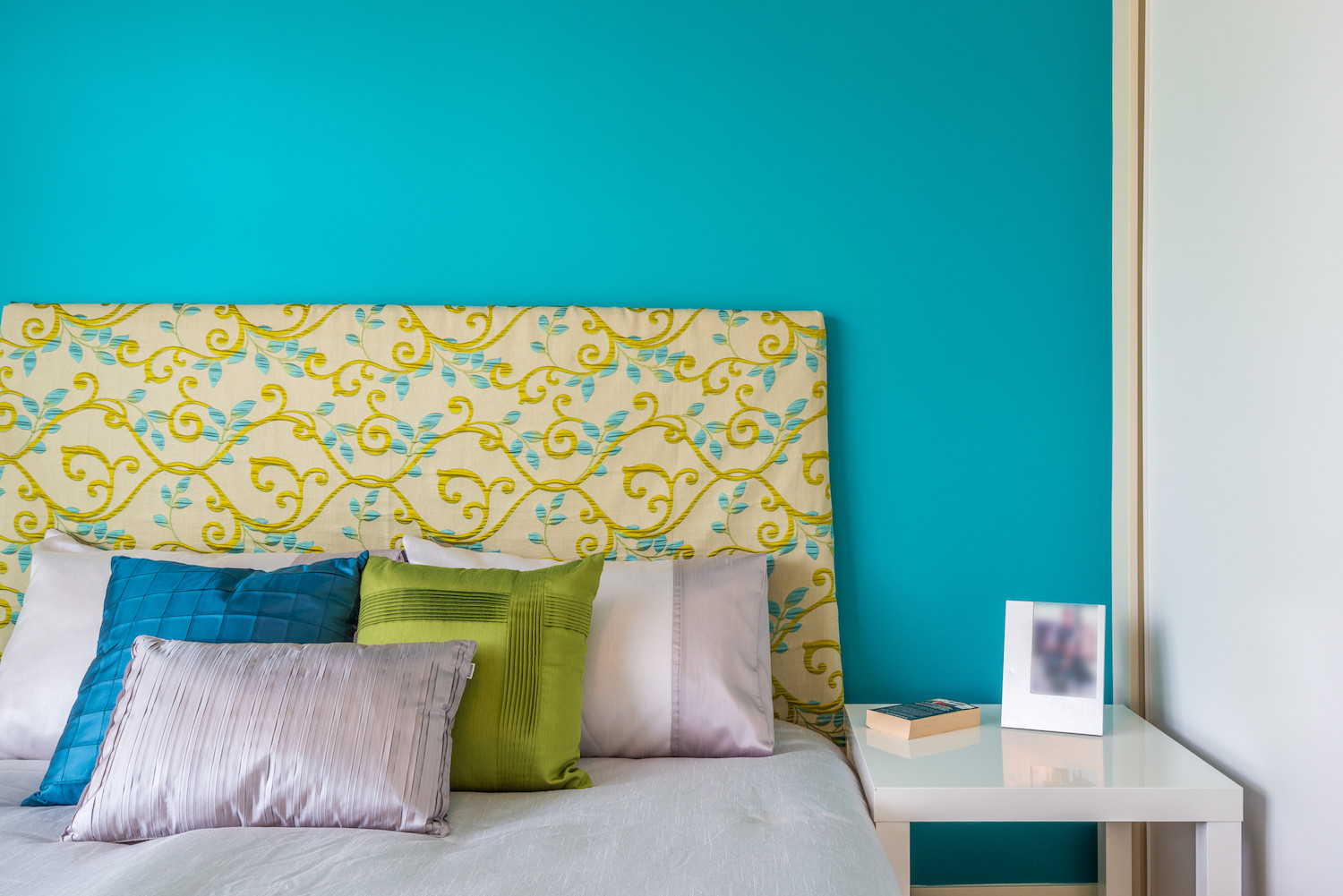 Are you looking for a serene sanctuary in your home? A place where you can escape the stress and the noise of daily life? A turquoise bedroom can really give your home a touch of zen.  The color turquoise is a wonderful choice to make your bedroom feel like a tranquil escape. The soothing tint of an early morning sky or the misty blue-green of sea foam will put you in a carefree state of mind. Paint your bedroom walls using one of these four popular turquoise bedroom colors, and create your own restful getaway.
Cascade (PPG1232-2), the lightest of our favorite turquoise colors for bedrooms, brings a shade common on seaside beach towns onto your walls (and ceiling, if you like!). This pale blue, tinged with subtle green, is a great base color for turquoise bedrooms. Cascade can be easily augmented by darker shades in the same color family for a monochromatic effect, or accented with colors in complementary hues, like oranges, yellows, and purples. Pops of color from pillows, curtains, and decor will look lovely against this soft aqua backdrop.
Image: Pinterest
For a coastal-inspired light aqua color, try Seascape Green (PPG1233-4). This color is another one of our top turquoise bedroom colors. This gentle shade is of about the same intensity as Cascade, but is more in the blue than the green spectrum of the color wheel. Try pairing this color with sandy beiges or tans for a beachy bedroom look, or with soft whites for a dreamy feel.
Image: Pinterest
Perhaps one of the more traditional, somewhat subdued, turquoise bedroom color ideas would be Cathedral Glass (PPG1148-5). A few shades darker than the previous two colors, this hue has a more neutral feel, and so can be accented and combined with many different colors. Cathedral Glass is a beautiful choice for your bedroom walls, especially in rooms with lots of natural light, and has a classic, comfortable look in rooms with bright white ceilings and glossy trim. The grey undertones of this aqua shade set the mood for restful contemplation of the day, and release to dream time.
Image: Pinterest
The fourth of our top turquoise bedroom colors is the beautiful Torrid Turquoise (PPG1232-7). This is a true and vibrant turquoise, as the name states, and would be hard to ignore when choosing between shades of aqua. A jewel tone like Torrid Turquoise would make a great solid accent wall, playing off lighter shades within the same color family, or serving up a pop of color in otherwise neutral color palettes. Turquoise pairs well with shades of brown, beige, grey, other blues and greens, and especially with warmer orange tones, light and dark. It is easy to envision this brilliant paint used in a decorative pattern or custom design on one of your walls, making a bedroom or nursery a unique and one-of-a-kind space.
Image: Pinterest
The calming effect of shades of cool aqua and blue has been well documented by professionals in the psychology field. It is shown to help reduce blood pressure and lower heart rate – making it an ideal choice for your bedroom wall color. Using one or more of these turquoise colors for bedrooms is a wonderful idea for both your design dreams and your actual dreams! Your choice of vibrance and intensity of this gorgeous color in your bedroom will define your space as anything from a quiet, introspective retreat to a bright and inspirational reflection of your personal style.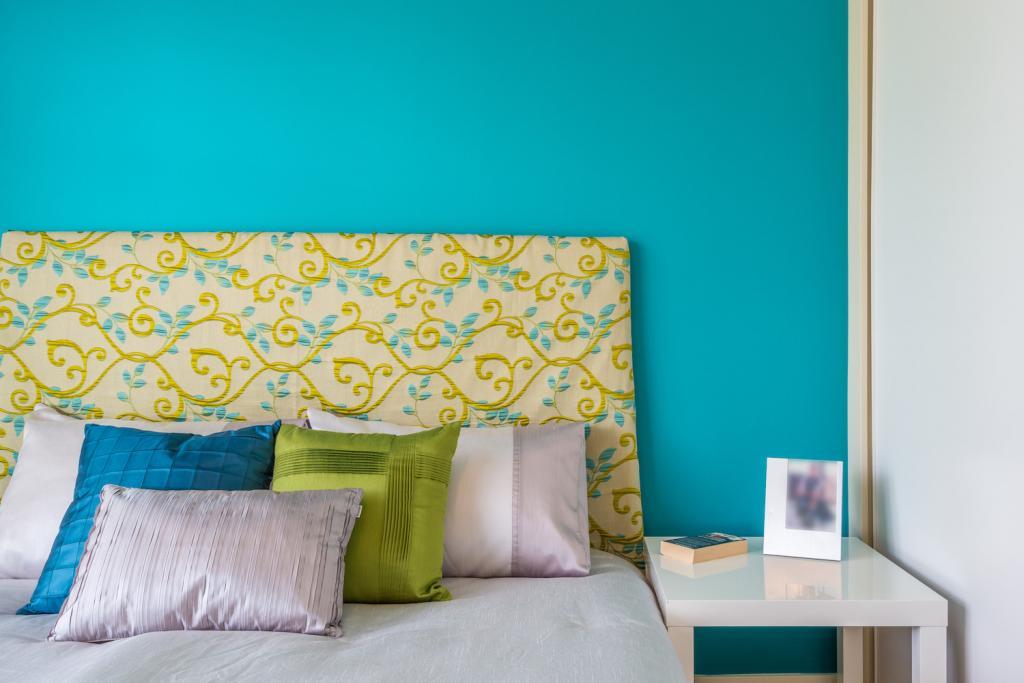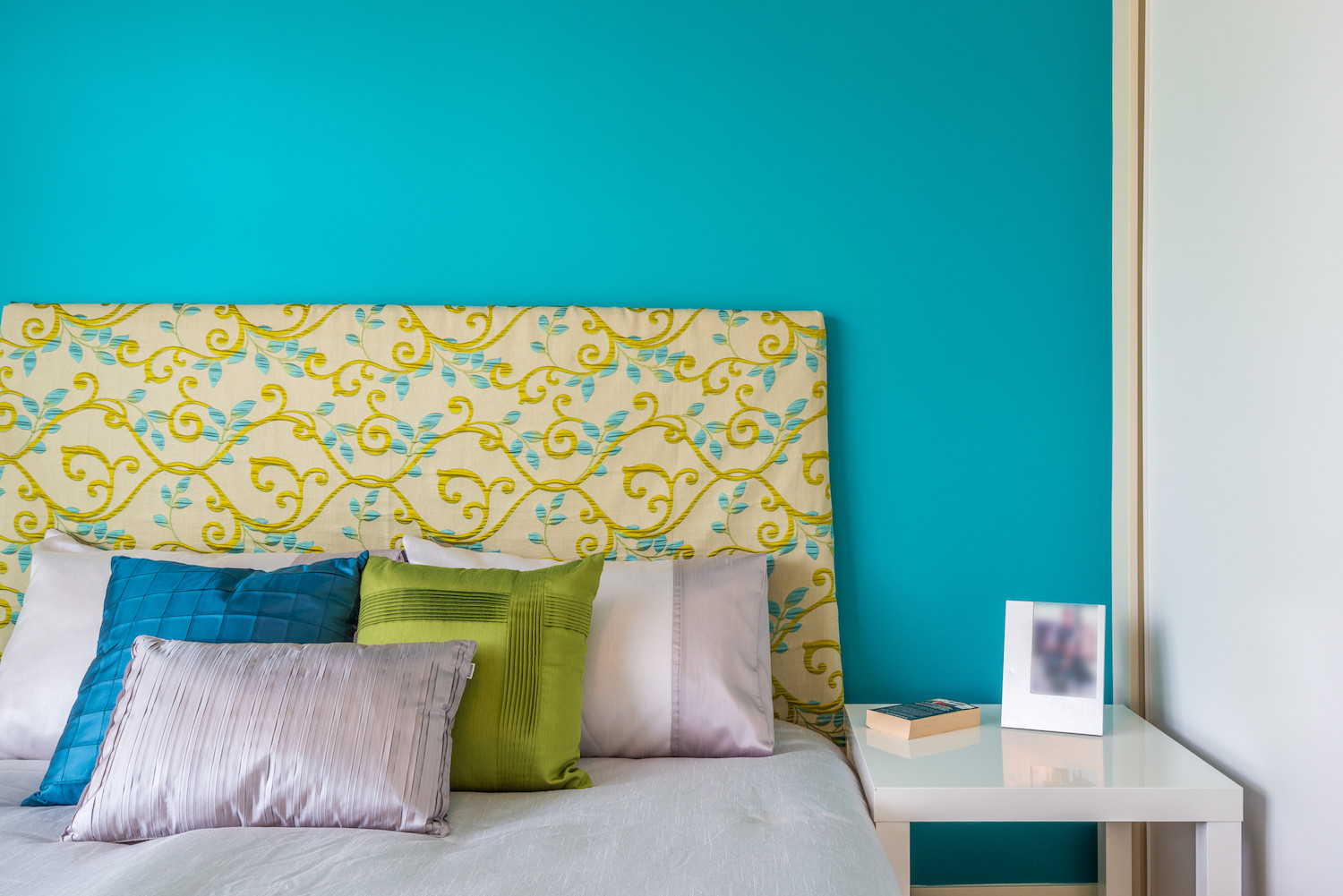 Try Tint of Turquoise, in the same color family as Torrid Turquoise, for the look above. 
To see more shades of turquoise, check out our color gallery! Consider hiring Paintzen's professional interior painters to help transform your bedroom using this beautiful shade of paint. Click the link below to get a free and instant online quote.