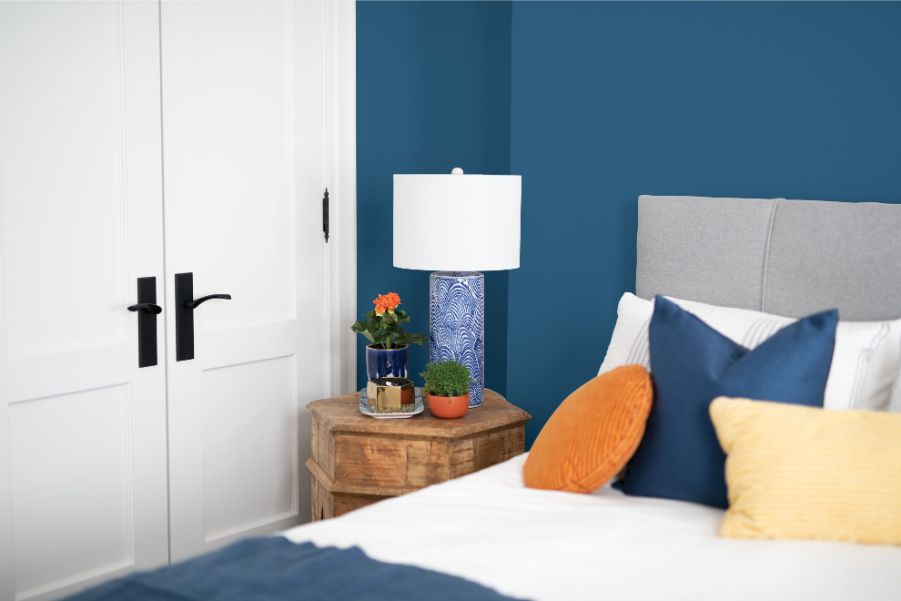 AND PPG PAINT'S 2020 COLOR OF THE YEAR IS…Chinese Porcelain (PPG1160-6).
Last year, PPG chose a color reminiscent of the dark greens found in nature: Night Watch. This year, their choice also offers a natural escape.
Chinese Porcelain is a blend of cobalt and moody ink blue that imparts calmness and restful sleep (studies have shown that blue can improve sleep) while also offering a spirit of hopefulness – a commodity in a restless world, while also offering a respite from today's driven society.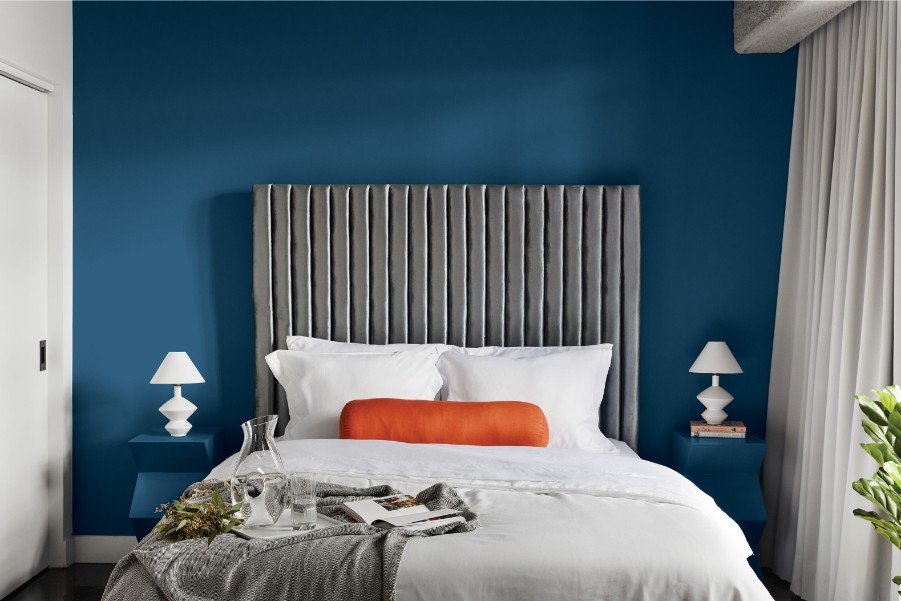 Every year, more than 20 PPG color stylists in varying industries from around the world meet to analyze trends in fashion, lifestyle decor, and social inspirations to determine what colors will resonate and represent the color forecast for PPG. This year, Chinese Porcelain was a clear standout.
"Consumers are tiring of stark grays," says Dee Schlotter, Senior Color Manager for PPG.  "[They] are looking to infuse colors that delight the senses. Blue is the easiest possible entry point from the world of neutrals to the world of color, and PPG's Chinese Porcelain delivers the energy and brightness of cobalt blue – a trending hue taking the automotive, consumer electronics, and fashion industry by storm. It also incorporates a deep, muted navy tone that is popular in residential and hospitality design."
According to Paintzen's data, this paint is a clear trending color. Blue is the most explored color family on our color explorer, with 34 percent higher engagement than neutrals – the next most popular color family on the site. Moreover, Chinese Porcelain is the most engaged color on our samples platform over the past six months.
Pulling these natural colors into homes is comforting and a breath of fresh air at the end of the day. It seems appropriate to choose blue as the color of the year. It embodies so many emotions and is full of contradictions. Blue contains within it the full spectrum of life: water and air, happiness and sadness, the feminine and masculine. To quote Walt Whitman "Very well then I contradict myself, (I am large, I contain multitudes.)."
"The need for simplicity and escapism from technology is, in part, the reason that consumers are craving blues like Chinese Porcelain," says Schlotter. "They bring us closer to natural elements such as the sea and sky – creating serenity in any space."
Order Free Color Swatches
---