What to Do When Painting Eat-In Kitchens
There's nothing better than huddling around the kitchen table with friends, eating lots of soup. Sometimes, it's by playing cards or doing jigsaw puzzles that we relearn the art of being indoors – or at least taking a break from technology – and it takes the perfect eat-in kitchen as the backdrop to make it happen.
But painting eat-in kitchens can present a unique challenge because you're really trying to join two separate spaces with paint. Below are some tips on how to do just that.
1) Use A Full Color Palette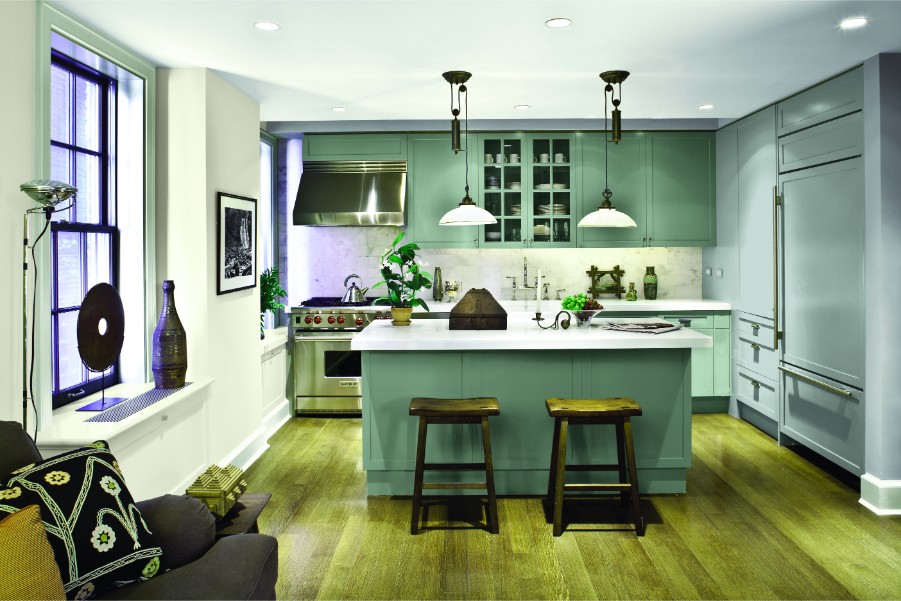 This is this smaller eat-in kitchen relies on the kitchen island to pull everything together. Here the owners have used a rich color palette to draw distinct lines in the kitchen, making it feel like it's one space with separate areas. The large windows, pendant lighting fixtures, and green color palette chase away January and February's dark spirits.
2) Keep It Beige & Natural
This kitchen just calls for morning coffee and late-night snacks at the small kitchen table. The natural beige color scheme brings comfort to the kitchen and complements the white kitchen cabinets and wood countertops, for a country kitchen feel.
3) Accent Your Island
Sometimes an island is just the ticket. This island brings the whole kitchen together and alive. While all of these colors are pretty simple, the green accents of plants and pots make all the difference.
4) Make It Bright
An all-white kitchen is a classic kitchen idea. It opens up the entire room and the home decor will always look clean.
6) Go Blue
Modern white pantry cabinets flank stainless steel appliances and a butcher block island. Settle in with the Times and Eggs Benedict on Sunday morning and you may not want to leave this beautiful blue kitchen.
Charmed by these eat-in kitchens? Let our team of professional interior painters repaint yours now!
---