There's nothing better than huddling around the kitchen table with friends, eating lots of soup. Sometimes, it's by playing cards or doing jigsaw puzzles that we relearn the art of being indoors – or at least taking a break from technology – and it takes the perfect eat-in kitchen as the backdrop to make it happen. Here are six eat-in kitchen ideas to get you inspired.
1) Brighten Things Up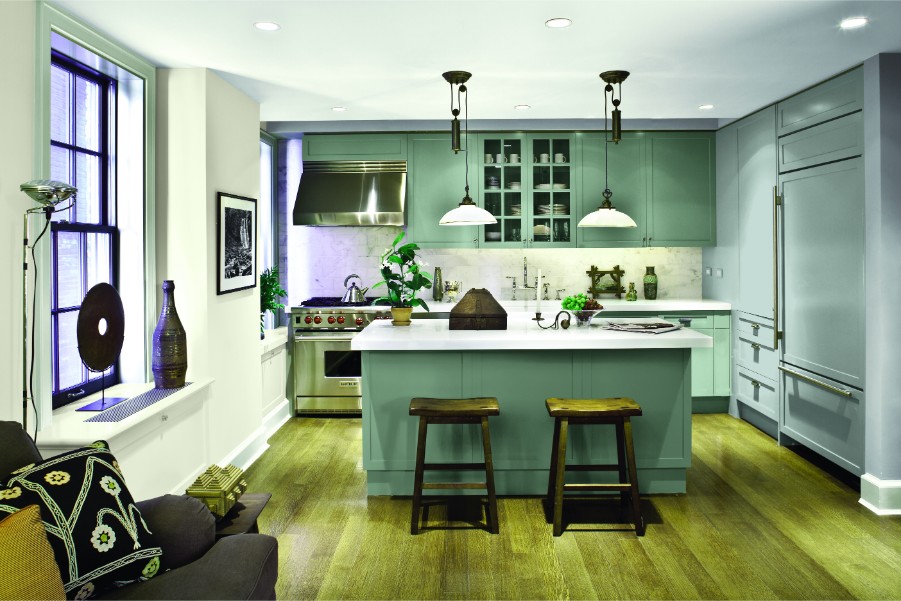 This is the kind of kitchen you feel like you could move right into. Large enough for a family but cozy enough for a singleton or couple, the bright green colors chase away January and February's dark spirits.
2) Open Kitchen
This kitchen looks like it's just waiting for a party, a group to push back the chairs, put steaming Dutch ovens on trivets and pop the cork on several good bottles of red. Bring it on, we say! The wall of cabinets will keep things organized and cozy.
3) Big Island
Sometimes an island is just the ticket. This island brings the whole kitchen together and alive.
4) Farmhouse Kitchen
The recessed lighting adds whimsy and brightness to this small space. The black and white give it an appealingly industrial edge.
5) Modern Kitchen
A London Tube line sign presides over a kitchen that is both elegant and comfortable. Each element is honed to its purest form, from the marble counters and backsplash to the workhorse range and schoolhouse stools. It keeps the room focused on shape rather than color, giving it an architectural style.
6) Framed Cabinets
Modern white pantry cabinets flank stainless steel appliances and a butcher block island. Settle in with the Times and Eggs Benedict on Sunday morning and you may not want to leave all week.
Charmed by these eat-in kitchens? Repaint yours now!
---