Black Houses – Reasons Behind the Trend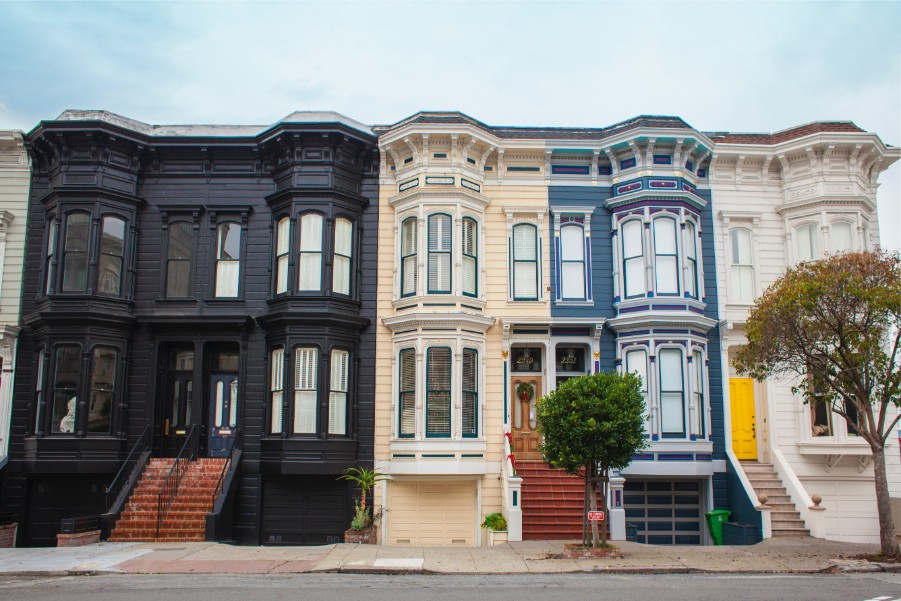 You've probably never considered painting your house black, but it just might be one of today's hottest trends in exterior painting. Black exterior paint adds drama and depth and makes a strong visual statement. Black paint is great at highlighting architectural design while also complementing its outdoor spaces.
Don't Be Afraid of the Dark
Last year, the New York Times wrote an article on the rising popularity of black houses. In it, designer Brian Patrick Flynn said, "We've gone from everybody doing things that are really safe with white or cream or dove gray… I think people are embracing things that may have been considered risky before and saying, 'Let's just go for it.'"
Like white and gray, black is neutral paint color. It contrasts well with other materials, hues, and textures, and — like a little black dress — needs little to dress it up. A great front door,  a succulent garden, or good lighting is all the jewelry it needs.
Black painted facades make the most of the lines of a modern home. The angles become crisper, the architectural details more visible. We especially love how black exteriors look alongside wood siding.
Many people are concerned that dark colors will fade faster, requiring more frequent painting. And while red and yellow (not black) are the colors most likely to fade, most colors fade based on the type of paint you choose, not the hue.
Popular Around the World
Black houses aren't just an American thing. In fact, we're taking our cue from other cultures.  Japanese Shou-sugi-ban is a method of preserving wood with fire, which turns it black. And the Nordic Honka markki style combines black and natural wood.
The black paint transforms humble homes, making somewhat frumpy homes feel modern — even fresh. It also makes them recede into their surroundings, so landscaping pops.
In Nova Scotia, where this house is located, salt air and cold winters make shingles a natural choice for siding because of their ability to withstand the elements. The home's black color stands out, even in an area known for its colorful farmhouses.
Painting with Black
Choosing the right black color can be hard. So place black paint samples on large pieces of cardboard and move them around the house at different times of the day to see how they'll look in the light. A purple-based black may work better, for example, than a green-based one.
Matte black and high gloss black will give you two very different looks. Try flat (matte) black on older homes, rustic homes (like cabins), and homes with strong architectural details. Use high gloss on modern homes and trim.
No matter what style of home you live in, painting it black will bring out its best features and make it stand out from the crowd. Find the perfect black paint color for your home in our Color Tool, where you can get free swatches and a free quote to paint your home's exterior.
---