Deck Stain Versus Deck Paint: Which Is Best For You?
Are you dreaming of spring by researching your next outdoor project? Redoing your deck is a great warm-weather kickoff and it can add years to your deck's life – and curb appeal to your home. The question is … is deck stain your best option, or will deck painting be better? We'll help you decide between these two popular finishes to get the right look – and protection – for your deck.
Which Option Is More Affordable, Deck Stain or Deck Painting?
Whether your deck is old or freshly built, staining or painting it will protect it from weather-related damage like moisture, humidity and temperature fluctuations. Exterior paint and stain can both do the job; picking one depends on the cost, look, maintenance and durability you're looking for.
Of the two options, stain is the more budget friendly. In addition to being cheaper, most stains don't need a primer because they already contain a preservative that helps them stick to the deck.
What Look Do You Prefer?
Exterior paint comes in a range of hues, from neutral wood tones to white or black. It completely covers the wood, unlike stain, which is transparent and meant to accent wood grain.
Plus, stain only partially fills the wood's pores, which gives your deck a rustic look. Paint, which fully fills the pores in the wood, gives a more refined look.
Which Is Easier to Apply?
Whether you're painting or staining your deck, you'll have to prep the surface. This involves:
Sweeping the deck
Scouring it with deck cleaner
Replacing or repairing damaged boards and railing
Lightly sanding*
One that's done, you can apply deck stain in a single coat using a roller or brush. And if you choose a deck stain with a built-in sealer, you won't have to apply a topcoat.
Paint takes a little more elbow grease. First, you need to treat the deck with wood preservative. Once that's done, you'll hit it with a coat of primer. Next, put on at least two coats of latex or oil-based paint. After that's dry, apply a clear, polyurethane sealer.
The benefit of doing all that extra work? Paint lasts longer. You're looking at 10 years or more before you have to refinish you deck. Stain lasts anywhere from one to eight years before you'll need to reapply it.
When Should You Do This Yourself?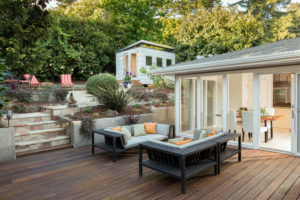 Both deck stain and deck painting take time and equipment – and require a few weekends' worth of hard, physical work. And for decks situated off the ground, you'll have to double the workload by painting both the bottom and the top. You can cut some of the workload by partnering with another person or a group of friends, but even with a small deck, it's a big job.
This may be one time it's worth hiring a professional. They have the tools and experience to do the job right the first time. To find out if hiring a pro is right for you, ask our Deck Staining & Painting experts – they can talk with you about your dreams for your deck, patio or porch, then give you a free estimate for an outdoor living space you'll enjoy this spring and for years to come.
*WARNING! If you scrape, sand, or remove old paint, you may release lead dust. LEAD IS TOXIC. EXPOSURE TO LEAD DUST CAN CAUSE SERIOUS ILLNESS, SUCH AS BRAIN DAMAGE, ESPECIALLY IN CHILDREN. PREGNANT WOMEN SHOULD ALSO AVOID EXPOSURE. Wear a NIOSH-approved respirator to control lead exposure. Clean up carefully with a HEPA vacuum and a wet mop. Before you start, find out how to protect yourself and your family by contacting the National Lead Information Hotline at 1-800-424-LEAD or log on to www.epa.gov/lead.
---