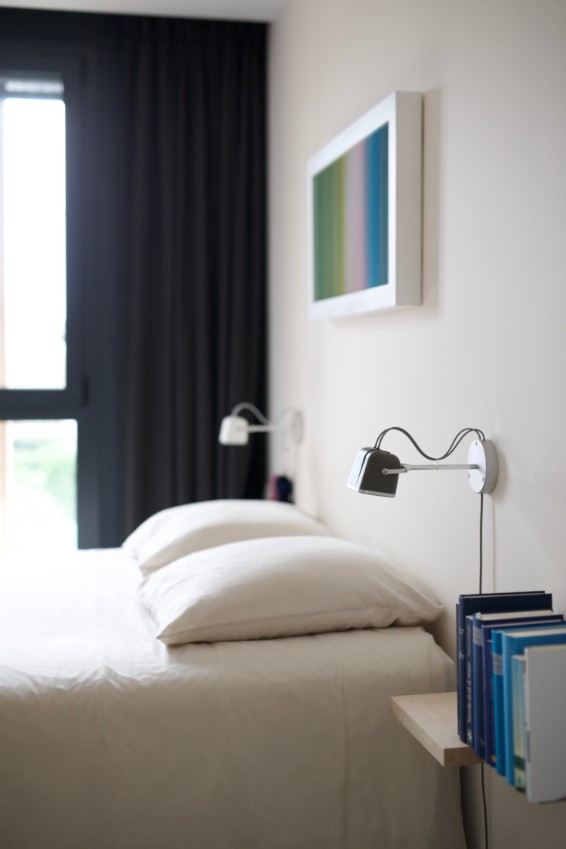 Boutique and luxury hotels know a little something about bedroom design. Here are 10 tips from the world's top hotels you can use to take your own bedroom from a ho-hum space to the perfect master bedroom.
Make Your Bedroom Multitask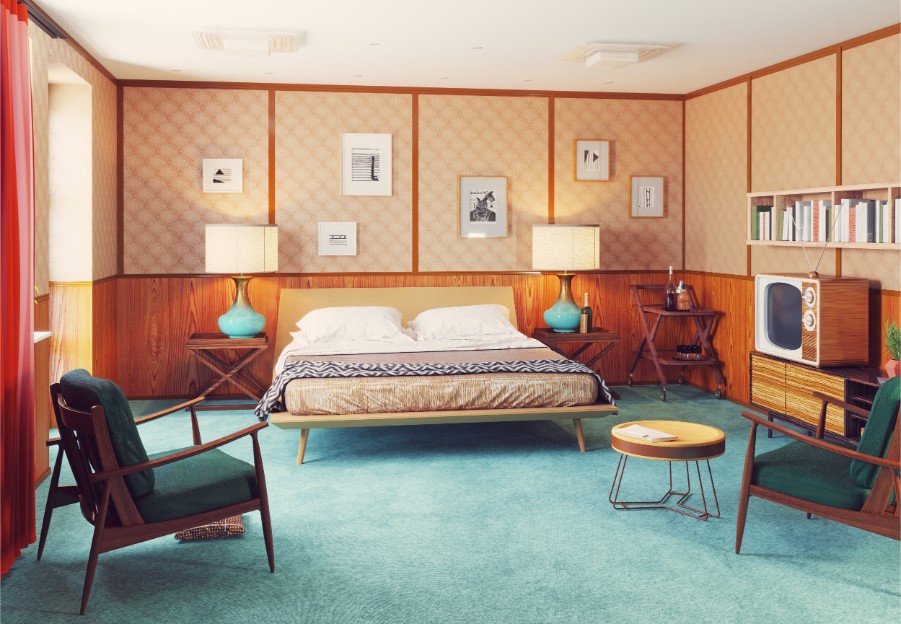 Hotel rooms multitask. Yes, you can sleep there. But you can also work, eat and relax. Pull off this same feat at home by adding a comfy, stylish table with chairs to your bedroom. You may find yourself having your morning coffee there instead of standing over the kitchen counter.
Don't Be Afraid of Glass
When renovating a master bedroom, instead of walling off the bathroom shower, encase it in glass. Then, the architectural details become part of the bedroom's decor, as they do here, where the gray and white tile floor is picked up in the bedding. This solution works for lofts or small homes, too, because it visually expands the space.
Use Texture Everywhere
In most residential bedrooms, the texture is limited to textiles: rugs, curtains, bedding, upholstery. But in hotels, texture colors outside the lines and, in the case of this sophisticated shiplap, even go right up the wall.
Expect the Unexpected
This white space with herringbone-wood floors could have veered very traditionally in its decor. But the Line Hotel in DC took traditional big pieces (bed, ottoman, desk, desk chair) and mixed them with some unexpected, fun accents. We really love how the yellow, tribal bedspread plays off the light gray walls.
Use Local Materials
The Le Roch Hotel & Spa, in Paris, was designed by French designer Sarah Lavoine. Her thoughtful choice of furniture and objects — all with clean, simple lines — gives the space a refined, welcoming quality. But the rich, edgy color palette, courtesy of a local, high-end paint brand, makes it feel exclusively French.
Create Glitter and Glam
Take a sparkly leaf out of the hotel design book, using mirrors and chandeliers to add light and glamor. This is especially good for small or dark bedrooms, but, really, who doesn't want a little bling?
Be Smart About Storage
Hotel Sanders, in Copenhagen, features Single Rooms with a clever, built-in storage feature. The shelves hold a lamp, books, and an alarm clock, and the small chifforobe takes the place of a closet.
Screen the Light
Nothing's better than closing a hotel's blackout curtains and hanging out a Do Not Disturb sign. To get this effect, layer your window coverings. Here, velvet drapes get an assist from a Chinese screen — a different take on the usual sheers/curtains window treatments.
Be Quirky
Hotels are great places to get ideas for quirky, personalized decor. The Parisian Hotel Doisy uses different wallpapers behind its headboards, creating a focal wall for their cozy sleep areas.
Inspired by these beautiful hotel rooms? Bring that style home by choosing your own bedroom color palette at our samples portal.
---