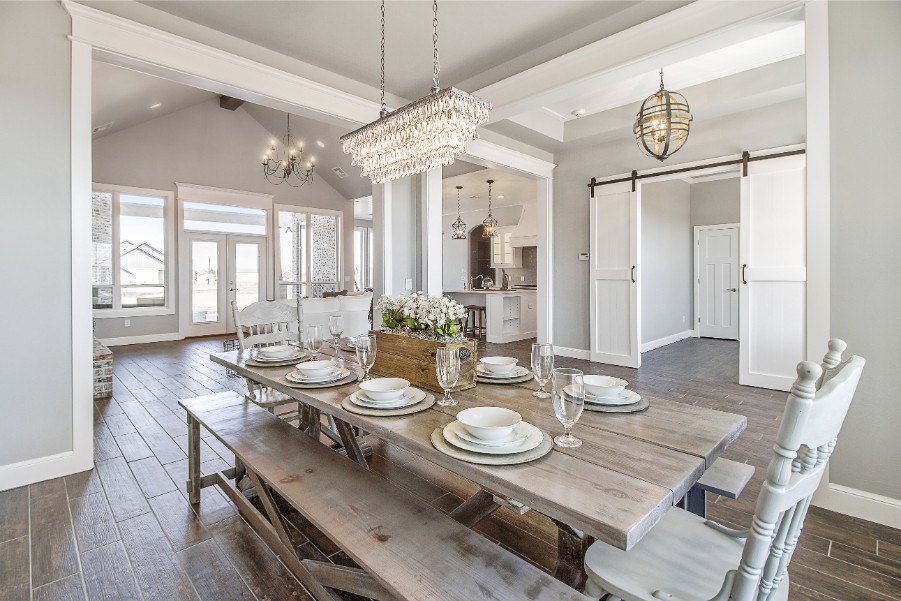 Table of Contents
Cost
Replacing Your Cabinets
Cabinet Painting
To DIY or Not?
The Cabinet Painting Process
Cabinet Painting Steps
What About Staining or Refinishing?
Cabinet Trends
Show Me the Color
Two-Tone Cabinetry
State of Cabinetry
Whether you're planning to remodel your kitchen, looking for inspiration, or searching for a new color, there are many tips and trends that you should know before tackling such a cabinet painting project.
Cost
Houzz's 2019 U.S. Kitchen Trends study found that the national median price of a kitchen remodel is $11,000. That's a lot. Cabinets usually account for nearly 40 percent of the cost of a kitchen. The remaining 60 percent includes appliances and countertops.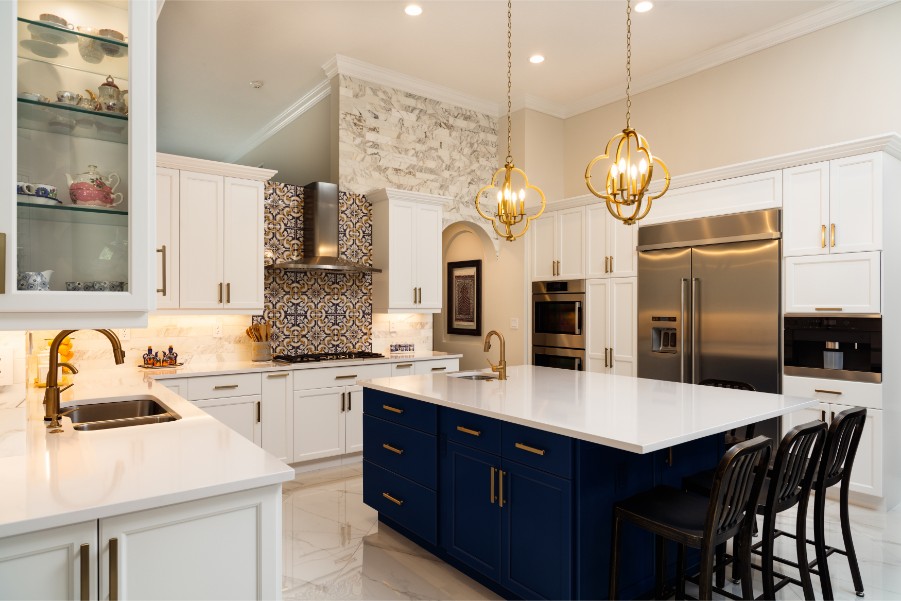 Get A Quote For Your Cabinet Project
Painting your kitchen cabinets is a fraction of the cost. But when people are thinking of remodeling a kitchen, contractors and other resources usually recommended to cut out painting. Their thought is that this is where you can save money and cut costs.
But, This Old House says, "transforming a kitchen by refreshing the cabinets that make up most of the room's visual space is entirely within reach." We would even go as far as to say that it's more valuable.
Replacing Your Cabinets
Replacing your kitchen cabinets with brand new ones can be costly, but you can make your cabinets look brand new with a coat of paint.
Houselogic estimates that replacing old kitchen cabinets with new cabinets starts at $4,000 to $5,000 and up for stock cabinets; $8,000 to $10,000 for semi-custom cabinets; $16,000 to $20,000 and up for custom made cabinetry."
If those cabinets account for only 40% of your kitchen renovation, your new kitchen is going to be costly. Buying new cabinets also might limit you in terms of style and color, meaning you may need to paint or stain regardless, incurring additional costs.
Cabinet Painting
Painting your cabinets will cost a fraction of that. Paintzen's cabinet painting services only cost between $2,000 to $8,000. For this price, you get a quality cabinet paint job for any style of cabinetry.
If you want to maintain the quality of your wood cabinets without spending an arm and a leg on replacing them with new custom cabinets or sacrificing their quality, painting them is a surefire way to maintain their value.
In addition to reducing costs, choosing to paint your cabinets will take less time. Painting is an excellent option for those who want to quickly update the look of their kitchen and improve the value of their home.
Painting your cabinets, however, is not a project to take on lightly. While it is a cost-effective option for updating your kitchen, there may be unforeseen costs and obstacles the arise when trying to take on this project yourself.
To DIY or Not?
When weighing the benefits of taking on painting as a DIY project, something that is always in the pros column is the price; it's cheaper. But, while homeowners calculate the cost of the purchasing paint for the project, they often forget how much supplies they will need and the cost of it.
Lowes estimates that to complete a cabinet painting project painters will need wood filler, brushes, rolls, pans, drop cloths, tape, sandpaper, drills, masks, putty knife, gloves, sponges, tack cloth, ladder, and much more. That's a lot of extra trips to the store, in addition to figuring out how to use additional tools.
When hiring professional painters, the cost of supplies is already in the quote, because professional painters will already have all the necessary equipment and know-how to use them properly.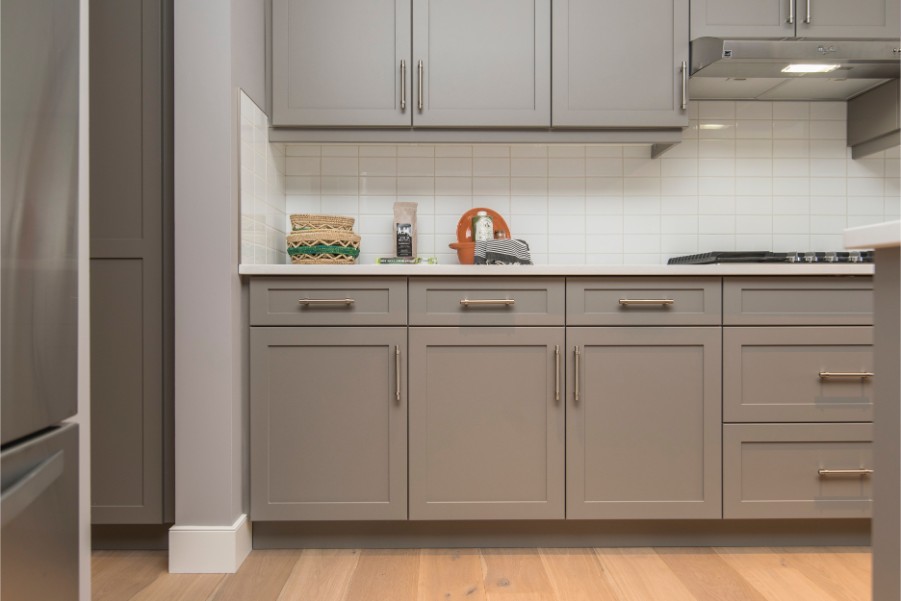 Additionally, there the question of how much time the project might take and how it may disrupt your day-to-day. When doing any extensive work in the kitchen, it puts the place out of commission during that time. You may need to set up a temporary kitchen.
During a kitchen renovation, 62% of homeowners will set up a cooking station inside their home. For those who move out during a renovation, 55% stay with family or friends. Depending on how long your project lasts, that's asking a lot.
The Cabinet Painting Process
How do you know if painting cabinets is right for you and if it is whether to DIY or not?
"If you're looking for a dramatic custom color that isn't a natural wood shade, then painting could be right for you," says Nhance. That's pretty self-explanatory: color equals paint.
But painting is a labor and time-intensive job, and it may not be for everyone. Kitchn describes the many pros and cons to weigh when it comes to painting your cabinets and deciding whether or not to hire for the job. There is never, however, a question of its value, because there is no feeling like walking into your kitchen and having it look brand new.
Cabinet Painting Steps
To understand the value of painting your cabinets, you must have a thorough understanding of what painting involves.
There are two accepted techniques when it comes to painting your cabinets: brush and roll, and spray. While actual paint application may be different, the beginning preparatory steps are similar.
The first necessary step is to clean the intended surface thoroughly. You will degrease your cabinets with a homebrew cleaner or a store-bought product. Then wash your cabinets with a sponge and some soapy water to make sure no excess material can impact how the paint adheres to the surface.
Next, you will remove all cabinet hardware, like handles and hinges. You can set these aside with labels to keep things organized. (You can also give these a deep clean while they are off the cabinets.)
Following this, you need to inspect your cabinets for any imperfections you wish to fix. If you want to hide any grain or existing imperfections, wood filler is the product for you. Wood filler will fix any dings or dents and can easily be sanded and painted. If you like your cabinets the way they are, skip straight to the sanding part.
Then comes the priming. Use a high-quality primer to ensure the color you've chosen will look it's best. Don't settle for a 2-in-1 paint product. Though you think you might be saving time and money, these products may not perform nearly as well as using a high-quality primer and high-quality paint.
Now is the actual painting. The brush and roll technique is the style of painting everyone is familiar with and what most DIYs would use. It results in an excellent finish on cabinets and may more easily encourage customization.
The spray option is the more sophisticated approach that professionals may use. It requires more supplies and expertise. With this approach, you need a paint sprayer and a spray station; this is an enclosed area in plastic to protect the rest of the kitchen or home from paint.
Regardless of which process you use, after painting, your cabinets will need to dry. Drying takes anywhere between 24 to 48 hours, depending on the paint. Once your cabinets are dry, you can reinstall them with either the original hardware, or you can use this is an opportunity to update your handles!
According to Remodelista, "Two coats of paint are essential for cabinets – you're building a surface. By the way, to get the nicest finish, use a brush, a 2 to 2.5-inch fine bristle brush." You "want a surface that's durable and wipeable so that you won't be painting again for at least a few years."
Get Started On Cabinet Painting
What About Staining?
If you wish to keep the natural look of your wood cabinets, staining is an excellent option. "Cabinet staining enhances rather than conceals the natural grain of your wood surfaces. Staining is a quick, effective way to restore rich color and tone to cabinets, correct discoloration and remove stains. You'll have beautiful cabinets full of character and dimension in as few as 1-2 days when done by professionals," says NHance.
You should always clean your cabinets before working on them; this includes degreasing and washing them.
Remove the cabinet doors and drawers. By removing the cabinets, you are much more agile in how you can approach staining.
Use 120 grit sandpaper for sanding the cabinets lightly — sand in the direction of the wood grain for best results. When going over with your second sanding, use a 220 grit sandpaper.
After sanding, wipe the surface clean and apply a wood conditioner.
Then use a rag to work the stain into the grain of the wood. Apply as many coats as necessary.
After the stain is dry, you'll apply two coats of polyurethane to your cabinets for a clean, professional look.
But according to the Woodworking Network's annual survey of the Kitchen and Bath Industry Show, "paint, and laminates have replaced wood as the dominant materials," meaning we may not see as many staining jobs.
Cabinet Trends
There is no doubt that painting or staining your cabinets is a labor and time-intensive job. There are obvious pros and cons when it comes to painting your cabinets. Not to mention deciding whether or not to hire for the job. But one thing is sure; there is no feeling like walking into your kitchen and having it look brand new.
In 2019, 29% of homeowners renovating their kitchen said it is a way to personalize a recent home purchase. 7% say it is to improve resale value for their home. Regardless, painting is an easy and inexpensive way to add value and personalization to your kitchen.
Show Me the Color
When homeowners are looking to update their cabinets, there are a few sections they look into and taking more risks. "Many people are beginning…to move away from white cabinetry," says Sara Ianniciello to  Elle Decor." Using deep or gray-washed blues and greens to make a statement is popular. These can beautifully pair with fixtures and hardware in brass and other contrasting metals."
Though kitchens are starting to incorporate more color, white is still the favorite cabinet color. 43% of homeowners choose white. Natural stain and wood are preferred by 25% of residents, while gray is having a moment with 11% of people.
Another color that is having a moment and shining in kitchens is hunter green. This color is quite similar to PPG's Color of the Year, Night Watch. Becky Shea tells Elle Decor, "hunter green kitchen garners a myriad of adjectives from classic, welcoming, warm, cozy, luxe, and best friend, especially when we introduce the use of walnut woods and leather door pulls to give a little pop."
Get A Quote
Two-Tone Cabinetry
If you are struggling to choose one color for your cabinets, you may opt for two-tone cabinetry. This style of painting was a massive trend in 2018 and remains quite popular. ApartmentTherapy writes: "It adds a nice dimension and lets you explore a little bit of color, without overdoing things."
Perhaps your kitchen incorporates another popular trend that is happening in kitchens: open shelving. This way, you will still get cabinets, but also have some more open and bold shelving. You can always use two-tones too; a color for the walls and a color for the cabinets.
One may think that there is a trend happening that moves toward this open and simplistic look. Large islands with shelving and open-shelving styles have simplified and slimmed down the look of the kitchen in recent years.
State of Cabinetry
Cabinets have come a long way from their invention. What we think of as kitchen cabinets didn't exist until the 1920s. Before there were countertops that were framed by cabinets, kitchens were generally bare. Kitchens were made up of a worktable, a sink, and a stove.
Where was all the food and dishes you might ask? They were in the pantry (something not foreign to us today). Everything was in the pantry dresser, which held pots, china, and food out of sight.
The kitchen, as we know it today, found its earliest inspiration in old steamboats on the Mississippi. In these boats, space was paramount. Everything had a place in bins that made movements for the cook in the kitchen seamless. Think of how efficient a galley kitchen has to be with its cabinet space and placement.
It was in Europe where the modern kitchen found its style. It has come to be known as the Frankfurt kitchen. In these early modular systems, kitchen cabinets were made from a variety of solid wood. Using oak walnut, mahogany, or pine has become expensive and less frequent.
Kitchens have seen many different designs and styles, but at the heart of kitchens over the last century have been cabinets. Why not give them a little love?
If you're interested in learning a bit more about our cabinets services and want to get in touch with a Project Advisor, check out our cabinet service page.
Get Started On Your Project
---