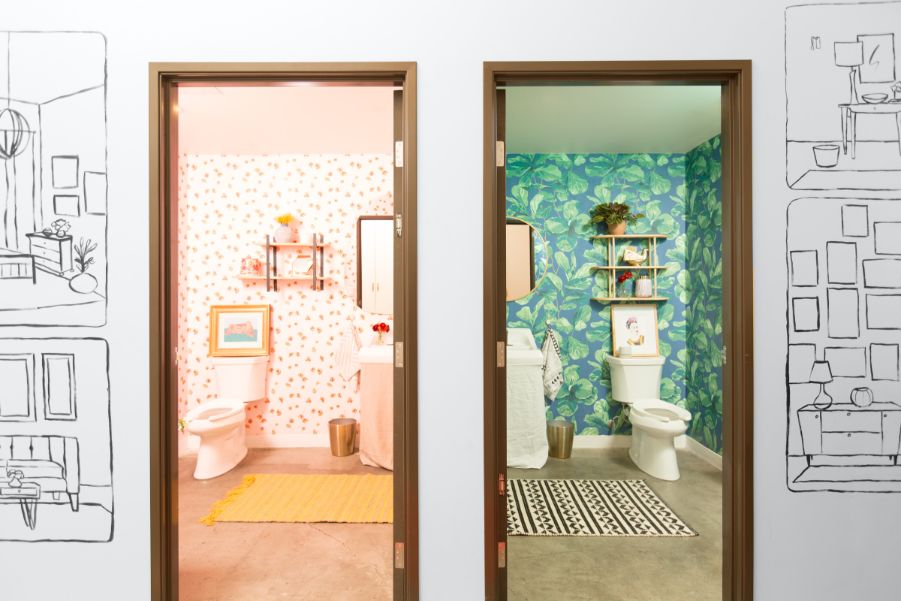 When it comes to tackling a renovation project, small spaces like bathrooms, foyers, and hallways can be an exciting opportunity. Because there is far less wall space, you can be bigger, bolder and more exciting with your design choices. That means choosing more vibrant colors and opting for louder, more exciting patterns. This featured project incorporates bathroom wallpaper.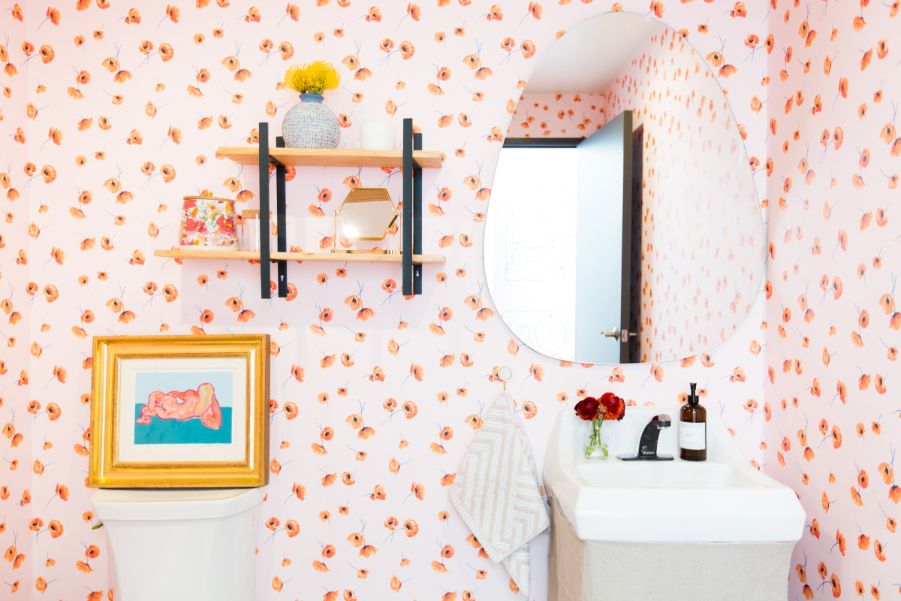 Forgotten Spaces
Aisling Ackerman, the VP of Brand and Design at Hutch, enlisted Paintzen's help to transform the bathrooms of their brand new HQ office in Culver City, California. "When approaching the design for the bathrooms, we knew we wanted them to fit in seamlessly with the look and feel of the rest of the office – inspired by Los Angeles neighborhoods and Southern California's signature aesthetic," Aisling told us. "However, we also wanted the bathrooms to make a bold statement of their own. The bathrooms provided a blank canvas, with all white walls and concrete floors, so they felt like the perfect opportunity to be bold and go out of the box with the design."
Choosing Wallpaper
While Aisling and her team painted other spaced in the office, they opted for wallpaper in the bathrooms. They selected two different patterns from Wallshoppe for the bathrooms – one with a blue background and green leaves, and another with a pale pink background and poppies. "
"We were drawn to the bright colors and the natural patterns of these wallpapers from Wallshoppe, which then served as the foundation for the rest of the bathroom design," said Aisling. "We layered in patterns and colors using rugs and washcloths,  and we finished the look with fun decor and art. You can be "extra" in small bathroom spaces, so we definitely went for it!"
"Wallpaper is a great way to add a pop of personality to a space, but we get it – wallpaper can be an intimidating commitment! Accent walls and small spaces are great options for wallpaper. When taking on a smaller surface area, you still get a major impact without making the space look too busy or overwhelmed. If you're not 100% sure about making such a bold move, another option we love is removable wallpaper, which Wallshoppe also offers, and that Paintzen can install."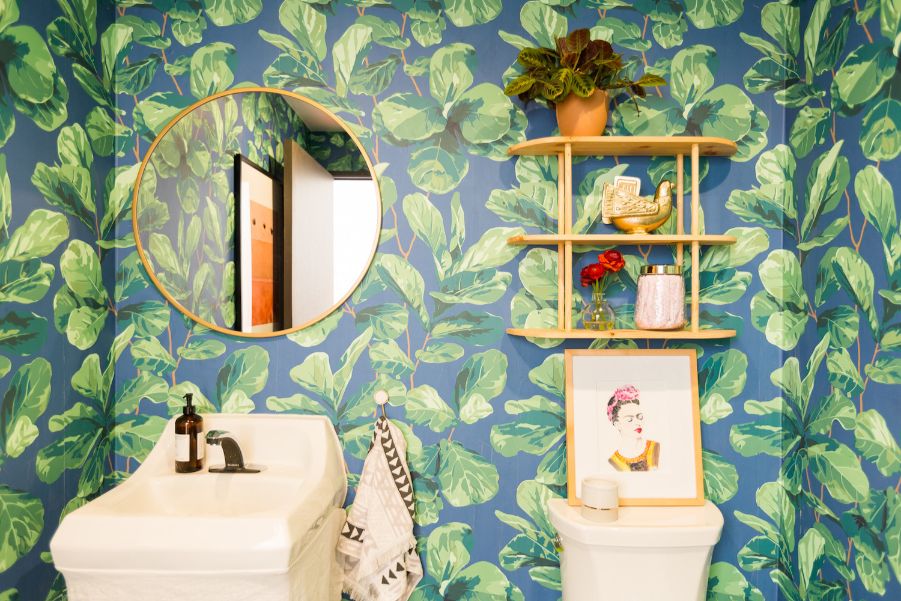 Bland to Beautiful
The final result made a huge impact on the space, which previously was just standard white walls. Aisling told us, "Our office bathrooms were transformed from bland and boring to exciting and colorful. We couldn't be happier with the final look!"
"Installing wallpaper is a challenging and time-consuming task to attempt on your own, so we knew immediately that we'd bring in the experts. Paintzen was so wonderful to work with! They connected us with their experienced, local LA contractors, and installation took only two days from start to finish. The whole process was stress-free. The final look speaks for itself – the wallpaper is flawless. Using Paintzen was one of our easiest – and best! – decisions."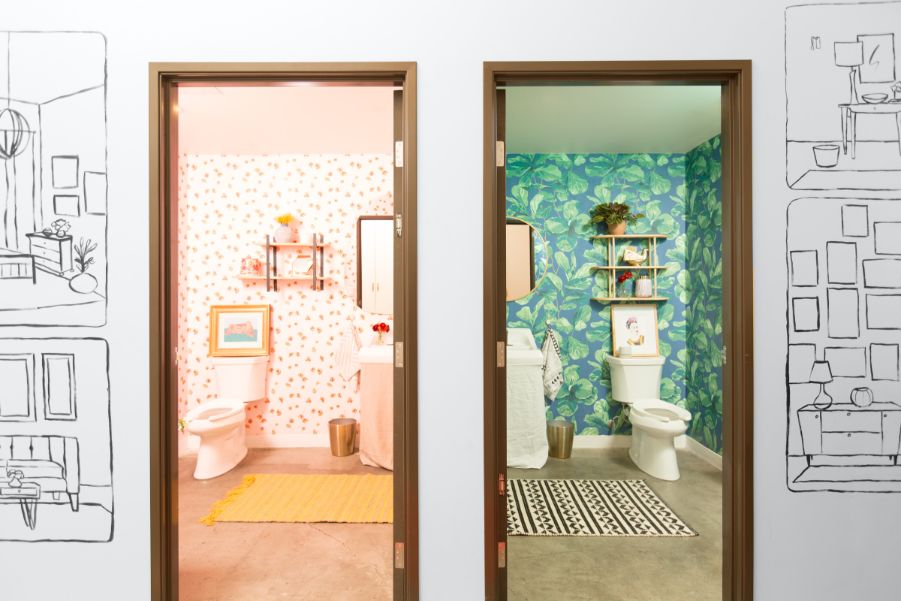 Read more about the full Hutch HQ transformation on Architectural Digest! You can also read more about Paintzen's wallpaper installation services.
More about Hutch….
Hutch is a platform and mobile app that mixes 3D technology with online shopping to let you virtually decorate your space. We think of it as a virtual dressing room for your home.
When it comes to decorating, Hutch does the heavy lifting so you don't have to. With Hutch, you can customize your space in seconds, trying countless new styles and possibilities until everything is just right. Our signature technology allows you to take risks, save money, and shop confidently – all because you've seen your newly designed room come to life before purchasing products. You'll never have to worry about tricky measurements or clashing colors again.
---