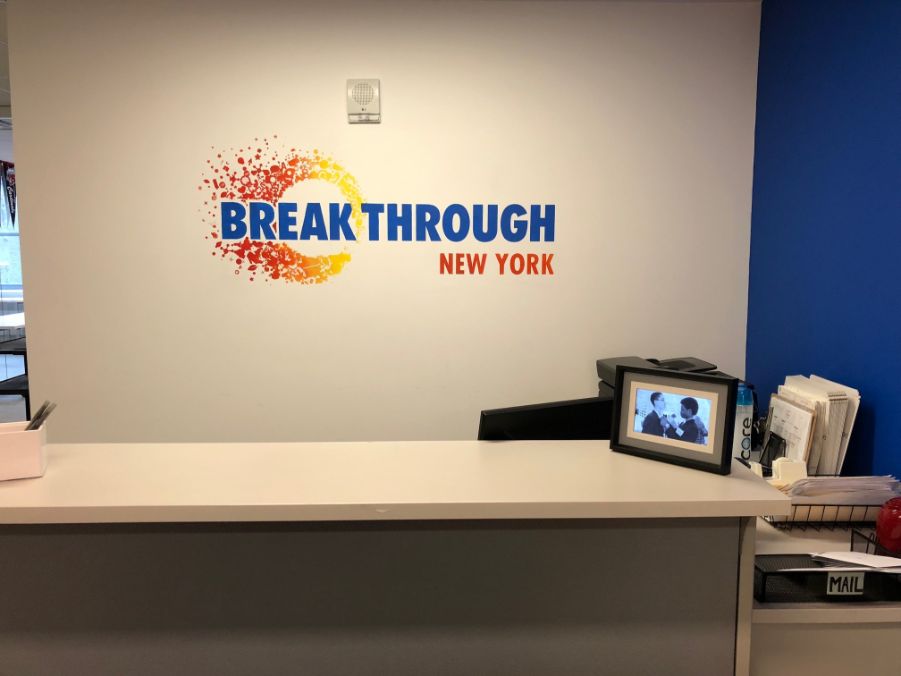 Our surroundings have a significant influence on us. It's why people care about designing and decorating spaces. Parents design nurseries, teachers hang inspirational artwork, and offices are built to keep employees focused and productive. Creating an environment that encourages and motivates is extremely important, especially in the education system.
Paintzen recently partnered with an organization called Breakthrough New York that provides educational support to children from middle school through college, and even into their careers. It also encourages talented young people to enter careers in education – using a unique students-teaching-students model. Their mission is to "create leaders who break the cycle of poverty in their families and effect positive change in their communities." 
We worked directly with John Rinaldi, the Operations Coordinator at BTNY, to refresh their office in downtown Manhattan. "Breakthrough New York is part of a national organization called Breakthrough Collaborative, which re-branded recently," John told us. "To comply, we needed to re-vamp all of our logos and branding fairly quickly. Part of that project included having our rather detailed new logo painted or stenciled onto a wall in our front office."
Initially, John and his team had hired a local painter for their project. Their estimate was slightly lower than Paintzen's quote for the project, so they decided to try the more inexpensive option first.  "[They] said the best solution would be a large decal," John said. "However, we were not happy with the decal at all, even when the vendor tried to make it look better by re-painting the wall surrounding it. It just didn't look right. It was shiny and didn't blend into the wall."
Luckily, John reached back out to Paintzen for advice, and we were, of course, excited to help! Our team of NYC painters worked with him to explore all the possibilities and recommended the best solution – using a stencil to paint the new logo onto the wall, rather than a decal. "We were a little nervous," John told us, "but we had a good feeling about Paintzen, so we went ahead!"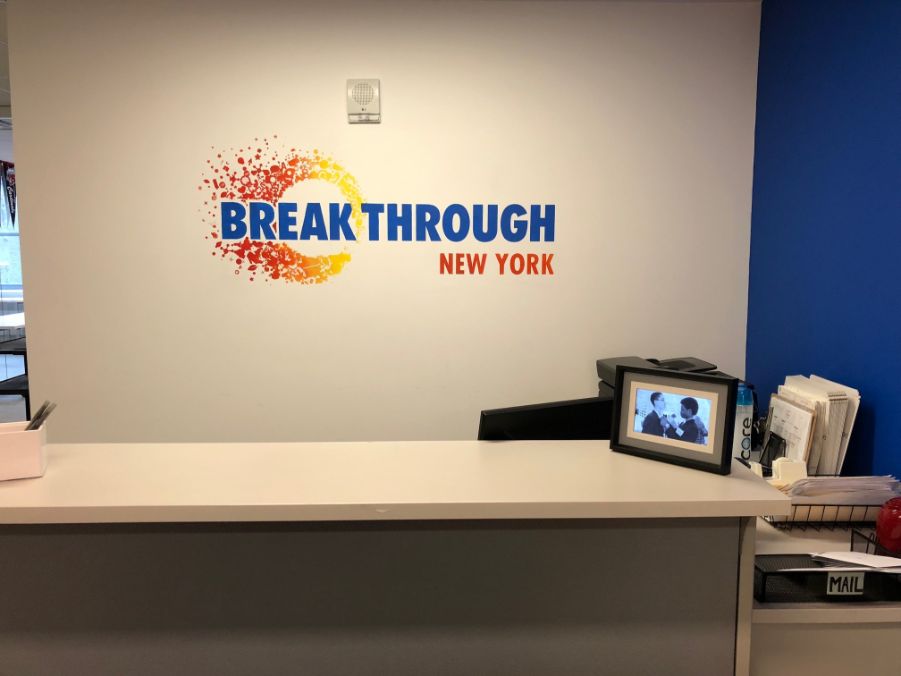 The project was in two phases. The first was the logo wall. We removed the decal, repaired the damage, repainted a base coat on the wall, and then painted Breakthrough New York's new logo using a stencil. Our decorative artist worked with John and his team to mix and match the paint colors to represent their brand correctly. "She was very artistic and creative, as well as personable and efficient!" John mentioned. Phase two involved wall repair and repainting a wall, where John later hung Breakthrough New York's "Core Values" posters.
We asked John to share his experience working with Paintzen and how he felt about the final product:
"Paintzen is one of those rare vendors that has both excellent customer service and excellent service delivery. Meghan, the Director of the Inbound Sales team, was so great when I called her with my tale of woe about the decal. She did her best to explore all the options available to me and to reassure me that Paintzen had the know-how to do the job to my satisfaction. Every step of the process was clear and easy: scheduling, paperwork, the actual work, invoicing, and follow up. Additionally, Paintzen's artist was very neat, tidy and quiet in going about her work. The end result is beautiful. The logo is impressive, and the blue accent wall really pops now. It's also a relief to have a clean, white wall on the other side of my desk. Since these walls surround my work area, I end up spending more time looking at them than anyone else does. Our office now projects a much more professional, sophisticated vibe, but it still retains our enthusiastic BTNY personality. I would say that when it comes to value and quality, Paintzen provides both at a price that is competitive with the other companies in their space, but the results they deliver are of a much higher standard."
It was an enjoyable experience to work with an organization that does so much good for young people and provides so much educational support. To learn more about Breakthrough New York, visit their website: http://www.btny.org/.
Our decorative artists are not just for commercial and office spaces! We've also created beautiful murals and custom wall art in houses and apartments! Learn more about our services here, and get started with a free, instant quote on our website.
---